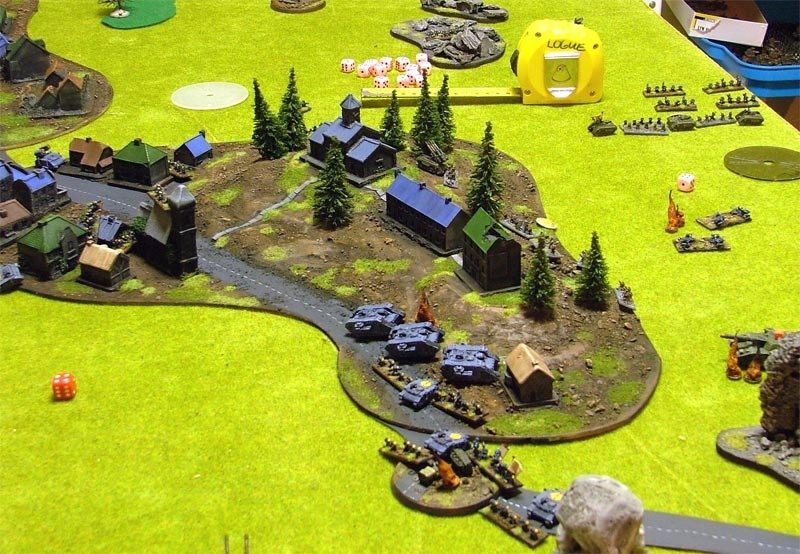 A guest article by Australia's: GR00V3R
A few days ago, I posted about Specialist Games' Epic:Armageddon, the 4th edition of Specialist Games' 6mm-scale wargame set in the Warhammer 40,000 universe. The response was fantastic, with lots of questions about the game being raised–enough that it's probably worth discussing the dynamics of the game, and highlighting those mechanics that raise Epic:Armegeddon to 31 flavours of 100% pure Awesome.

A game of Epic:Armageddon in progress
Objectives
Depending on the scenario you're playing, be it one from the book or a tournament-style game, objectives tend to feature heavily because three of the five Victory Conditions involve holding onto them. Objectives are placed before deployment.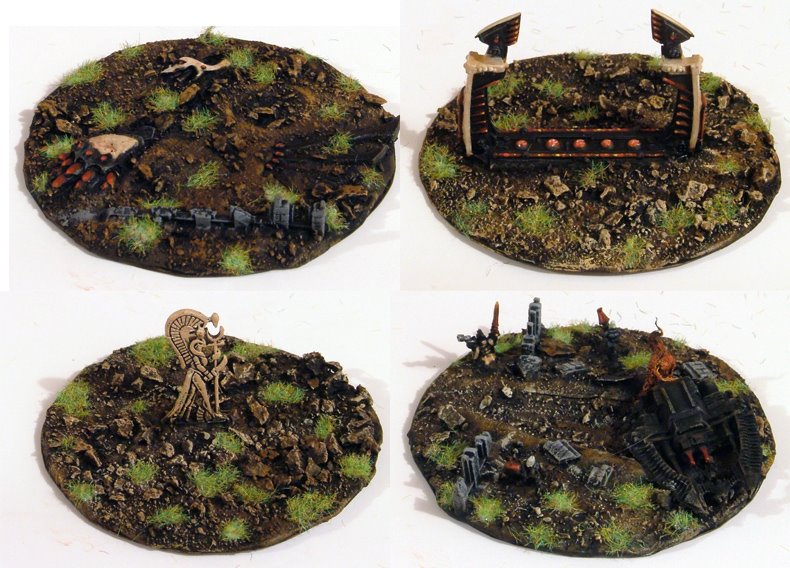 A selection of Eldar objective markers
The white text in the deployment image below shows the locations of the various objectives (including the "blitz" objectives, which must be placed touching the player's own table edge).
Deployment
Below, you can see a typical 6- by 4-foot Epic game table. Before the game begins, both sides deploy according to the chosen scenario. Here, the yellow text and shading shows the deployment of a Marines player, while the blue text and shading shows the deployment of an Eldar player.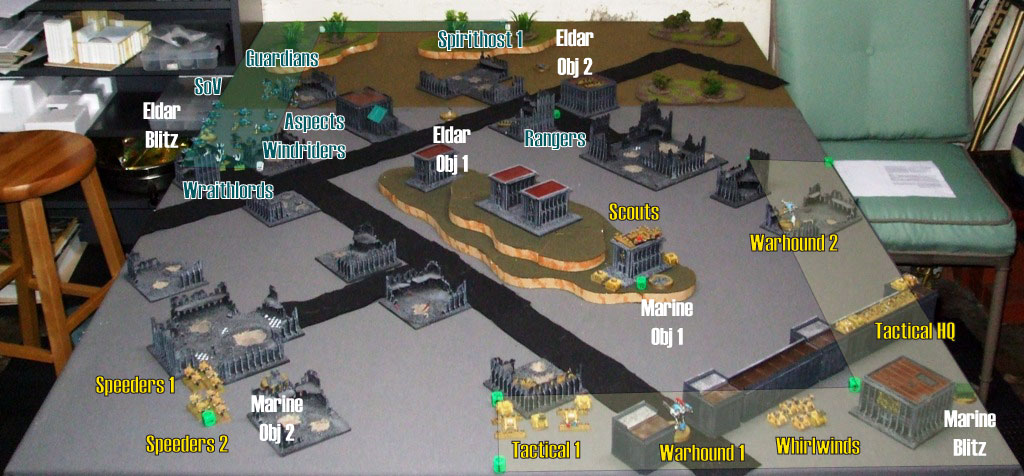 A typical deployment
Garrisoning
In the image above, you can probably see the marine Scouts dug-in (on top of a building) near to Marine Objective 1, while two formations of Land Speeders are camped beside Marine Objective 2. Similarly, the Eldar player has a formation of Rangers hunkered down in the rubble near Eldar Objective 2.
The rule that allows this out-of-your-comfort-zone deployment is garrisoning. Garrisoning allows you to deploy certain formations (restricted either by type or by consistency) near to your own objectives. Garrisoned formations also start the game on Overwatch orders (more on this later), and so can be very useful for causing a rapidly advancing foe a nasty headache.
Victory Conditions
After a certain number of turns have been played (usually two, but depending on the scenario), the players tally up the number of Victory Conditions each has met:
• Blitzkrieg is achieved by capturing the opponent's "blitz" objective.
• Break Their Spirit is achieved if the opponent's formation that is worth the most points is destroyed (not broken–more on what broken means later). You should always ask which formation this is at the start of the game.
• Defend The Flag is achieved if you control all three objectives in your half of the table.
• Take And Hold is achieved if you capture at least two objectives in your opponent's half of the table.
• They Shall Not Pass is achieved if there are no unbroken enemy formations in your half of the table.
This is tallied up and decided in the End phase, which brings us to the turn sequence.
Turn Sequence
Like most games, a game of Epic:Armageddon is divided into turns. Each turn is broken down into three distinct phases: the Strategy phase, the Action phase, and the End phase. There are also certain things that occur immediately prior to the Strategy phase, such as teleporting–a Terminator specialty.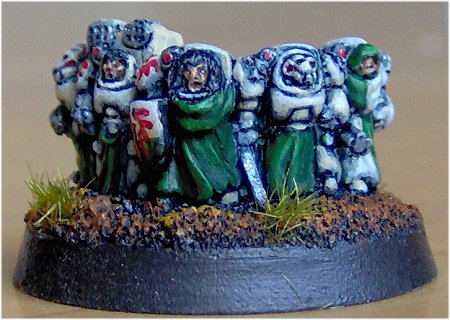 A scratch-built stand of Death Wing Terminators
Who Goes First?
In the Strategy phase, each player rolls D6 and adds his or her army's Strategy Rating to the score (eg 2 for Imperial Guard, 5 for Marines). The player with the higher score may choose whether or not to go first in the Action phase. It may sound counter-inuitive, but there are situations in which you may win the Strategy roll but give the first activation to your opponent–such as where your opponent has more formations than you and you're worried about being out-manoeuvred as a result.
Activations, order and retaining the initiative
In the Action phase, the players take turns giving orders to their formations, passing the initiative between them. When you have the initiative, you must activate one of your as-yet-unactivated formations to give those units an order before you can pass the initiative back to your opponent.
Each order given to a formation requires an activation, the success or failure of which is decided by an action test, which is a roll against your formation's Initiative value. Once you have activated your formation, you pass the initiative to your opponent. This is often called an I-go-U-go play style.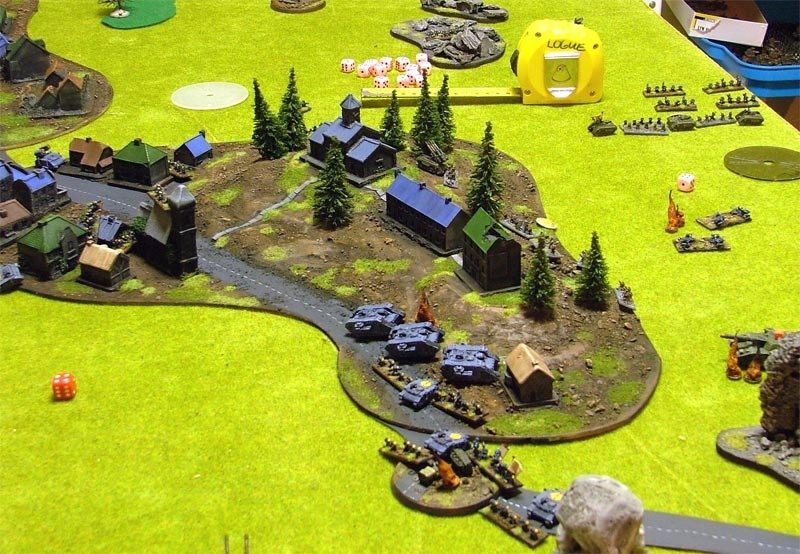 Marines move in to take an objective

Epic provides a very important exception to this I-go-U-go play style, however, by allowing a player to activate one formation, and then attempt to retain the initiative to activate another formation. This incurs a penalty to your action test, however, that makes it more difficult to successfully activate the successive formation.
This is what Epic:Armageddon is all about. It is the sequence in which you activate your formations and how you chose to manoeuvre them that lies at the heart of the game. Activate the wrong formation at the wrong point in time, and it can cost you.
Blast Markers, Suppression and Becoming Broken
The Epic:Armageddon mechanic that most differentiates the game from Warhammer 40,000 is blast markers. Blast markers highlight the psychological effect of coming under fire, and they reflect that most troops will stop advancing and seek cover–or even withdraw–when they come under fire.
For the most part, a blast marker is placed upon a formation
• Each time an enemy formation shoots at it, whether these shots cause casualties or not
• Each time a unit in the formation is destroyed, and
• If it fails its action test (Initiative roll)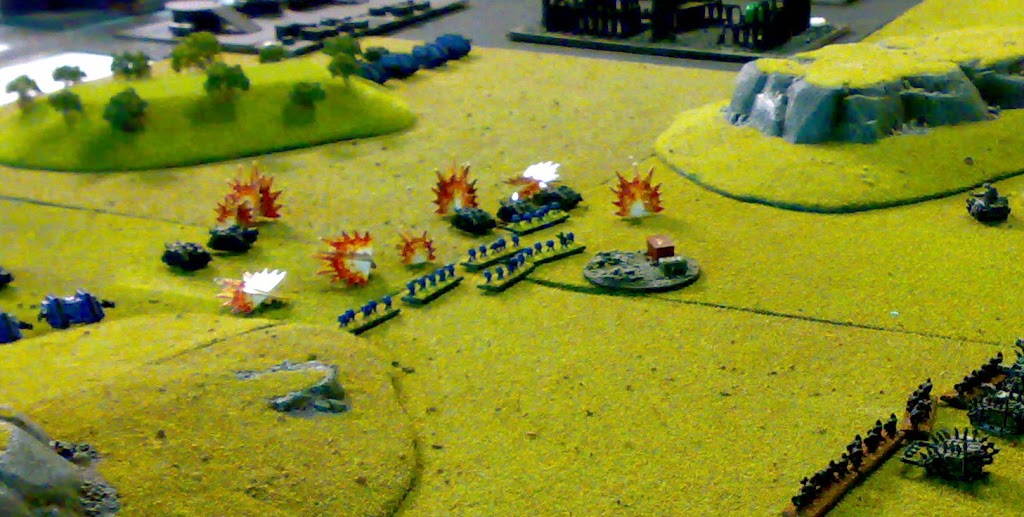 The Iron Warriors punish an Ultramarines Tactical formation and load it up with blast markers as a result, significantly reducing its effectiveness
For most armies, each blast marker on a formation means that one unit in the formation is suppressed and cannot fire. If a formation receives as many blast markers as it has member units, the formation becomes broken and must withdraw.
Blast markers are usually represented on the tabletop by a model of an explosion (which can make for some cool photos), but any markers will do.
In the End phase, each formation has a chance to regroup and remove some or all of its blast markers. Alternatively, a formation can take a Marshall order, reducing its capabilities for the turn in exchange for removing blast markers–more on this order below.
Orders
The orders available to you as an Epic commander are not many, nor are they complex, but they provide for a great deal of depth:
• Advance–the formation may move once (up to its maximum move allowance) and shoot normally.
• Double–the formation may move twice (effectively doubling its maximum move allowance) and shoot, but with a -1 modifier when rolling to hit.
• Engage–the formation may make a charge move up to its maximum move allowance to assault an enemy formation. To launch the assault, it must end its move within 15cm of the enemy formation at least. Certain eligible friendly formations within 15cm of the assaulting formation and the enemy also participate by lending supporting fire. The assault is then resolved. For information about assaults, see below.
• March–the formation may move three times (effectively tripling its maximum move allowance), but may not shoot or lend supporting fire in assaults.
• Marshall–the formation may either shoot with a -1 modifier and then regroup. Regrouping allows the formation to remove some or all of its blast markers.
• Overwatch–the formation cannot move and does not shoot now, but may instead interrupt any enemy formation that ends its move within range of the formation on overwatch in order to shoot at it.
• Sustained Fire–the formation cannot move at all, but shoots with a +1 modifier when rolling to hit.
If you fail your action test (Initiative roll), your formation must perform a Hold order, in which case it may either make a single move (up to its maximum move allowance) or shoot normally or regroup.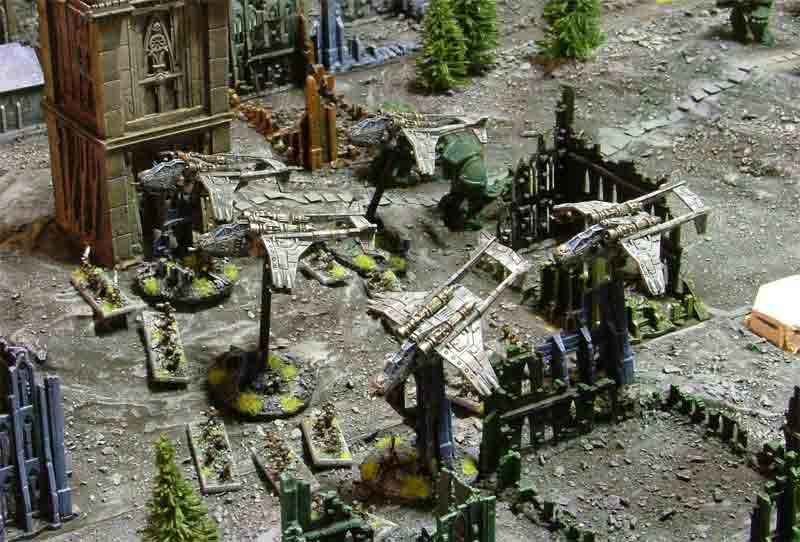 Mark Logue's Elyssian drop troopers enter the combat zone
Assaults
Assault resolution is perhaps the most critical area of the Epic:Armageddon rules. Assaults cover all the action of your formation and any supporting formations as it initiates a firefight (and perhaps close combat) with the enemy, and they are absolutely deadly.
The easiest way to visualize an Epic assault is to think of it as a large game of Warhammer 40,000, played at a higher level of abstraction. There are even some Epic players who choose to work out their Epic assaults as full-blown Warhammer 40,000 or Apocalypse battles, where the Epic battle is treated like a campaign that generates a series of 40K games.
The Eldar face down a Tyranid charge led by Genestealers
Assaults usually result in a lot of casualties, and the losing formation ends up a broken rabble. For this reason, assaults tend to be decisive and have great impact on the game, often featuring as significant turning points in the game's narrative.
Packing Up
We haven't even touched on war engines (such as titans), air support or space-based operations (such as orbital bombardments and planetfall), all of which take the game to a whole new level of Awesome, but hopefully this breakdown of the game's mechanics has given you at least a small taste of how Epic:Armageddon plays, as well as a glimpse of the strategic depth the system provides.
If you want to read more about how the game plays, you'll find free-to-download PDFs of the excellent Epic:Armageddon rulebook available in the Specialist Games section of the Games Workshop online store. You'll also find battle reports galore on Tactical Command and other Epic-related websites.
Special thanks go to Mark Logue and others from Epic community for volunteering images of their great miniatures.
~Bigred here. Epic was once described as the GW game that most rewards skill, over chance. I Agree. As you can tell with even this quick overview of gameplay, there are so many combinations of orders, sequencing and activation of units throughout the phases, that in most cases the best General prevails over the luckiest roller. For decades now, folks have been singing songs of lament about how 40k and Fantasy would be "perfect" games if only GW threw out I-go-U-go and instead added in interleaved turn sequences. The funny thing, is its been sitting right under their noses for years just waiting… in Epic.

As always, comment away, and give it up for GR00V3R, who has really put in the overtime to get this piece to you guys.