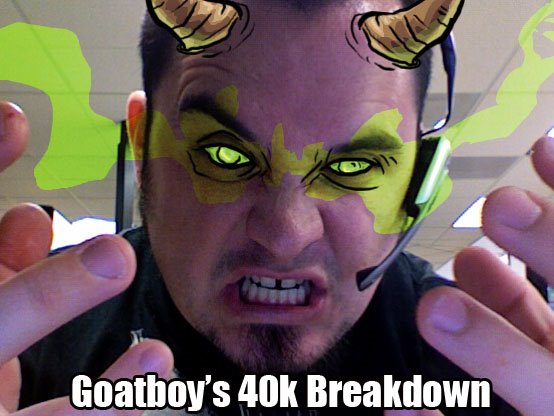 Hi, there your local Goatboy bringing some thoughts on 40k and how 5th edition is not as much of a change to the tournament scene as we thought. Before I jump into an army breakdown, I wanted to elaborate on a new way to think of your games in this new "troop" heavy environment.
We all know that troops can only score in 2 out of the 3 missions. We also know that we need 2 troop choices for any valid army list, so no matter what we will always have 2 chances to score in a game where we don't table the opponent. What I've been seeing lately, is a push to overload on troops in order to get objectives instead of focusing on beating your opponent to a blood pulp. These troops are substandard when compared to a lot of armies other choices and thus weakening the army limiting its killing potential. People are too fixated on trying to hold objectives, instead of looking at bringing the aggression and trying to kill everything that moves.
You can see this in the dethroning of the old king of the tournaments, Nids. The goto troop choice was genestealers, and while being a great unit, they were not a game surviving troop choice. They would rush out, do enough damage to weaken the enemy, and wait for the big boys to clean up. Now that the big Nids can't score, people are not rushing out with their stealers in a hope to keep ahold of an objective. This is not what a stealer is designed to do, and thus they are a weaker army then before. In order to get a better scoring unit, you have to take a substandard choice that is not nearly as strong as all the other armies troop choices and again taking away the ability of the army to weaken the opponent to allow their MC's to bring the pain.
A good example of an army that has good scoring as well as opponent hurting units is the orks. You have a troop choice that is probably one of the hardest hitting units in the game (Nob bikerz), mixed with a huge troop choice that is for the most part, under costed (shoota boyz). Thus you have a backbone of an army that doesn't limit your killing power and "scoring" power. This is why orks are doing a little dance at the top tables. When you bring a gun to knife fight, knifes don't really matter anymore.
You can see this in Daemons too, since for the most part, their basic trooper is better then just about any armies basic trooper. Look at the bloodletter, 2 attacks, fearless, WS 5, can get I 5 and Str 5, and you have a inv save on top of all of that. One of the few units in the game, that can take out Thunderhammer terminators on the charge. Do the math, 10 bloodletters, hitting on 3+ (20), wounding on 3+ (14), terminators saving on 3+ (4 to 5) thus decimating the basic thunder hammer squad. Daemonettes are also great and Plague bearers can be one of the most annoying things to deal with when sitting on an objective.
So how do you deal with this change. Start taking two small troop choices. Go ahead and hide them. Don't equip them with anything too expensive and just hide them until turn 5, when they go out to get something as needed. Build your army up to include some insane killing units and go hunting for heads. Scoring is important, but not the entire facet of the game. This is the dark universe of 40k and killing is all the game knows.
I am planning on dropping lists at the end of all my articles. They might not be the best lists, but they should give people some different thoughts on how to create lists and push the boundaries of the army. First army up to bat is CSM. CSM seem to have had a bit of a renaissance as of late in the tournament scene. With the push down of Eldar and the rise of the Ork, CSM have found a new niche in the metagame. Thanks to extremely efficient troop choices, mixed with a really powerful psychic ability, CSM have really taken a good foothold in the 5th edition game scape. But enough of that, onto the list eh?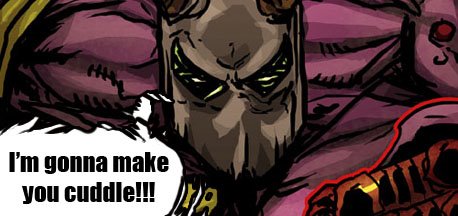 Chaos Fist Redux
HQ: Daemon Prince, Wings, Mark of Slaanesh, Lash X 2
Troops: Noise Marines (5), Sonic Blasters (5) X 4
Elites: Terminators (5), Power Fist, Heavy Flamer, (2) Combi Meltas, Mark Chaos Undivided, Champion, Power Fist, Land Raider, Possession X 2
Heavy: Defiler, Clost combat X 2
Pts: 2000 KP: 12 Scoring: 4
You could always drop out the wings on the DP's and possession on the LR's and you got some extra points to full around with too. The noise marines are a good anti horde option with their sonic blasters plus they are fearless, scoring, and are great to convert and create. The DP's are looking to cuddle a unit up and let the Defiler put a big old pie of hurt on them. The heavy flamer from the Terminators that can do some damage to anything that is in your way. The LR's are there as a big threat mixed with a threat that a lot of armies find extremely hard to deal with. I am thinking the possession is not worth it, but I added it on there to allow all your vehicles the chance to ignore most glancing hits.
This list is all about just maximizing the use of each of your units. DP's are there to help up your killing, Terminators are the hammer you are throwing at your opponent, the noise marines help pour out the torrent of fire needed to put the hurt on many of the upper tier lists, and then you have the defilers that can become close combat monsters as they deal with units with no PF/PK/Or melta bombs.
But give it a try and tell me what you think. I am planning on tweaking my Chaos towards this list and playing it as my de facto army list for those days that I just want to throw some dice.
Look for the next installment of these 40k thoughts next Monday. In 2 weeks I am planning to start my Space Marines force, so look for weekly updates on that. The plan is to finish a squad a week, with explanations on my choices and game testing info.
If you have any questions about the list or want to know more, shoot me an email. And again, the link below takes you to my art and miniature commission site.