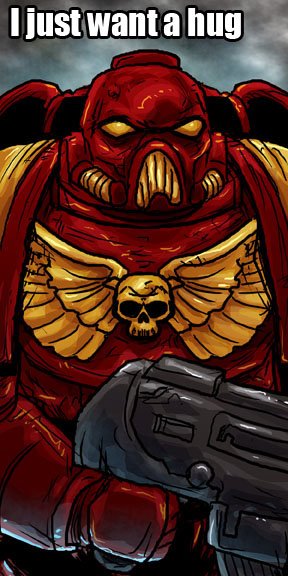 Let me start this by saying, yes I know two missions are based off of troops. I know that in 5th Edition the only units that can score are troops. I also know that it seems Games Workshop has pushed the whole, "The grunts are the meat of any army"… I know all of this.
So why do I think troops suck? It just comes down to the fact that you never get enough back to cover their cost to your army and its overall killing ability.
But Goatboy, troops are just there to score, they are not there to kill, killing is bad. See, there is the problem in a lot of the way people play 5th edition. This is a game of brutal conflict. So why would you bring subpar units to a battle. If you have the options, wouldn't you always want to bring the most bad ass unit you can? (This is about tournament play, not have a good time rolling dice on a Thursday at the local Game store, which I enjoy and throw down with funky armies)
Let's take a look at the 3 different missions that show up at your local tournament.
Mission one: Seize Ground.
This mission will have up to 5 objectives you can get. So that must mean you have to have at least 5 troop choices because if not, you don't win because you have to get all 5!
No you don't, you really only need two. The other 3 can be contested by any of your other badass units. Keeping your opponent from scoring is just as important as scoring one. In fact, most of the time it is more important then the one you are scoring.
Two small squads of regular dudes can do just as well and get on the objective and fall down as they get shot at. Cover saves are everywhere, and if you they are hiding on the ground, picking flowers, you get a +1 to your cover save. And we all know 3+ invulnerable saves are a pain in the butt to get rid of.
Also, if your opponent has loaded up on troops, and you brought the pain with better killers then in reality you will be making your opponent back pedal as they try to get away from all the death you will bring down on their heads. Pushing your opponent back just lets you keep your two objectives and make them concentrate on the incoming doom that awaits them.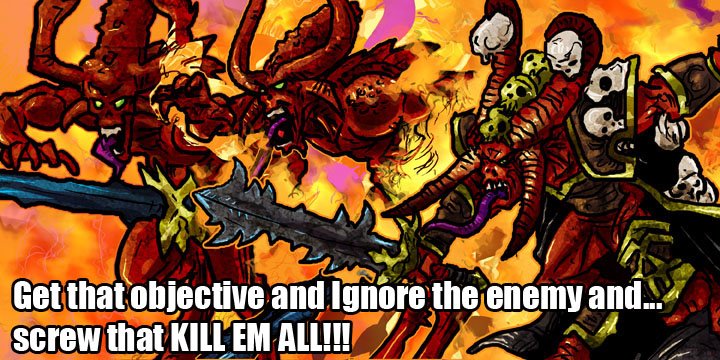 Mission two: Capture and Control
This mission only has two objectives. It is also the one everyone thinks will just be a tie fest, as they site there and just take crappy pot shots at each other.
With your tweaked towards killing army, you should be able to hold your one objective as well as move forward to go and contest your opponents. If they are trying to deal with your hard units in their face, your small little flower pickers will be safe to drink tea and discuss the local flora and fauna.
If you have a troop choice that can speed around, then during the last turns (5, 6, 7 etc) shoot towards the objective, hope for a tank shock and bask in your awesome 40k tactics.
Mission three: Annihilation
Hrm, a mission that is won by killing people. I think if your army is designed around smacking your opponent around then this mission is right up your alley. There isn't a whole lot I have explain about this mission other then just kill your opponent.
Usually when you have a more elite styled army, you most likely will have lower kill points, and thus have the advantage versus any troop heavy army you might see. You take that advantage and run with it, as you try to pinpoint on easier to kill units that you can easily tally up the kill points.
Now of course if you have good troop choices, then this whole entire article might be a moot point for you. That is why some armies seem to have an advantage during 5th tournaments, as their troops are much better then other armies. They have a high potential as a threat beyond their ability to hold some junk on a terminator base. Either they are cheap as hell (orks) or have a large amount of abilities that allows them to "cheat" (marines, chaos, sisters, etc).
Should you only play the armies with awesome troops? Hell no. I just don't want people to hamper themselves by only thinking in one general direction. Yes "troops" are more important now, but they are not the backbone of your army. They are just there for whatever specific role you need them. If they are pretty sucky, let them lay down on an objective. If they actually can do some damage, throw them at your opponent and make them wish you just stayed back and talked with your other troops about how pretty the flower looks against their bloody chain sword.
In conclusion, troops are needed to win, but just don't look at them as the only avenue to winning. All the other bits and pieces of your army are in most ways, more important because they are the meat and bones of your dice fearing force. Your assault terminators, dreadnoughts, aspect warriors, nobz, etc are what will make your opponent curse you as well as worry about how many armor saves they might have to make.
If you have any questions, or want me to check out any lists you are thinking of throwing down, email me at [email protected]
If you have any questions about the list or want to know more, shoot me an email. And again, the link below takes you to my art and miniature commission site.