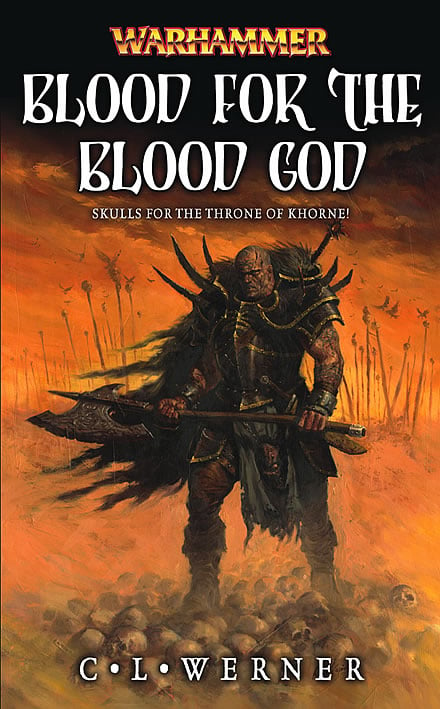 Timo is back with our latest Black Library review:
Blood for the Blood God – C.L. Werner
Werner's second novel about the Realms of Chaos focuses on Khorne, as the name insinuates. Having read the amazing Palace of the Plague Lord, I was more than thrilled to read this novel. Let me give you some details about the story itself first.
Teiyogtei Khagan has united eight tribes under his banner and plans to establish his own empire. However, he is killed in a duel with an ambassador of Khorne, the Skulltaker, who is also fatally wounded.
Numerous generations after this conflict, the empire is divided up among the eight tribes, who are besieging each other, yet living in a stand-off situation. No tribe can destroy the other without suffering great losses, and thus only small attacks among the tribe's warriors ensue. This situation changes drastically when a new threat to their shared "eco-system" appears: the return of the Skulltaker.
The Skulltaker wants the chiefs' heads and therefore slaughters his way from one tribe to the next.
Why has he returned, what is his goal and motivation, and most of all, can he be stopped?
Emissaries set out on a mission through the Wastelands in search for answers; will they find them in time?
My great expectations were bitterly let down, I am sorry to say. This über-character, the Skulltaker, tires a reader out, since all battles follow the same pattern: the Skulltaker shows up, large numbers opponents stand to face him, no one can really harm him, the tribe's chief loses his head.
A hundred and fifty pages into the book I was close to quitting but as with bad movies, I kept thinking "well, maybe it will get better" or "at least let it be over soon so I can move on to something better".
The part about the emissaries sets in somewhere after this point and brings about a short moment of hope, revealing new aspects of the Chaos Wastelands, but in no way can this save the novel. You basically start skimming over the paragraphs about the Skulltaker's battles, trying to work your way towards the end as quickly as possible.
Blood for the Blood God is a terrible disappointment after Palace of the Plague Lord, its clever ideas being few and far between (like the blind Beastmen that hunt in a forest full of mist). Too bad, really.
~1.5 Stars (out of 5)
~Bigred here. As usual comments are welcome and expect to see more novel and product reviews from Timo and others in the days ahead. We are slowly building up our review inventory, and will shortly be putting up a full "review" subsection of BoLS for ease of access.