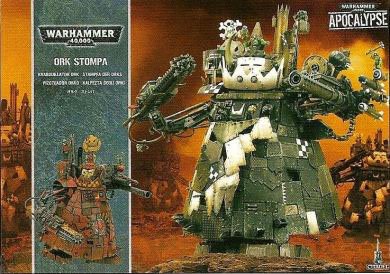 A few little items this Saturday.
First, look what showed up in our little old inbox: the Stompa Box art!
Secondly, we wanted to give you a rundown of the week's latest releases.
Orks
Ork Stormboyz
Ork Gretchin
Boss Zagstruk

Dark Elves
Dreadlord with great weapon
Dreadlord with hand weapon
Dreadlord on Dark steed
Dreadlord with additional handweapon
~If any of your Ork or Dark Elf fans like any of this stuff, you can run out and grab these RIGHT NOW. Is it just me or do you guys think our Apocalypse tables are going to filled with rows of Baneblades and Shadowswords, pummeling away at great mobs of Stompas in the near future. Its a great time to be a Reaver Princeps….