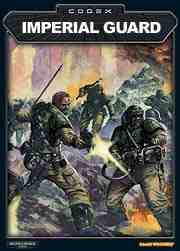 Hi guys,
Apparently a summary sheet of the IG codex was accidentally released by Games Workshop France and quickly pulled. While I won't repost original GW content here, I can give you all some tasty tidbits from the sheet in question: These are confirmed correct
Leman Russ Executioner's turret plasma cannon: R: 36″ S:7 AP:2 Heavy 3, Blast
~Jwolf was right on blast templates, this thing will be the terminator eraser!
Leman Russ Punisher's gatling punisher: R: 24″ S:5 AP:- Heavy 20
~Thats right folks, Heavy 20 is in the game!
All Leman Russ variants have AV:13 side armor.
Valkyrie is: AV 12/12/10
The "Armoured Sentinel" variant is: AV 12/10/10
The Deathstrike exists; and drops a 1d3+3″??? sized template upon its target once per game.
The Medusa Manticore exists and each of its 4 missiles drop 1d3 templates upon its target.
Named characters in the Codex:
-Creed
-Marbo
-Artillery Sergeant Harker
-Nork ~YAY!!!!!
-Kamir
-Kell
-Yarrick
-Chenkov
-Straken
-Al'rahim
-Lukas Bastonne
~UPDATE: Here's the full sheet; its already up everywhere else on the tubes!