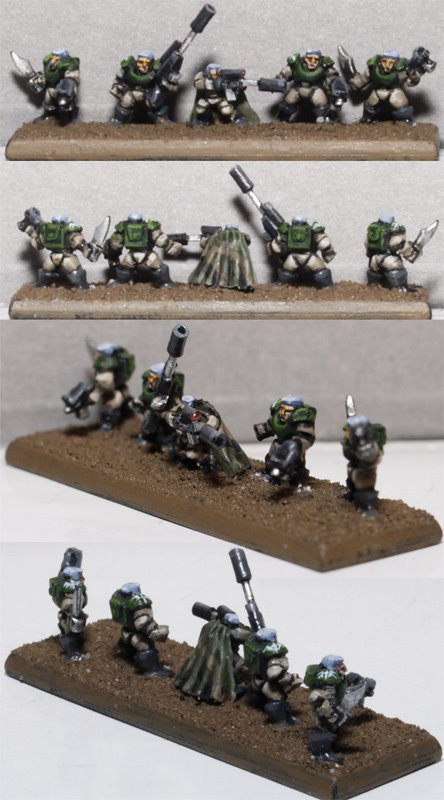 A guest article by Vanvlak and GR00V3R

EPICOMP is a 6mm Epic-scale miniatures and terrain painting competition organized by volunteers for the Epic community and hosted on the Tactical Command forums. It has been running for many years and, each year, succeeds in attracting some stunning entries. EPICOMP 2008 was no exception. EPICOMP is organized annually, and usually runs between September and December each year. Entries can be submitted over a period of several weeks, after which online polls are set up for voting. In the more popular categories, heats are set up to select finalists whose entries are pitted against each other in a second round of votes.
Below, we have highlighted some of the winners and most outstanding entries of the 2008 competition.
Best Single Model
Best Single Model allows any single science fiction model or stand of troops to 6mm scale; war machines and titans are entered in their own categories, however.
"Space Marine Scouts", submitted by Warmaster Nice, took the Single Model category this year. When you consider that each of these models is around 6mm tall, the attention to detail paid is impressive to say the least.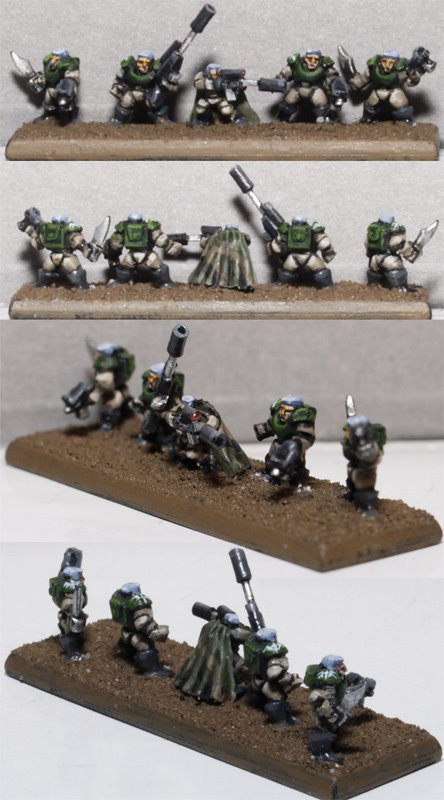 Space Marine Scouts by Warmaster Nice
Best War Engine/Titan
This category accepts any single war engine or Titan-class model in 6mm scale. This could be a Titan-size vehicle, a monstrous creature, or a super-heavy vehicle.
No model exemplifies this category better than the Imperator Titan, a sadly out-of-production model of the largest terrestrial war machine the Imperium ever conceived—and it was one of these monstrosities that won the Best War Engine/Titan category in 2008.
"Dies Irae", by Onyx, has been corrupted by Chaos, and the model is a great example of the conversion work many people undertake for their submissions.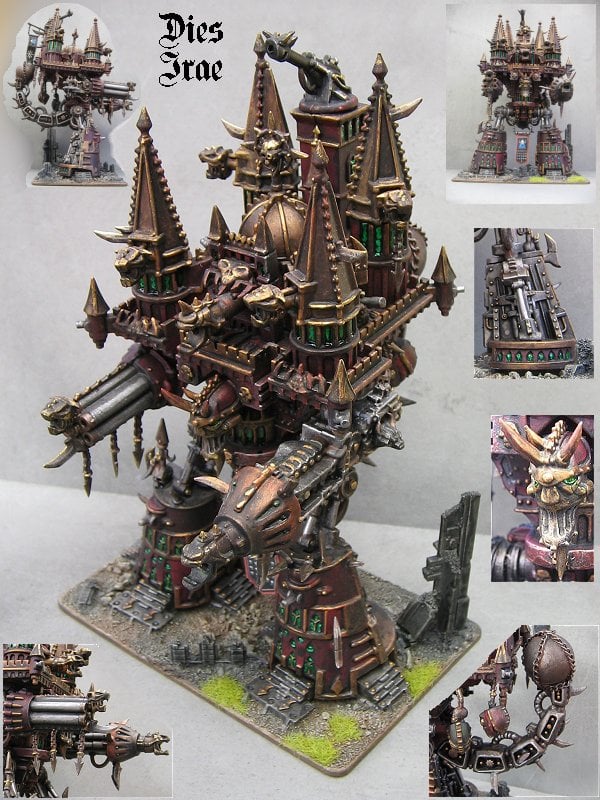 Dies Irae by Onyx
Best Battleforce
For EPICOMP 2008, a battleforce was defined as a small force of 6mm scale science fiction models consisting of at least four of the following:
– Formations of four models each (vehicles, creatures, troop stands and so on)
– Formations of war engines (Titans or super-heavy vehicles, or their equivalents in size and capability)
In both cases, one of the models had to be a force commander. A valid entry, then, could have included three formations of troops and one super-heavy tank (or equivalent) with one of the troop formations including a commander.
An outstanding example is the winner of this category, "Tyranid Assault", again by Warmaster Nice.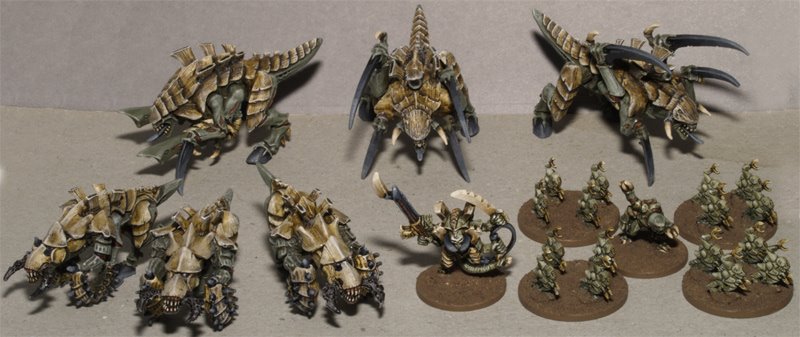 Tyranid Assault by Warmaster Nice
Open Category
This category was open to 6mm scale science fiction models of one of the following types: terrain; dioramas that include at least six single 6mm troops (not stands) or at least two 6mm vehicles; and sea- and river- going vessels of any type.
The winner of the Open category this year, Warmaster Nice (again) with "Armoured Airship", deserves special mention.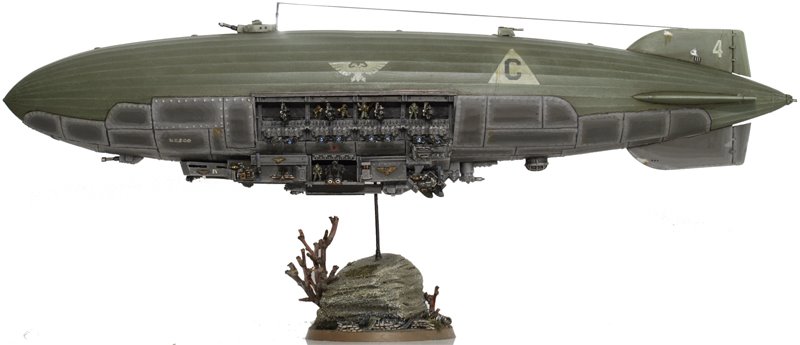 Armoured Airship by Warmaster Nice
Not only does this massive flying monstrosity fit beautifully in the Warhammer 40,000 universe, it also creates a new interpretation of the Imperium warmachine that does not contradict the background, but rather extrapolates upon it. The finish is incredible—take a close look at the armoured panels on the lower half of the hull, the mutedly-shaded olive canvas on the upper part, and the excellent job done with the markings.
Conversions
Unlike the other EPICOMP categories, this is not a distinct section, but rather covers all converted and scratch-built models entered in EPICOMP 2008. The winner is selected by an appointed jury.
In 2008, the winner was not one model, but a battleforce of conversions, namely Nicodemus' disturbing Titans of Nurgle, "Battleforce Haisuli".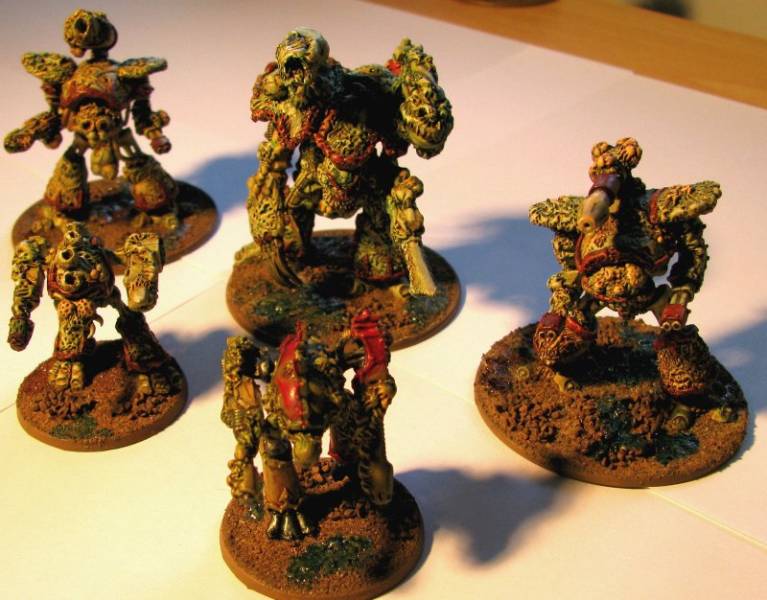 Battleforce Haisuli by Nicodemus
Categories for other miniatures manufacturers: Best Seeds of War Formation category and Best Exodus Wars Formation category
Two of the EPICOMP 2008 categories were dedicated to other manufacturers of 6mm scale models: Dark Realm Miniatures (Seeds of War) and Steel Crown Productions (Exodus Wars). Dark Realm Miniatures and Steel Crown Productions' miniatures are frequently found in Epic armies as stand-ins (proxies) for Epic units that are out of production.
A great example is Warmaster Nice's (yes, him again) "Mounted Snipers", which won the award for the Best Exodus Wars Formation category.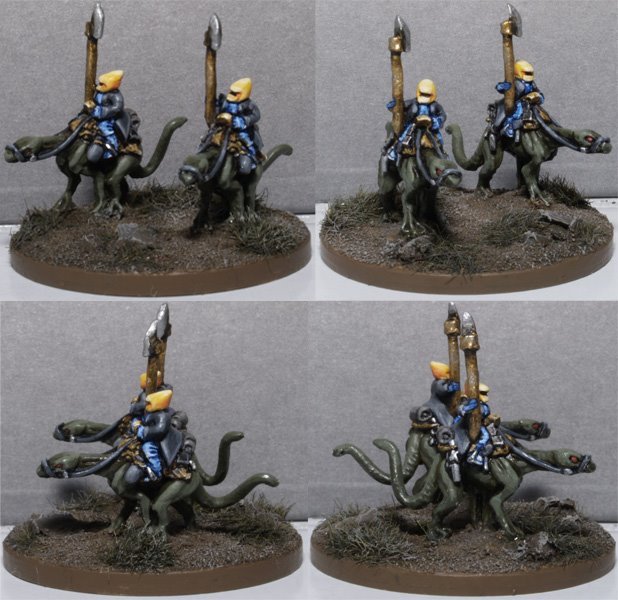 Mounted Snipers by Warmaster Nice
The winning entry for the Best Seeds of War Formation category was Onyx's "Majestic", an outstanding example of using a Dark Realm Miniatures' 6mm model as a proxy for a Warlord Titan.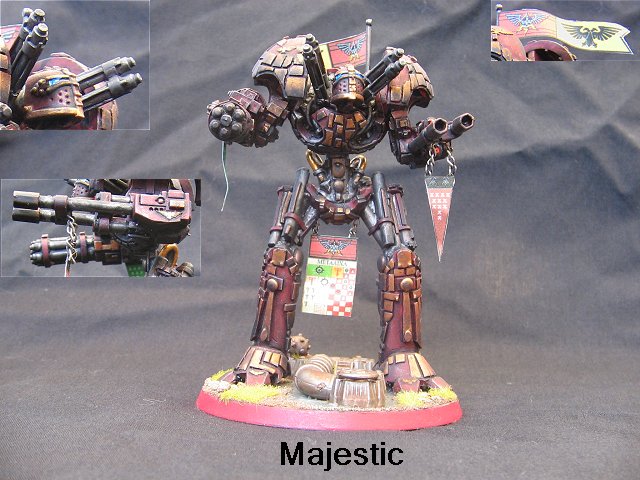 Majestic by Onyx
Packing Up
2008 was an unusual year for EPICOMP in that there were just three winners, and it featured multiple wins by two participants: Onyx and Warmaster Nice.
The standard set by these winners should serve as an inspiration to the great modellers and painters of the BoLS community…and also as a challenge. Reckon you can compete at this level? EPICOMP 2009 is your opportunity to find out.
We hope you'll give EPICOMP a shot this year—September is far enough away that you have lots of time to prepare. And meanwhile, of course, Gothicomp heats should be starting around May this year—you'll find more information about that competition at the Tactical Command forums on tacticalwargames.net.
~That is some crazy painting for epic scale folks. And I complain about painting frag grenades on my marines… Also, nice titan banners there guys… 🙂