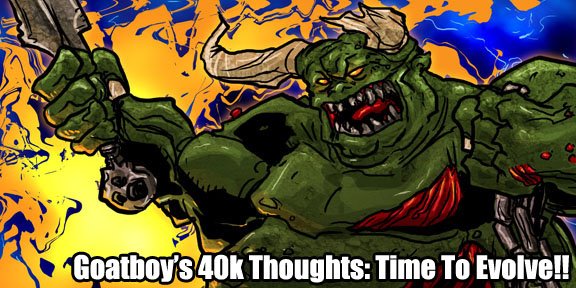 It is 5th Edition – Evolve Your Army.
Last week I talked about metagame and what it is in reference to Warhammer 40k. 5th edition changed the game up, and lately I have seen too many 4th edition armies coming to the table. I want to go over some ways you can change up your lists to reflect some of the changes in 5th and the new advantages the changes brought to your armies.
Lets look at some of the base changes in 40k 5th edition. I will list them out and then go through them and how you can take advantage of this change. I won't go through every change, just the ones I feel are a bit stronger and can change up how your army is built.
Vehicles got a big boost with the change up of the glancing/penetration table. They also got nerfed a bit with the change of defensive weapons being strength 4 and assaulting a vehicle means you hit the back end of it. What do these changes do? Well they have given vehicles a bit of life, since they are no longer popped as easily by some random glancing hit you might see coming at you. This also gives a big boost to extra armor/demonic possession as they give your vehicles options even if glanced. I feel in 5th edition, Rhinos and other APCs have become a lot better due to the fact that they have a much better chance at getting their job done: Dropping dudes off where you need them to be. Mix this with being one of the only true walls on the field (Rhinos are not see-through in any way) and you have a unit that is a nice edition to any army as well as adding a lot of tactical options to your list.
Another big change in 5th is that assault has become an extremely deadly affair. Usually an assault is a one-sided affair, and the lack of consolidation into another unit makes assaulting a somewhat uncertain option. Smart opponents will give you the "gift" of quick and easy assault targets, to leave your valuable forces stranded out in the open and ready to be rapid fired to death. I feel that if you have an assault-based list, you need to make sure everything is backed up in some way. If you leave your assaulters out in the open, there is a good chance they will be whipped during your opponents shooting phase. Now if you have something behind them, that is just as scary of a threat, you are basically baiting your opponent, just as they baited you. I like my lists to have waves of assault. That way you can create anxiety in your opponent and see if you can force a mistake.
The run feature in 5th has created a game where your infantry can really book it. If someone wants to get somewhere, they will get there, often with their Rhino dropping them off 12 inches and running d6 inches after that. This change has created the big jump in melta-gun use, due to most games not being the long range shooting fests you saw before running was added.
The melta also has a distinct advantage by being AP 1 and breaking the rule that a glancing hit won't blow you up. This makes the weapon a default option in most armies that can take it. The poor lascannon, once the bane of all heavy armor, has now been push to the side as being too expensive and not worth it for the super strong flashlight. If you are gunning for vehicles, then you want a melta gun since it gives you a 50% chance to kill it on the penetration table. This change in power of AP 1, has created a new overall distance in the game. That distance is 24 inches. This is much smaller then before, and helps create a much more involved game, where both armies are moving and counter moving to try and get an advantage. The addition of run, has made the game less static and a lot more fun in my own opinion.
The change in overall gaming field of 24 inches also helps rhino and other APC's. You really just want them to move up at the very least 12 inches. Once that job is finished, most opponents ignore them as they no longer have squish bits inside of them. This helps the rhino live longer and get second uses such as more troop redeployment and objective clearing.
The change in cover saves means that volume of fire ends up being better then low AP fire. This again hurts plasma, as most of the time, if you are sitting back and shooting, there is a good chance the guy you are trying to fry with hot plasma death is probably going to get a 50% chance to live. The change in flamer templates ignoring cover makes any kind of flamer weapon with strength of 5 or greater something to fear. Most of the time, the flamer weapon is on something that can assault after shooting it, which makes the flamer another great choice in the current metagame. Nothing clears out a bunch of guys hiding in the bushes like some hot liquid death.
Blast weapons have changed too, with high BS guys hitting with their templates most of the time. This makes some units a lot stronger, as they can pour out lots of template fire that can hit a lot of models due to the changes of what is affected by the blast. This makes blast weapons different, sometimes better and sometimes worse than before. When shooting a fat squad of orks, you are probably always going to hit with any blast template you throw against it. But if you are going for one guy, there is a good chance you will miss more.
I know I didn't go over the entire change set of 4th to 5th, but I wanted to hit some of the bigger bits that will affect your army as they try to compete in the new landscape of 5th edition. How do you change up your armies to take advantage of the changes? I think the power increase of troop vehicles means you should take more transports to help get you where you need to go as well as give you ways to change the overall landscape of the table by blocking true LOS. I also think that if you are not taking melta or AP 1 weapons, you hurting your army versus any heavy mech list that might be throwing out LR's or other armor 14 vehicles (looking at you IG and the coming of the iron storm).
I also feel this edition has pushed the whole, needing to think of your army as a machine that takes 5 to 6 turns to work. You are no longer winning completely on one turn, and have to use each of the turns to create your advantage as well as get your pieces in place. When I play a game I try to think out each turn before the game begins and then try to make that plan fall into place. The amount of movement involved in the game now, makes it feel more dynamic and creates a push and pull feel that makes our favorite game of little dudes killing each other exciting.
I've had a lot of people email me about army lists for marines. So I've decided to list an army I have tinker with in my head.
HQ: Lysander – 200pts
HQ: Chaplain, Terminator armor, Digital Weapons, Combi Melta – 145pts
Elites: (5) TH/SS termies, LRC, Multi-melta – 460pts
Elites: (5) Termies, LRC, Multi-Melta – 460pts
Troops: (10) Tac Squad, Multi-melta, Melta , Razorback – 210pts
Troops: (10) Tac Squad, Multi-melta, Melta , Razorback – 210pts
Fast Attack: Land Speeder, Multi-Melta – 60pts
Fast Attack: Land Speeder, Multi-Melta – 60pts
Heavy: Predator, Heavy Bolter Spon, Storm Bolter – 95pts
Heavy: Predator, Heavy Bolter Spon, Storm Bolter – 95pts
Pts: 1995 – KP – 14 – Scoring – 4
The idea is the Razorbacks and Predators give you a nice anti horde option, with a ton of fire coming out from both. The Speeders are there to take out armor as needed. The two LRC's drop off two hard units into the enemy and give them something to slow them down as you get everything else into position.
Lysander is a beast since he breaks some of the normal rules for a base HQ, by not auto dying to str 8+. Plus he can put a beating on many things. He's stubborn is a nice bonus and mix his bolter drill with regular termies that pop out and just fire away at some big MC in front of them. The chaplain is attached to the TH/SS to help create a really nasty unit that can pour out a large amount of wounds as needed. I think you could drop the LRC for Lysander's unit and just have them deep strike in as needed. I just wanted two LRC's since I can't play them in Chaos heh.
You could drop the LRC to create a 1750 if you wanted too. I don't feel it would lose much of its bite by losing the LRC. It would lose an anti-mech option, as well as a great horde shooter, but I still think it would work. I also like the idea of running around lots of mech stuff and feel the army would look neat on the field, in bright and shiney yellow.
I updated my blog with some new weekly painting work. I did this for a local painting contest. I've been wanting the model as soon as it came out, I just couldn't see the reason for it due to not wanting to run one in 40k, as well as fantasy. But crap, I like how it came out so he might have to show up at some point. Maybe he can get lucky and get a couple rolls on the Eye of the Gods table.