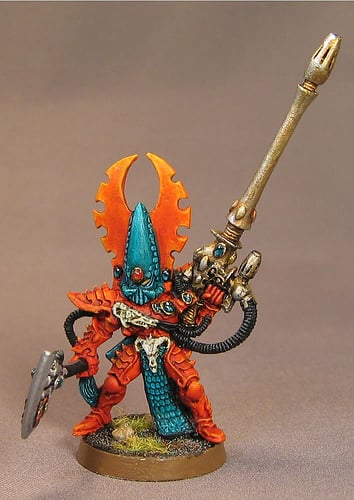 After seeing what the Apocalypse Formation, Phoenix Court of Khaine did to all comers in a battle report in White Dwarf a few months ago, I was inspired to paint the remaining Phoenix Lord models I had in my collection and to obtain and paint the couple I didn't already have. I finished Fuegan last week and two more since then. I'm about to finish updating the bases on the two I painted years ago and that will complete the Court.
The Fuegan pictured above was painted primarily with GW Blazing Orange and Scaly Green (teal). The orange was washed with Baal Red wash to tone it down a bit and darken the seams in the armor plating. Yellow paint was used for highlighting on the orange bits.
From an aesthetic point of view, I think Jes Goodwin's Eldar sculpts are the most beautiful miniatures around. From concept to execution they are wonderful to behold and the Phoenix Lords are the best of the best. It's a joy just to paint the Phoenix Lord sculpts and though I'm a rabid converter, I didn't do a thing to them other than to try and give them what is hopefully a really great paint job. Once I get pictures of the lot, I'll try and do a feature showing all of them. In the meantime, Fuegan leads the way.
Now that the Phoenix Lords are all painted, I'm currently working on a Forge World Revenant Titan I picked up a couple weeks ago thanks to the relatively low exchange rate between the dollar and the pound. It should nicely complement the Phoenix Court of Khaine, turning them into a fearsome Apocalypse force. When I also paint the Armorcast Eldar Tempest (Scorpion) I've had sitting around for years the Eldar should have some real super-heavy support.
Also on the subject of "Xenos", if anyone is looking for a copy of the wonderful out-of-print Black Library book, XENOLOGY, I'm selling a brand new copy of it on eBay at this link. It's full of terrifc artwork on the most popular aliens in 40K and it adds a few new ones too. The alien autopsy sketches and other artwork in the book are fascinating and the story arc that pulls it all together is full of surprises. It's a fun book and something that's a bit different than the usual BL fare.