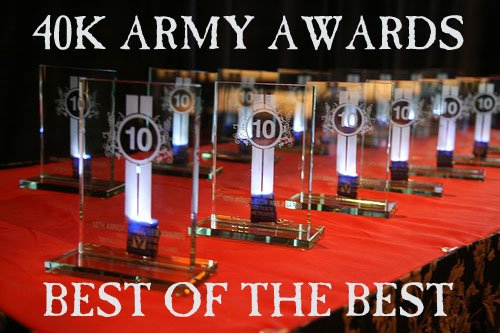 Hi all, Jwolf here. I'm reading the comments that we receive, and seeing requests for things like Necron Tactica and "Why do you guys talk about Thunder Hammer / Storm Shield Terminators and Nob Bikers so much?" In every iteration of Warhammer 40K, some Codices rise and others fade away, and we tend to talk about the armies in ascendance more than those which are disadvantaged. Here is my ranking of the top 8 Codices of 40K, in approximate order:
1) Orks – Orks have the single best unit in the game, Nob Bikers. Their basic troops are cheap and effective at shooting and assault. The vast amount of cover available means that having ineffective armor is a very minor issue most of the time. A low KP army of Orks still has the killing and staying power to win most objective-based games as well.
2) Chaos Space Marines – Chaos Space Marines have great units, including their well equipped and LD9 basic troopers (or LD10 with a reroll, which is both common and cheap). Add in very strong HQ choices, cheap Terminators, and excellent options for every spot on the force org and you've got a seriously capable army. And they have Lash of Submission, one of the most evil things since Virus Bombs.
3) Black Templars – Preferred Enemy got a big bump in 5e, and every Black Templar has it. Add to that Righteous Zeal and LD10 everywhere (never leave home without a Marshall), and you've got an army that is 50% better in assault than a similar point cost of Marines. The target priority is an annoyance, and not having all the amazing and new cool toys does hurt them, but no one is as solid in the back alleys and barroom brawls of 40K as the Templars.
4) The Imperial Guard – in 5e, ranged weapons get to shoot, and generally out to their maximum range. And no one else packs the volume of long range firepower the Guard does. Add in the shear number of units in a Guard army, the high availability of cover and you've got great options against hordes and elite armies. A well built (and lucky) Guard army can kill half it's points in enemy forces in less than 2 full turns of shooting, even if the enemy has no vehicles or expensive units. Really no one else can generate the weight of firepower to so many places on the board so easily, and firepower is the best cure for strong enemy assault units.
5) Space Marines – Amazing and cost effective special characters. Great units in every slot of the force org, and those 2+/3++ guys popping out of Landraiders are not fun. The biggest downside for Marines is that everyone gears their take-all-comers armies to play against them, but they're solid anyway you slice it.
6) Eldar – The Eldar are really great at killing small elite armies, and have a lot of ability to kill hordes of Orks with Bladestorming Dire Avengers. Their biggest problem is that without blocking terrain their vehicles are pretty easy to shoot down, and their aspect warriors are too easily handled at long range.
7) Tyranids – Tyranids have issues similar to Eldar, in that what worked so well for them last edition just doesn't work in Fifth Edition. Different builds are developing, but it looks like Tyranids are facing an uphill battle to regain regular top table appearances.
8) Chaos Daemons – Fatecrusher builds can turn any day into a bad day for most armies, and have singlehandedly given Dreadnoughts a new special purpose. While too random to dominate the game, Chaos Daemons do break the paradigm that most armies operate under and require entirely different tactics.
~Next time I'll go over why the rest of the armies are getting dusty on our shelves. Your thoughts are eagerly anticipated.