BoLS Boardgames: Shoulder of Orion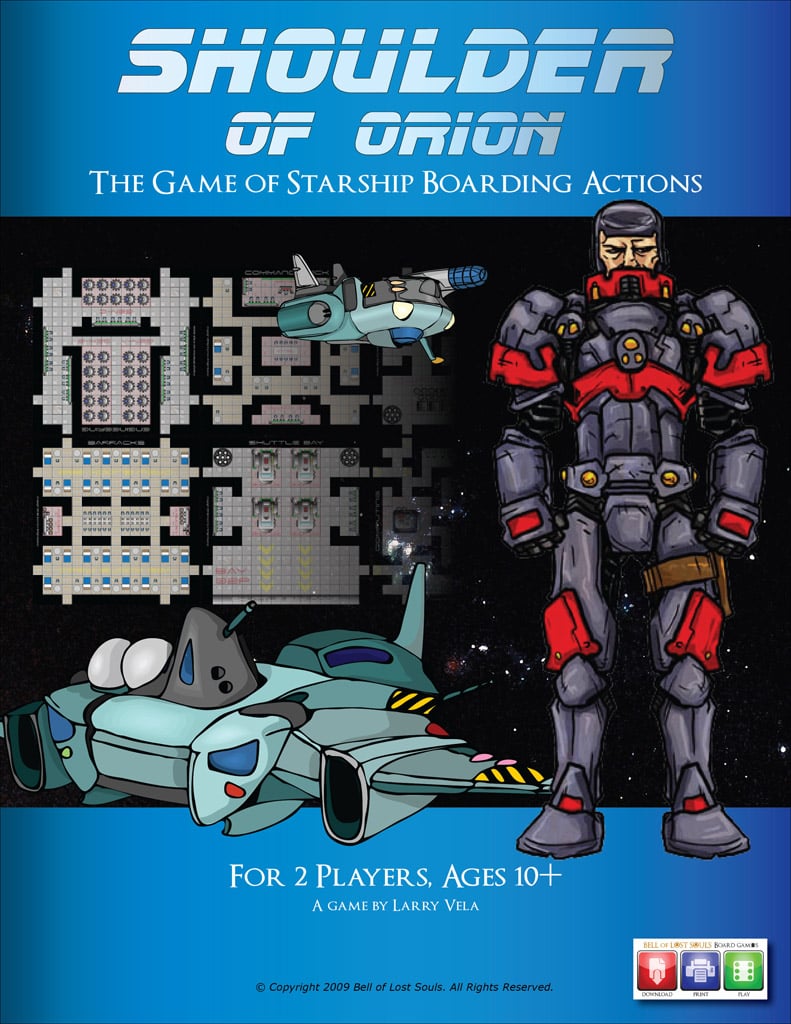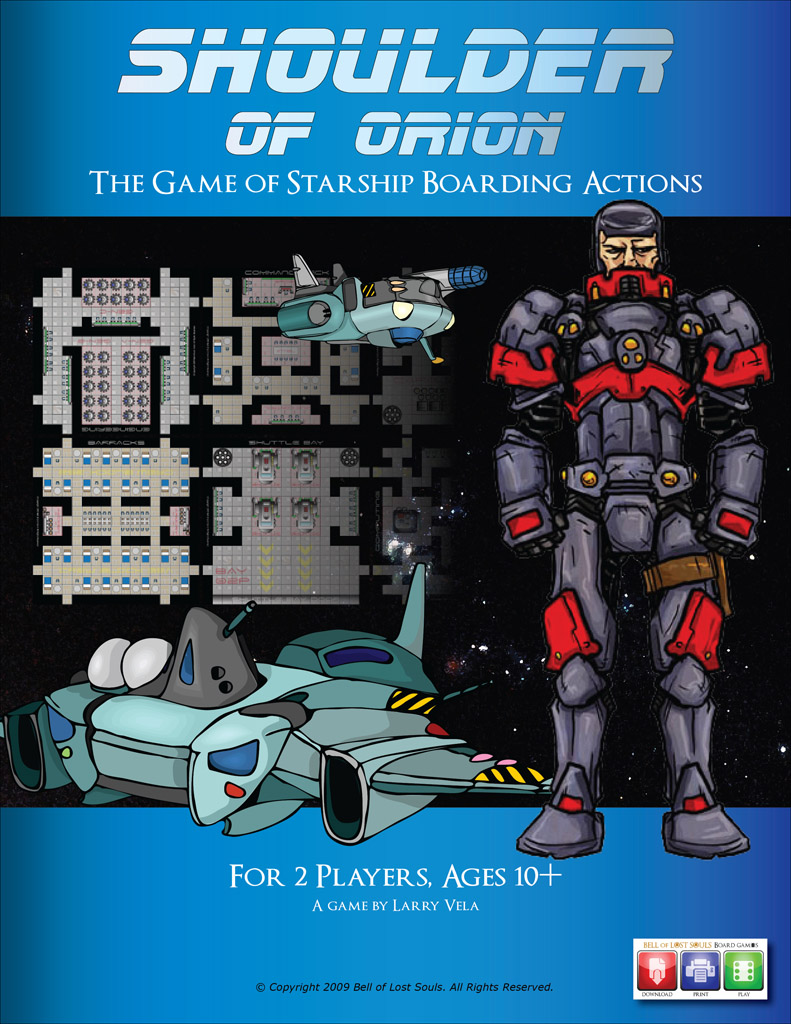 Boardgames
We have just put out our latest BoLS Boardgame, and launched our new sister-website! If you're like me, you have a soft spot for a good board game. In this age of technology, there is still a great charm to sitting around a table, having fun and sharing company with your friends and family.
Shoulder of Orion
Lets take a look at: Shoulder of Orion. Here you have a fun and fast-paced sci-fi game of star ship boarding actions for 2 players. Its really easy to learn, offers a set of 6 different fleets with differing playstyles and plays fast. Face off with a friend as deadly Colonial Marines or the brave Naval Crewman in a race against time to control the ship!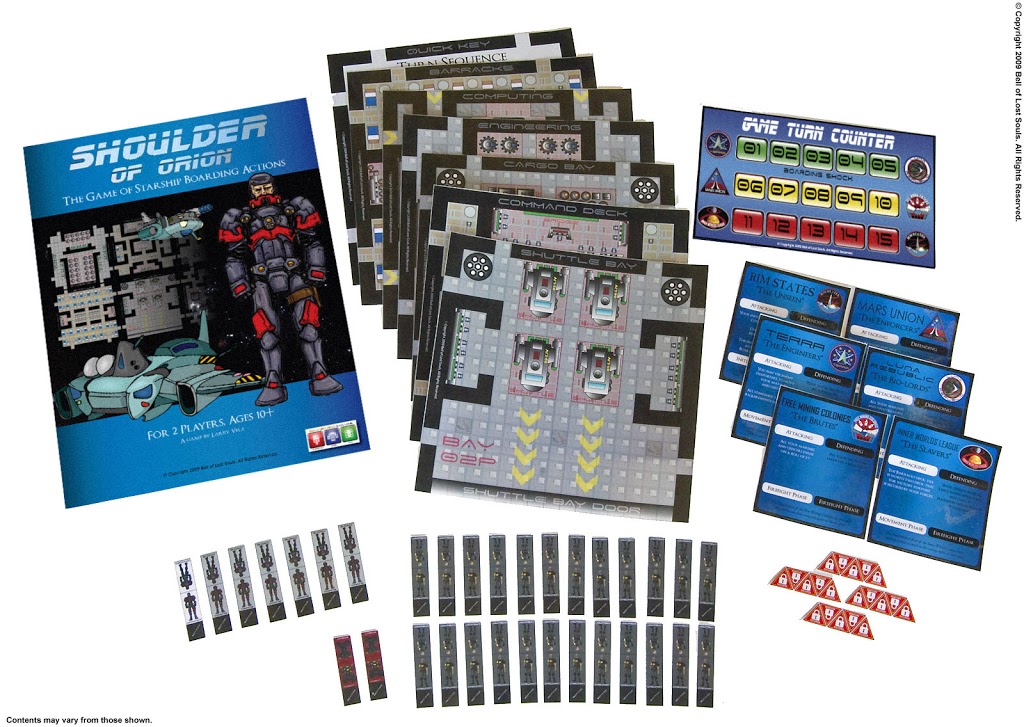 Shoulder of Orion playing pieces
The heart of Shoulder of Orion is a set of 6 deck-tiles with different objectives and corridor layouts types on them. The players will take turns laying these down and construct a different board each time you play.
Once the board is built, you assume control of one of the six fleets of the Shoulder of Orion world, and begin your battle for control of the ship. You will hunt your foe through dark corridors, capture or defend shipboard objectives, be wary of the deadly robot, and fight your way to ultimate victory and control of the ship.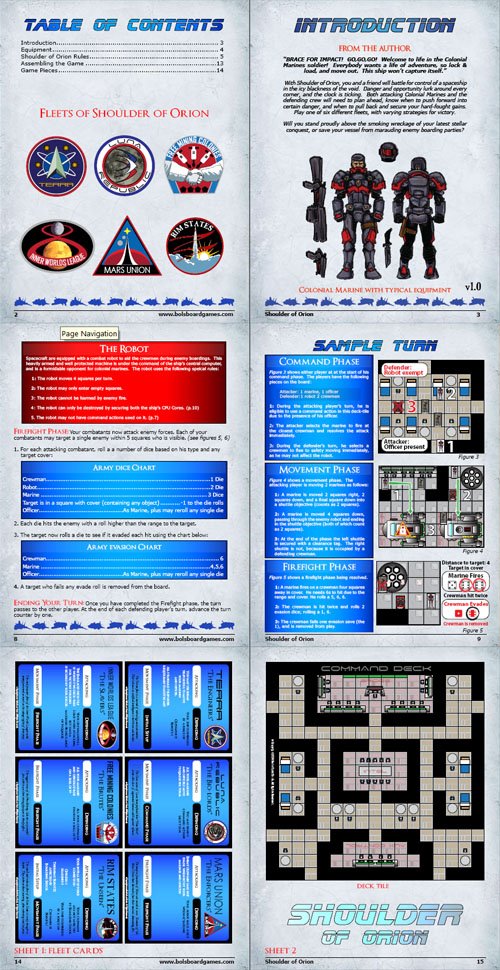 Sample Shoulder of Orion pages
All of the BoLS eBoardgames are provided as PDF downloads with all the counters needed to play. Just print out the playing pieces, add dice and get playing. All BoLS Boardgames can be enhanced with easily available plastic pieces from standard board games you probably have lying around your house, like chess, checkers, etc… Its an easy way to "dress up" your game if you enjoy the feel of 3d-playing pieces.
~I hope you go check out www.bolsboardgames.com, and have a look around. If you like anything you see, make sure you tell your friends, or rate us on Boardgamegeek.com.