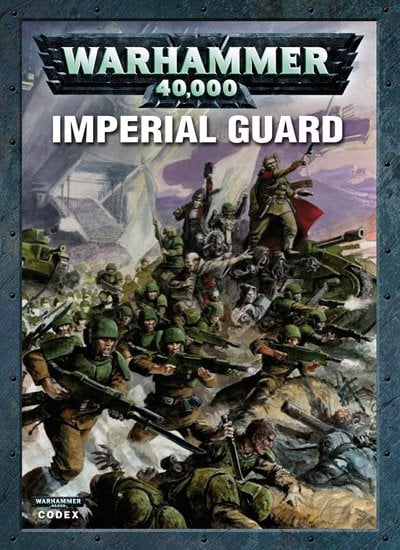 Imperial Guard Musings
After spending some time with the books, here's the first Guard list I'll be trying out for the Heavy Tournament in May under the new Codex. It is meant to be nasty without being ridiculous, but who can resist the Master of Ordnance?
Since I want to play this army in a tournament, I want to use models I already have. Mystics behind a Demolisher are terrible things, and will allow me to drop hellish firepoer on anything foolish enough to drop into my lines. Two Masters of Ordnance mean an extra couple of 9/3 Ordnance large blasts dropping out of the sky. Sure, they may miss a lot, but the chance that they can hit is too good to resist for their small cost.
HQ

Command HQ – Astropath, Master of the Fleet, Master of Ordnance
Chimera
Command HQ – Master of Ordnance
Chimera
Troops

Platoon A
A0 – Great happiness at not being 2 KP
A1 – Grenade Launcher
A2 – Grenade Launcher
Heavy Weapons Squads – 3xLascannons, 3xMissle Launchers, 3xAutocannons
Platoon B
B0 – Al'Rahem, Heavy Flamer
B1 – Flamer
B2 – Flamer
Special Weapons – 2xMeltas, Demo Charge
Veterans 3xMeltas
Elite
Ratlingsx10
Allied Daemonhunter Inquisitor with Mystics
Fast Attack
Hellhound
Devildog
Heavy Support

Leman Russ Demolisher, Sponson Plasma Cannons, Hull Lascannon
Leman Russ Battle Tank, 3 Heavy Bolters
Basilisk
Battle Plan:
Set the HQs and Platoon A in a fairly standard box. Use the squads for screening, with the heavy weapons behind. Hold the veterans in reserve to come in after the enemy has closed range.
Platoon B is outflanking towards the enemy rear areas and objectives. Devil Dog is hunting for a Land Raider, and the Hellhound either races towards enemy troops or screening the friendly lines. The other tanks use big guns to kill the largest concentrations of enemy troops.
~What do you guys think? Is the porridge to hot, to cold, or just right?