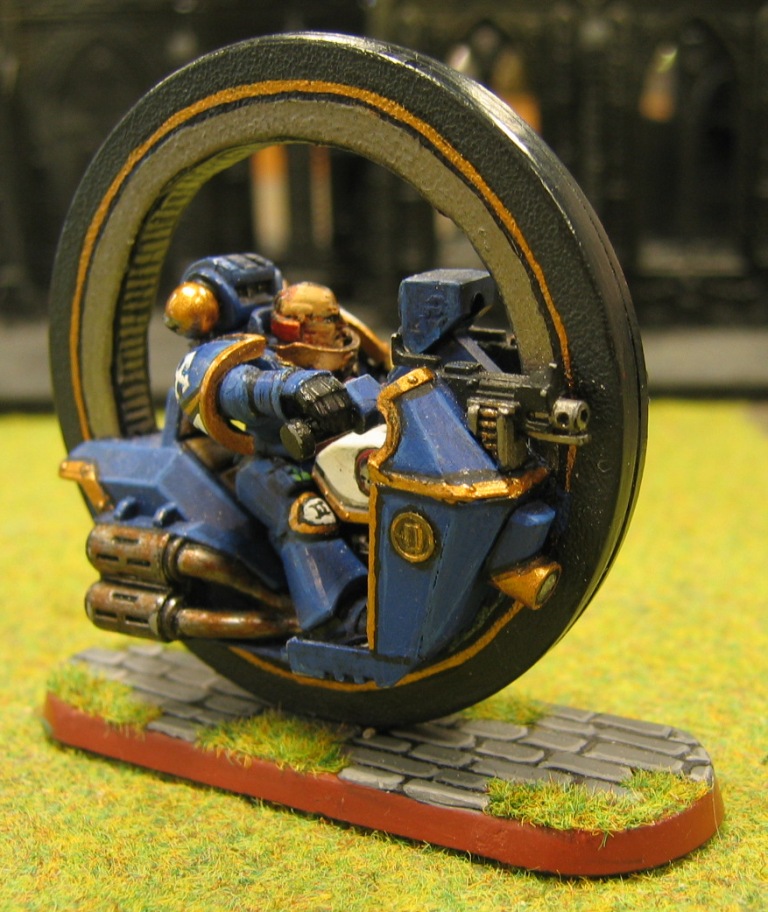 This unique model was built by a friend of mine who also frequents the GW Battle Bunker in Maryland. In fact, being an avid converter myself it was the conversation piece that caused me to speak to him in the first place a few years ago. If it happens to be sitting out on the hobby table at the store, it almost never fails to draw questions about its origins and construction. Here are a few tidbits of information that will address the most asked questions about this unusual piece.
Although some people seem to think this conversion was influenced by a certain character and his monowheeled vehicle in recent Star Wars movies, in fact it was actually inspired by a real monowheeled motor vehicle built several years before that film. The film character's monowheel was probably influenced by real world vehicles of this type just like the conversion pictured here.
The other most frequently asked question about this conversion is about the construction of the large outer wheel. It's actually cut from three 60mm GW flat Titan bases glued together with their centers carefully cut out.
Note that I've featured the work of this hobbyist here before. The two-tone bone and red Dark Angels army featured here on BoLS several months ago was the work of the same person, as was one of the Shadowswords featured in the 40K Big Game article from a few days ago.
So, what other "far-out" conversions for 40K bikes are out there? Feel free to share your ideas or links to pictures in the comments area below.