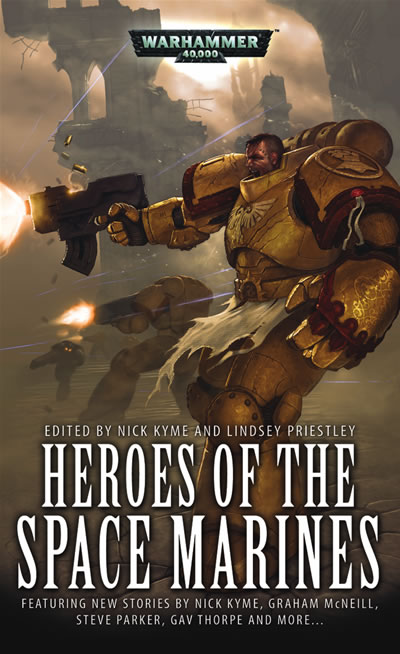 A guest review by Timo
Here comes another collection of Warhammer 40000 short stories, this time with a slightly misleading tittle. Really, this novel would have been better named (Anti)Heros of the Space Marines. You might share this view toward the end of this article, but for now, let's get to the first story without further ado:
The Skull Harvest – Graham McNeill
Huron Blackheart is treating Warbands to a tournament. They can send their champion in to duel, and the winner will receive the loser's Warband, up until there is only one leader left among the competitors. Uriel Ventis' nemesis Hounsou is taking part in this competition, planning to gather together a force for the attack on Macgragge.
Hounsou, the sociopathic Chaos Marine, has been an interesting character since the novel Black Sky, Black Sun, and lets us look forward to McNeill's upcoming novels. Hopefully here we will finally experience the climax of the Ultramarines saga.
The short story is bloody and entertaining.
Gauntlet Run – Chris Roberson
Gauntlet Run is a prequel to Chris Roberson's upcoming Imperial Fists novel (s).
The plot is set around a chase between a few Scouts and Orks (on red bikes, of course). Are the hunted really just the victims or do they have ulterior plans?
Neither the writing style nor the story really soared with me, so lets move on to the next.
Renegade – Gav Thorpe
A group of the Avenging Sons is defending the last hideaways of soldiers loyal to the Imperium on a planet that has succumbed to a Chaos cult. When their Librarian is troubled by a vision it is quite clear: the planet is doomed to fall victim to the hordes of the Warp. To fulfill the mission or save the valuable brothers' lives, which will it be? This question can only be answered in the course of a bloody conflict, Brother against Brother.
The name Gav Thorpe seems to entail some negative connotations but I am always surprised by his stories and the topics he choses. I recommend this story.
Honour Among Friends – Dylan Owen
A group of Black Legion warriors lands on a planet with a very special mission because their leader is more interested in a specific person than the large-scale conflicts between loyal troops and the hordes of Chaos. An ancient oath, spoken centuries ago, has to be fulfilled.
Dylan Owen delivers an intelligent story that gives some insight into a Chaos Marine's personal goals as well as his self-doubt. An enthralling style of writing combined with a great idea: what more could one want?
Fires of War – Nick Kyme
Much like Gauntlet Run is a small taste of the Imperial Fists, Fires of War is a short introduction to Nick Kyme's upcoming novel "Salamander".
The Salamanders are fighting against a town occupied by cultists, while an older enemy is lurking behind this obvious threat.
The story really is more tantalizing than my short synopsis might lead you to think, however it is sitting amongst stronger material, so lets use this space for some of the other stories.
The Labyrinth – Richard Ford
The Labyrinth is one of these.
The Sons of Malice make us of a labyrinth to select those truly worthy to join the elite Doomed Ones. Only those brave enough to face these dangers enter this contest.
After about half of this thrilling story I stumbled upon a fountain of youth! The setting totally reminded me of Ian Livingstone's 1984 novel "Death trap Dungeon". And since the story is so nicely exciting and "Chaos", it successfully wowed me.
Headhunted – Steve Parker
Although Steve Parker is better known for his Imperial Guards novels, he gives us some insight into a Deathwatch-Kill teams' world.
The small team races against time across a Green Skins's space ship with the mission to kill a specific Ork. Headhunter would make the perfect action film; it is fast-paced, gory and exciting.
And They Shall Know No Fear – Darren Cox
A group of Black Templars joins the Imperial troops with a secret agenda, turning a mission into a cover-up of their lies.
I'm actually quite a Black Templars fan but somehow no author has yet managed to capture their charm, although Helbrecht the Neophyte make me crack a smile now and then.
Nightfall – Peter Fehervari
Nightfall on the other hand is one of this collection's gems.
The time to select new recruits has come, and this process is a bloody one. Since we are dealing with Chaos here, a simple selection process would be way too mundane: some Marines are convinced that it's time for a change in leadership, and then there's this secret power thats coursing through a boy. The Warp moves in mysterious ways.
This is a Chaos story as it should be, full of blood, intrigues, and fast-paced action. Two thumbs up for Peter Fehervari.
One Hate – Aaron Dembski-Bowden
This story's main character is a young Crimson Fists Chaplain that lands on a planet with a small brigade. The planet has recently been turned over to Imperial troops after intense battles with the Orks. The Imperial Guard have obviously blown their mission, and now the green tide is once again threatening to submerge this planet.
Can a handful of Crimson Fists be of any help here or do their have an agenda of their own?
Concluding Thoughts
Maybe my suggestion of a title change to (Anti)Heroes of the Space Marine make more sense now. The Chaos side of this collection delivers the more interesting tales, so the Warp definitely wins this battle of the Space Marines. Beside those few more staid stories, this collection is worth your time, and he who finds a collection of short stories that has no shortcomings, may cast the first stone… or fire the first bolter. Go check it out.
4 Stars (out of 5)