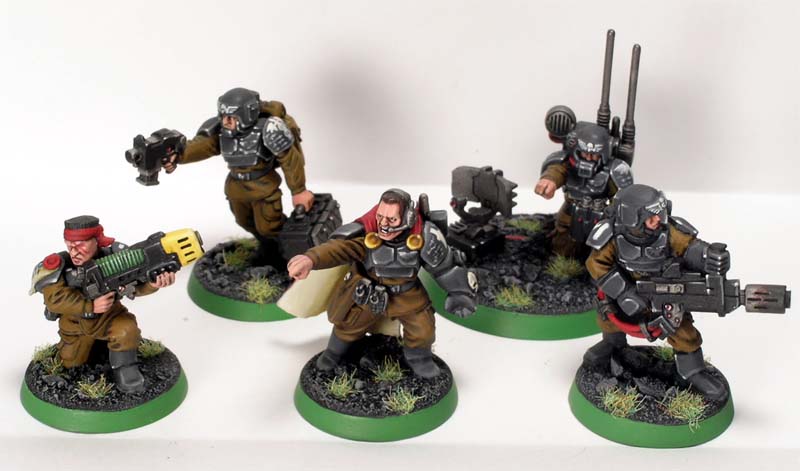 "War is much too serious a matter to be entrusted to the military." – Inquisitor Lord Clemenceau

Let me start of by saying that the reports of my death have been greatly exaggerated. Although real life has conspired to keep me out of the game, the new Imperial Guard codex has me itching to get some boots on the ground.
Most readers will be familiar with how Inquisition forces work in Warhammer 40K, but here's a short review. First of all, Imperial armies can include Inquisition forces using the "Using Witch Hunters (or Daemonhunters) as Allies" rules. This allows you to add a contingent of Inquisitorial units in your existing army. The first section of this article discussion ways to use the Inquisition codices in a new Imperial Guard army. The second way to mix-and-match codices is to use the "By the Authority of the Immortal Emperor of Mankind…" section, which covers the rules on using "Inducted Imperial Guard" in your Witch Hunter or Daemonhunter army. The second part of this article outlines how to use Inducted Guard with the new Imperial Guard codex.
Tips and tricks using the "Using Witch Hunter (or Daemonhunters) as Allies" rules:
1. ORDERS. Imperial Guard orders work on "friendly non-vehicle units". So if you include WH/DH units in your army, they can follow orders. All of the Senior Officer orders are fantastic when used on your allied units. Twin-linked shooting against vehicles/monstrous creatures? Force your target to re-roll successful cover saves? Immediately regroup? Yes, please! The Junior Officer orders are less useful, but I'm sure a clever player can find some use for "Move! Move! Move!". Personally, I can't wait to try out Creed's "For the Honor of Cadia!" with my Seraphim (Fearless and Furious Charge). Fun stuff!
2. LORD CASTELLAN CREED. Creed is a fantastic choice for an IG army using WH/DH allies. His "Tactical Genius" ability works on "a single infantry or vehicle unit in your army". That lets you outflank an allied unit of Grey Knight Terminators or an Immolator full of Dominions. Creed even makes otherwise terrible units viable — outflanking 20-man squad of Sisters Repentia (or Arco-Flagellants or Zealots)? Awesome!
3. ASTROPATHS. The Inquisition loves Astropaths! Add +1 to reserve rolls and re-roll the dice to determine board edge? That gives a nice boost to your assassins; it also makes your Eversor and Culexus much more effective. If you build an army around Lord Castellan Creed with an Astropath, it makes your allied outflanking units very reliable.
4. MINISTORUM PRIESTS. The new Imperial Guard Priests are much less picky than the WH/DH versions and they will happily join allied units. This can lead to some Righteous Fury fun. I'm imagining the horror an outflanking Grey Knight Grandmaster with a retinue of 9 Grey Knight Terminators and a Ministorum Priest (especially, if you can get them in range of Creed's "For the Honor of Cadia!" order for some Furious Charging). I can't wait to see someone pull that off!
5. PSYKER BATTLE SQUADS. Just about every IG player is building a list around this nasty knot of psykers – and every other player is scouring their codices looking for a way to counter them. Well, here's another PBS trick. Every Sanctioned Psyker has the "psyker" rule. This makes them a powerful battery for WH/DH players that use Culexus assassins. A full-sized PBS turns the Animus Speculum into a BS5 S5 AP1 Assault 11 weapon. Just think of all of the Spinal Tap jokes you can make with that one! If you are extra cruel, you can take 2 PBSs to make the Animus Speculum an Assault 20 weapon. Who needs counter charge when you have that in the wings? When not being used to power the Culexus, even a small a Psyker Battle Squad works great with a WH Inquisitor Lord using Divine Pronouncement. Oh, just keep the PBSs in Chimeras to shield them from the Psychic Abomination rule (or keep a Book of St. Lucius or some other morale booster nearby).
The new Imperial Guard codex gives the Witch Hunters and Daemonhunters armies a very nice boost. For the points, a WH/DH army using Inducted Guard just got tougher. The units are cheaper and more effective — if you don't normally include Inducted Guard in your WH/DH army, you should take a look at them now. Although WH/DH players lost a unit or two (e.g., at a minimum Armored Fist squads are gone), the boost from the change to the Infantry Platoons more than makes up for the loss.
There's going to be some nasty arguments over how the new Imperial Guard codex changes the "By the Authority of the Immortal Emperor of Mankind…" rules. I'm going to give you the various options and my advice, but (as always) choose the option that works best for your group. Keep the bloodshed to a minimum.
There are two approaches you can take when a codex is updated: a) analyze the changes that were made (i.e., name changes, unit structure changes, unit composition changes, etc.) and try to keep the WH/DH rules in-line with the new Imperial Guard rules, or b) take the most literal interpretation. The first approach is friendlier and keeps the Inducted Guard in line with the updated codex Imperial Guard, but the second approach will be used in competitive play.
Since I'm sure you want to squeeze out every ounce of cheese, I'll focus on the latter approach in this article.
Let's dive into it:
1. INFANTRY PLATOON: WH/DH players are lucky there's still an Infantry Platoon defined in the new codex. The new IG codex changes the structure a lot, which opens up some nice options for Inducted Guard armies. In addition to a Platoon Command Squad and 2-5 Infantry Squads, the WH/DH player now has access to 0-5 Heavy Weapons Squads, 0-2 Special Weapons Squads and 0-1 Conscript Squads per Inducted Guard Infantry Platoon. That's awesome! And it really opens up some fun options for Inquisitorial armies (e.g., Special Weapons squads with Demolition Charges).
Your Inducted Infantry Squads also have the "Combined Squad" rule. This allows you to merge multiple infantry squads into a single unit on deployment. You want an outflanking 50-man squad with 5 Commissars and a Grey Knight Grandmaster? Then Combined Squads are for you! Oh, and that massive unit also benefits from the Grandmaster's Aegis and The Shrouding.
2. UPGRADE CHARACTERS: It's worth noting that the Imperial Guard upgrade characters are also available in Inducted Imperial Guard units. Since your Inducted Platoon has a Platoon Command Squad, the Platoon Commander can be replaced with Commander Chenkov or Captain Al'Rahem. Both Platoon Commanders are great additions to a WH/DH army.
Chenkov makes "all friendly units" within 12″ Stubborn (including your WH/DH units) and he also gives you two useful orders each turn, including "Get Back in the Fight!" (regrouping) and "Move! Move! Move!" (roll 3d6 and choose the highest for running). Captain El'Rahem gives you "Bring it Down!" (twin-linked against monstrous creatures and vehicles) and "Like the Wind!" (shoot and then move d6") — as well as his very cool Stalk the Enemy ability (all units in his Infantry Platoon must outflank).
3. PREREQUISITES: Most additional Inducted Guard units require "at least two Troops choices of Inducted Imperial Guard" to unlock them. In the previous version of the IG codex, this meant a combination of two Infantry Platoons and/or Armored Fist squads. But this changes with the new codex where Infantry Platoons are the only option. There may be some argument about what "two Troops choices" entails, but level heads will agree that you need two Infantry Platoons if you want Rough Riders, Sentinels or a Russ.
4. SENTINEL SQUADRONS: They added a new type of Sentinel to the IG codex, so be prepared for some argument on how Sentinels work with Inducted Guard armies. It's clear from the description that Scout Sentinels Squadrons and Armored Sentinels Squadrons are Sentinel Squadrons, so both should be options for WH/DH Inducted Guard. If you want to avoid the fight, then just use Scout Sentinels (since they fill the same role as the unit in the original IG codex). Even if you exclude Armored Sentinels, the new Sentinels are better and cheaper so you still come out ahead.
5. ROUGH RIDERS: Are pretty much a wash in my opinion, but it's nice that they have the extra grenades. As a perk, you get access to Mogul Kamir. He's not the most interesting character, but Furious Charge makes his Rough Riders pack a serious punch (although Rage is a nasty drawback).
6. BATTLE TANKS: Take a breath because this is going to be the single most fought over rule in Inducted Guard armies. The WH/DH rules give access to "0-1 Leman Russ Battle Tank". Is this one tank or one squadron? Is this the generic Battle Tank or does it include Russ variants? There are four ways you can interpret this rule. I'm actually a bit torn on which is the most reasonable interpretation and have already "discussed" it a few times with the FLGS guys. I suspect it's going to take a few "discussions" to come up with something reasonable. Here are the options from most to least permissive.
If this gets ruled against you, consider Knight Commander Pask as a consolation prize (and the fact that LRBTs have gotten a nice boost in combat effectiveness).
6.1. Squadron with variants: The IG codex changed the structure of the LRBT heavy support choice, so the WH/DH Inducted Guard choice should follow suit. You get a single 0-1 LRBT heavy support choice. This probably maps best from the old IG Codex to the new one, but is going to be a tough sell. Even though I think it is the most reasonable interpretation, most FLGSs will be too concerned about potential "balance problems" to use this interpretation. Until it gets FAQ'ed, I expect to see this only in friendly games.
6.2. Squadrons, no variants: WH/DH players benefit from the change to the Heavy Support choice, but don't get access to the Russ variants. This is a bit arbitrary, but a fairly reasonable position.
6.3. Single tank, including variants: You get one Leman Russ Battle Tank, but that includes any of the Russ variants under the choice. I think this is going to be a popular "middle ground". It allows the WH/DH player to have a cool tank, but it doesn't open the door to squadrons. This is going to be the "I don't see squadrons mentioned in the book" argument. I think it's a bit short sighted, but tournament organizers love literal interpretations.
6.4. Single tank, no variants: This is going to be fear-based, knee-jerk reaction with every gaming group. "It doesn't say anything about variants" will be their battle cry. This position is the least reasonable (and inconsistent with the spirit of the rules), but is the most literal.
~That's it for this article. I look forward to your comments and will endeavor to post as I experiment with the new IG codex. I'm building my first army list right now and plan to get a game in tomorrow! Wish me luck! -mkerr