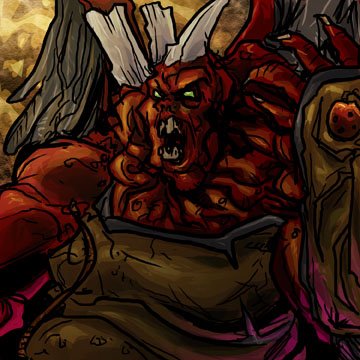 This last tournament I played at locally, I noticed that I never went first in any of my games. Now this didn't bother me, as the advantage of going first, has been lessened in the new world of 5th edition. The new guaranteed knowledge of who goes first lets you use a whole new set of skills in order to create advantage, that isn't based on a single dice roll (unless they Steal the Initiative).
Control the Terrain
Now I know we can't really control the terrain, but you can control what your opponent sees. Usually when I see a table laid out in front of me, I start to figure out where I need to go. I plan methods to limit my opponent's influence on my own troops as well as create situations where I can easily control and kill entire enemy units. With so many armies having ways to either ignore leadership or have a very low chance of breaking, you have to rely on killing their entire units, instead of just leaving them weakened but still dangerous.
If I know the opponent is an assault heavy army, I try to put my guys into difficult terrain. Nothing is greater then having a bunch of orks try to run towards your guys hidden in some woods, and watching with glee as they get cut down due to you striking first. I also strive to set up my powerful ranged weapons in positions that have a great chance to hurt my opponent and not give them 4+ cover saves. You can't always control this, but having some thought to your set up can help figure out ways to give you a great advantage.
Make sure all units have support
The game is no longer just a shooting gallery. Your army is much more like a living thing. Every unit has a purpose now, and each purpose can roll into the next unit to create distinct advantages. I usually run a basic rush of troops, mixed with hard-hitting assault behind, to help create a "deal with me and get hurt" offense wave. I will also mix in my troop transports, to create sacrificial units and moveable terrain to aid the offensive wave. You have to use your whole army in order to win.
Most of the time, I end up setting my guys into a block that can weather any weapon fire, as well as create cover for any heavier units hanging back. Once I survive whatever shooting might come at me, I then have the advantage of either moving up and rapid firing into something, or changing up where they thought I might go as I push towards another direction.
Control your opponent
The point of the game is to kill your opponent. Yes I know there are objectives, but in reality you win by killing more stuff. Since your opponent is also trying to do the same thing, you have a measure of control with placing and giving your opponent units to deal with. If you know that you have an extremely lethal assault army, and are dealing with a fast moving enemy, you know you will need to try to bait and control where your opponent is going to move. Remember your weapon ranges, so you can set up interlocking fire corridors for your opponent to deal with, then bait them into moving into the killzone. Of course you can't always bait a smart opponent, but if they are not killing you, then you have won a bit since you have gained a level of control over your foe.
The other factor of this is that you don't always have to shoot every turn. If you can move into a position that is hard for your opponent to deal at the cost of a single round of shooting, go for it. Positioning is so important, since receiving cover saves is one of the bigest new factors in 5th edition.
So why do I like to go Second?
I would rather react to, than push the game. When you react to your opponent, you can see what he considers to be important. What unit didn't move all the way? What vehicle didn't seem to move as fast as it could have? All these things are information that you can use to help win you the game. If your opponent has set up in a line, you know you can concentrate on one side and break them from there. If they leave some short range firepower on one side, you know you could go after the long range stuff, and leave half their army high and dry. When I see a player's army list, I can tell what I will have to worry about that first turn, and I prepare for the worst. Once I "survive" that turn, I can react and move towards what I feel is the chink in the opponent's armor. Also remember that since 2 missions have objectives it makes sense to go second, so you can always make a mad dash for that weapons cache.
In conclusion going second is no longer the auto loss it was the 4th, as you have a lot more say in what can be seen. You are no longer setting up blind, hoping you get that high roll. You can now use your set up as something more then just setting up firing lanes.
As usual, shoot me an email if you have any questions or want me to review your army list. Current projects are finishing the arbites, my marines, my daemon fantasy army, and finally some random chaos guys for an upcoming Indy GT. Too much to do hehe, add wedding and some animation work is keeping me pretty danged busy.