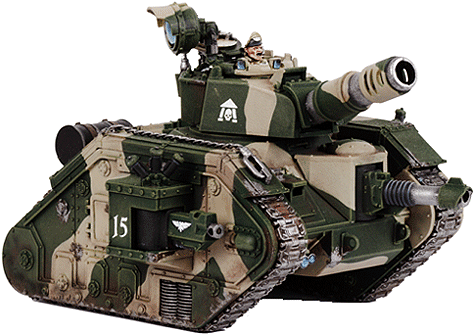 Jwolf here. Let's talk about Leman Russes. In the new Guard Codex we have 5 new types, the option to take up to 3 tanks in a Squadron, and new sponson options. It's enough to make your head spin, so here is some advice on choosing Russes, for new and old Guardsmen alike.
First issue, should you take squadrons or not? The general answer is do not take squadrons. Russes are expensive platforms and the Squadron rules mean that immobilization kills them, making them more vulnerable. So unless you are committed to taking more than 3 Heavy choices, take your tanks singly.
Here are my suggestions of which Russes to take, their loadouts, and why.
#1 Demolisher, with Hull Lascannon and Plasma Cannon Sponsons. This tank has the best general purpose turret and an awesome amount of anti-anything firepower. If you want to have one to maneuver, drop the sponsons, but the full load-out and sitting in a key position is the best use of this platform. Remember to build your 6" deep barrier of infantrymen if you're facing Drop Pods or Deep Strikers.
#2 Battle Tank, with Hull Heavy Bolter. The good old Russ still kills Marines across the board and is a threat to any vehicle on the board. Keeping the sponsons off lets you move to cover vulnerable areas.
#3 Executioner, with Hull Lascannon and Sponson Plasma Cannons. This tank is the best use of Pask, having 5 blast templates that will benefit from his BS4. The Executioner is the best tank for killing tough single wound and Eternal Warrior units. The Executioner is largely impotent against AV14, and it is the most expensive loadout, but it inspires a great deal of terror.
#4 Vanquisher, with Hull Lascannon. This tank is your best shot at killing most vehicles at over 48" – but how often do you need to do that, honestly? If you want to upgrade the tank to being generally useful, add Plasma Cannon Sponsons. This makes the Vanquisher a decent all-around killer. Multi-melta Sponsons are just overkill, unless you add Pask and go for the vehicle eraser (at a Landraider price).
#5 Exterminator, with Hull and Sponson Heavy Bolters. The Exterminator Autocannon is very good for killing light armor, but the lack of effectiveness against AV14 means this is tank has a limited role. You could add Pask, making the tank expensive but able to hurt any tank out there (and pretty darn good against Waveserpents).
#6 Eradicator, with Hull Heavy Bolter. This is a solid tank for killing all those Carapace or worse armies out there, but Artillery and Hellhounds are better used in that role. Since such a high percentage of armies have Power Armor and/or transport vehicles, this tank's only saving grace is moderate pricing.
#7 Punisher, with Hull and Sponson Heavy Bolters and Pintle Heavy Stubber. This is an example of an interesting tank rendered nonviable by price. The second most expensive chassis available, this tank produces an average of 7 wounds to a Marine squad each turn (10.75 with the suggested loadout), or 4 casualties per turn. This vehicle is actually not worth killing for Marines unless there is nothing else to kill or it is in a strategically crucial point. Giving the Punisher anti-vehicle weapon upgrades reduces the efficiency of the vehicle even further.
A final note: I do not think that taking 3 Demolishers is the best way to fill your Heavy Slots. Yes, the Demolisher is the best single Russ to take, but taking a variety of tanks in your Heavy slots lets you accomplish more than simply going for 3 of the "best" Russ.
~I hope this is enough to give those who need it guidance on building out Russes in the new Guard army, and look forward to hearing from those of you who do not.