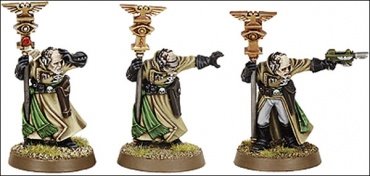 Hi All, Jwolf here.
I've been pouring over the IG Codex for a while and working in games where I can, and I'm sure no one is shocked to hear I love it.
Probably the most unique and talked about infantry unit in the new Imperial Guard Codex is the Psyker Battle Squad. I'll certainly field one at least some of the time, and I've been thinking on how to deploy, use, and build them.
Deployment seems obvious; these guys need to be in a Chimera somewhere near the center of my lines. Eight of them are enough to drop any unit to Leadership 2, but you can add the ninth Psyker to get the Strength 9 blast. I think the ninth guy is worth buying.
Using them is a whole other can of worms. Plenty of discussion has gone into dropping Leadership and hitting with Ratlings for a nearly automatic pinning, or going for the break with blast weapons, as well as a host of other evil tricks.
I think the Blast is actually more worthwhile than the amount of consideration it is being given by most. Half of the time the blast ignores MEQ armor. Since the blast can be Strength 9, it is a fine anti-vehicle weapon as well. I agree that the Leadership busting is very good, but killing is always better than breaking, so keep the Blast in mind.
Now for the really interesting part – modeling the Psyker Battle Squad. The most obvious choice is the metal Sanctioned Psyker models. The upside is these take no conversion at all. The downsides are these guys break my new rule of avoiding metal models if I can help it, and the 9 Psykers come in a whopping 3 poses – none of which is very different from the others. If you go with these guys, you need some other models to add in and spice up the unit. Witchhunter and Daemonhunter Inquisitorial retinues have several models that would work for this purpose, but all in metal.
Forgeworld has some great options in resin. The Tech Servitor (Ref: IA-INQ-I-002) would make a different looking Psyker and provide some variation. A pair of Renegade Militia Rogue Psykers (Ref: IA-CTR-I-005p) would also add some spice to your unit.
One of our readers suggested a great option in plastic – Warhammer Fantasy Empire Flagellants. These have the great crazy looks that you expect from Psykers and need only a few hand replacements and some Imperial iconography added to look great (A box of troopers should have plenty of parts to convert these over). Add to that the fact that they're the cheapest and lightest choice available, and I think these are the choice I'm going to go with.
~I'm interested in what you all are finding out about the tactical uses of the Psyker Battle Squad you guys are coming up with (and against), and even more interested in what models you're using to represent them, so I'll be awaiting your responses.