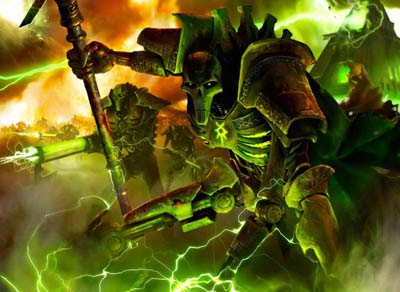 This week I'm taking a look at what is probably the least utilized unit in the entire Necron codex. These hybrid human/necrons have amazing stats and abilities. Just a few glaring negatives make them a tough choice to make for any Necron player.
PROS:
I'll start with the most obvious and the most powerful ability, Soulless. The number of uses for lowering every unit within 12″ leadership to 7 is countless. Unfortunately, it doesn't help against the myriad of fearless units out there.
Toughness 5 means that bolters are going to be causing less wounds and las guns are going to need 6s. Strength 5 means their close combat attacks will be doing more wounds.
Their warscythes ability to ignore saves of any kind makes it one of the best close combat weapons in the game. Combined with the built in gauss blaster and you have a unit that can do some damage at range or up close.
CONS:
A high cost means they are going to eat up your points very quickly and it restricts you from taking too many.
Not having the Necron special rule, Pariahs don't benefit from all of the key Necron abilities that make the army really survivable.
3+ armor mean battle cannons, plasma, banewolves, and all the other ap3 weapons will kill them outright.
DIRTY TRICK:
In my last few games, I've been running a minimum squad of 4 joined by a nightmare shroud/solar pulse lord. Once a squad got close enough, the lord forced each squad to take moral checks at leadership 7. I forced 2 space marine squads to flee off the table.
~Has anyone else been giving Pariahs a try lately? Do you think they might be worth their points cost or is it just too high for their abilities?