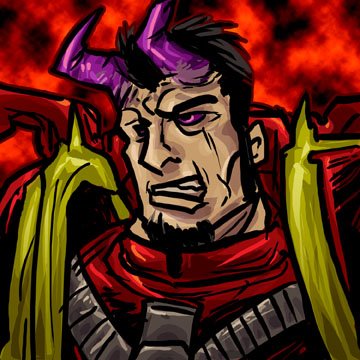 Goatboy here again. Instead of delving into some kind of tournament nonsense I thought I would go into how I like to work a visual theme into my armies. Nothing is worse to me, then a completely non painted army that you see week in and week out. I know we all can't be painters, but with a little thought and planning, you can create a cohesive force that looks great on the tabletop. So what I want to go into today is how I go about creating a color theme for finishing an entire army.
I know I am not the best painter, but what I consider myself to be is an extremely fast and proficient painter/creator. When I look at starting a new army, the first thing I do is try to figure out a paint theme that I can carry throughout the force, to ensure that it looks cohesive as well as something I can duplicate without the luck of the wash or a random color pull on the paint palette. The first thing I like to do, is create a test mini. Below is the test mini I created for the Astral Claws in the upcoming Badab book as well as the one listed on the Lexicon for the Astral Claws.
Now as you can see, this isn't what I would call a normal paint scheme. There is a lot going on for a small mini, that all the slashes of color can get lost on the miniature. In fact, I thought it was a huge mess and would have personally never wanted to create an army of that scheme. I knew I could do it, but found the design as something pretty repulsive. It reminded me of some crazy 80's creation, wanting to rock out to White Snake. But, since I can paint quickly as well as having a knack for creating a scheme that can be easily reproduced, I was the one to bite the bullet and create an Astral Claw. Here are some of my rules for getting your basic theme down:
Keep it Simple
This means don't try to make every mini the Mona Lisa if you aren't a pro painter. for the Astral Claws I decided to limit the overall tiger hash marks. This does 2 things, first it allows you to have an easier time getting the design done. Nothing is worse then creating a theme that takes way to long to finish on a per-mini basis. Yeah it is great to have this one awesome squad, but when it comes down to game time, you still only have one squad.
Control your Palette
Remember back in 2nd Edition when everything was a flaming primary color. Well, its not the 1980s any more. Stick to a limited palette that you can reproduce quickly and work on perfecting the subtle shading and blending opportunities within you narrow range. For the Astral Claws I wanted to make the model's design look a lot more modern as well as something that might actaualy see the light of day. I like my minis to at least feel as realistic as I would think life would be like in a state of constant war. Thus the darker colors and the decisions to not have something be incredibly bright.
Devise Shortcuts
Simplify, simplify, simplify. Once I create a paint theme, I go about writing down the color layering technique I use. From there I look for any shortcuts I could make. When you paint armies of 50+ models, you have to look at ways to help you finish the look quickly. I want to play with my new army as quickly as I can as I find playing with the models to be as much as fun as painting them.
Orky Examples
I am showcasing some other minis I am currently working on. I'm going with an Bad Moons theme, so I went with the prominent color yellow throughout each of the minis. I didn't want to go with the fully yellow color I see for them sometimes, as I would think orks would be extremely dirty and dingy. Thus the push of a more brownish yellow that has been rung through the mud. Also, all the vehicles are going to have some of the shield plates yellow, not the entire thing. I would think most orks would get bored painting something yellow, thus creation of a dingy yellow. I just can't get enough of painting the stinky brutes.
Remember the goal here isn't to win Golden Daemons. Its to get that giant pile of grey plastic hiding in boxes under your bed looking good on the tabletop. As usual, shoot me an email if you have any questions. Also if you want some advice on painting themes and painting designs (layering thoughts, color choices, etc). I am always happy to help anyone out.