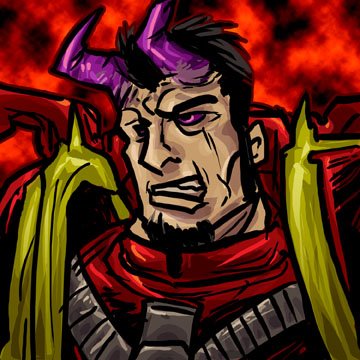 Everyone who reads this site has a favorite army. The question I pose today is WHY did you pick your army? What bits of fluff, minis, or just sheer power level makes you want to play a specific set of plastic toy soldiers from the future? I know why I pick an army and I want to go over the things that make an army say "buy all this now!"
Model Design
Since I like to paint and model as much as I like to play, the armies overall design aesthetic is something I have to like before I even give it a chance to dance with my credit card. Now as you can tell, all my armies fall into the bad guy side of things. If it isn't mutated, damaged, or just plan gnarly I won't like it. The more distressed and pulled apart flesh I can paint, the happier I am. If I can't somehow warp it, I just find it hard to get behind the army. I think that is why my space marines are a bit stuck right now and yet my fledgling fantasy daemon army is kicking up a storm of activity during my own personal paint time. So first of all, the models themselves have to kick butt to get me to buy them.
Army Design
I am a tournament player too, so the army has to tick game-wise. Now this isn't saying that the army has to destroy all comers, I just want it to be competitive. Nothing is worse then playing games where you really don't do anything but roll dice and pull your guys off the table. I need to have some kind of edge or advantage that will make the army play both differently and strongly. This leads me to lots of new armies, as it seems the codex creep moves along the release process. Mix this with a desire to paint new models and I normally keep buying stuff steadily as it comes out.
Fluff
I like the fluff. This world of Warhammer and Warhammer 40k has some of the coolest fiction out there. There are so many nooks and crannies within the stories you read that it makes any army breathe with a life that is hard to not get wrapped up in. I know a lot of my armies might seem to stumble on complete fluff, but I do try to write little stories for my characters. Why are there two Daemon princes? Why would two ork warbosses even fight with each? All can be explained and built upon by using the fluff and the back story within the pages of the rules. I know we are not always the happiest with the ruleset, but the fluff is some of the coolest stuff to read in the jam-packed world of games. Now if we could only add some cool post- apocalyptic fluff to Scrabble…heh.
Overall Cost
Now of course, the last thing I think about when starting any new army is the overall cost of it. I am not strapped for cash, and I can get most of the minis I want, but I still think about it. I look for armies that have a majority of plastic parts. Plastic is easier to work with, so it makes sense to try to find armies that let me work with them the most. I like to convert and change up the basic look of my guys. Any army that allows me different options to create cool units is an army I will be happier with.
What I want to know is why you like your current army? What made you start to paint, play and collect this mass of plastic and pewter that takes up a nice section of your Warhammer 40k or Fantasy dungeon? You can see in the two major armies I play with in 40k, orks and chaos, that these thoughts are always flowing through my head as I build upon and continue to feed my modeling beast. The next army that is getting my brain working is Space Wolves. I always liked the color scheme as well as the crazy wolf like space marines beating the crap out my CSMs in hand to hand.
Comment away and tell me about your army. And as usual shoot me an email if you want me to review any army lists or give thoughts on anything from lists to paint schemes.
Here are some Khorne Heralds I painted for myself and my Daemon Fantasy army. I know I know, they are a broken, beardy army, but dangit I have so many boxes of Daemons I need to do something with it.