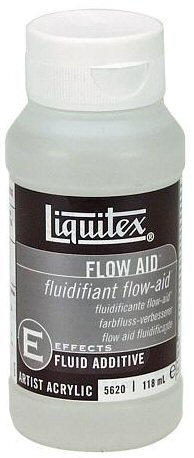 Have you ever painted a model with feathers or fur and seem to have the toughest time getting the paint into the nooks and crannies? Or maybe you have been putting a wash down only to have it turn into a ring instead of a nice shadow in the recesses? The culprit is water surface tension, and the cure is Flow Improver.
Flow Improver is known by many names. The most common name, which also describes its function, is surfactant. Surfactants are typically detergents or chemicals which reduce the natural surface tension of water. This is why liquid dish soap, floor wax, and widow cleaners are usually included in articles about using inks or making washes. I prefer to use additives specifically formulated for use in paint instead of household cleaners because true paint additives are formulated to work with paint. Household cleaners are formulated for cleaning, and can interact with paint poorly.
Many Flow Improvers are actually water conditioners. What this means is that the mixture is based on a ratio of water to flow improver, and once added to water your water will actually not act like regular water. Once you have made up a batch you can add it directly to your paint pots, or if you use a palette you can use the mixture to thin your paints on the palette.
The flow improver I use is Flow Aid from Liquitex. It is water conditioner that mixes at a ratio of 20:1 water to Flow Aid. The nice part about this is if I buy a 6 ounce bottle I can buy a gallon of distilled water, pour off 8 (US) ounces, and have my water proportion ready to introduce the Flow Aid. I still haven't used it the entire last batch I made, and I made it about a year ago, so I think that it has value in longevity.
So what other painting products and techniques would you like to know about? Sound off and let me know.