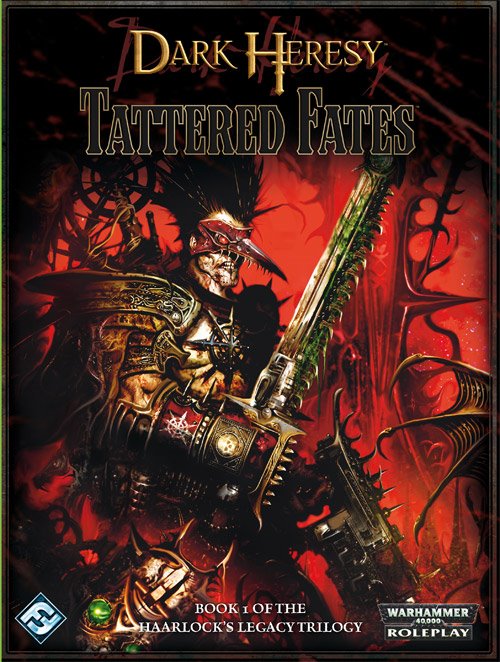 Hi all,
Its review time, and let me welcome you to our latest Dark Heresy article. Lets take a look at Fantasy Flight Games' upcoming: Tattered Fates: the Haarlock Legacy Volume 1.

First up, the basics. We have a hardcover supplement for Dark Heresy, weighing in at 70 full color pages. The book is well put together and is a lavishly illustrated with a combination of old 40k classics and all new paintings and illustrations.
"Something terrible stirs upon the pleasure planet of Quaddis. Portents and ancient evils become evident as the penultimate 13th Hour approaches. Will your Acolytes be able to discover the secret of the Haarlock's Legacy in time? From the bloody, labyrynthine Red Cages to the mansion of Gabriel Chase, the adventure draws the Acolytes into the dark underside of Quaddis. The affairs of the notorious Rogue Trader Erasmus Haarlock take form, setting the stage for the fate of the Calixis Sector. When the Steel Clock strikes the 13th hour, the Haarlock's Legacy will be revealed."
Tattered Fates is an intricate first act in the upcoming three part adventure series for Dark Heresy. Within the adventure itself, we get a lavish background, with myriad NPCs, adventure hooks, plots, sub-plots, and sub-sub-plots. The players will explore the pleasure world of Quaddis, and gain an eyeview of the corrupt intrigues of the Imperial upper classes on a world like no other. Above all the module feels very much like a lavished detailed sandbox to drop your party into, with a lot of room for roleplaying and maneuvering. This is not a narrowly designed adventure on rails, but one that will reward creative thinking and investigative play.
This format is wonderful for both the GM and the players, as the background descriptions and play aids are fluffy and specific. The adventure is chock full of all manner of gothic horror and ancient evil we know exists in the Warhammer 40k universe but would never been seen on the open battlefield.
It is at once, challenging, deadly, mysterious, and laden with layers upon layers of hooks for future adventures in the Calaxis Sector. It would be worth the price just for the high quality content, but the physical quality of the book itself is just an extra bonus.
Availability: Out now
MRSP: $24.95
4 Stars (Out of 5)

As usual, comments are welcome all.