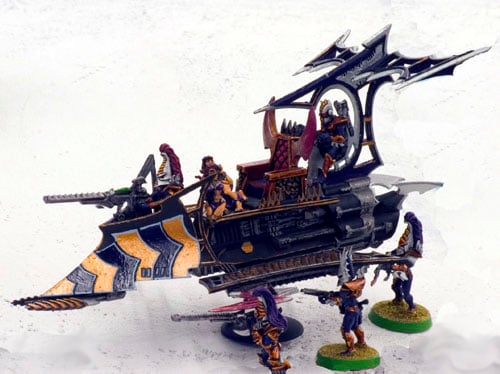 I've been getting grief about the new Imperial Guard and my Red Corsairs Chaos Space Marines and how the newer books are just overpowering compared to the older ones. So I dusted off the Dark Eldar army I "night-lorded" a few months back and have barely begun painting. After all, it would be hard to find a Codex older than 3rd edition. In my first three games, I played against Plague Marines (3 turns), Tau (4 turns), and Codex Space Marines (5 turns). What I found was that the Dark Eldar are not crippled at all. Again, I'm only 3 games into testing them, but here are my observations.
#1 Retinues with good CC characters are devastating. An Archon and Incubi Lord are able to kill just about anything, and before the enemy gets to act. Add in the Incubi and even Assault Terminators get the point. Yes, this kind of unit costs a lot, but thankfully this is the only expensive unit you really need.
#2 Raiders are cheap and kill things.
#3 Ravagers are cheap and kill things.
#4 Dark Eldar Warriors are cheap and kill things.
If this is sounding redundant, you're paying attention. Dark Eldar have a good selection of effective units that are quite cost efficient.
What has worked for me so far: Line up assault units on both edges with Raiders obscuring them for round 1. Race Raiders forward so that assault elements are too close to ignore, and shoot every vehicle on the planet with Dark Lances – there are plenty of Dark Lances to go around. On turn 2, it's time to assault. The trick is to get into assault and either destroy everything that could shoot you the next turn or end the turn locked. How to end the turn locked when you are attacking with a buzzsaw is easy if the enemy is fearless or Space Marines, but takes a bit of finesse in other circumstances.
In short, I think the cries of "Codex Creep" are nonsense. Sure, every time the balance shifts some armies get better and some get worse, but if everything was constantly static, we'd all get bored, wouldn't we?
I'll give the Dark Eldar a spin this week and see how they fare against Imperial Guard, which is the match-up I've judged Dark Eldar as weakest against. We'll see.
~What do you guys think of the Kabals of Comorragh? The Army is ancient, but there must still be hidden sprue caches left over that got traded away from the 3rd edition boxed sets. Its always heartwarming to see such an old tired list still taking names on the tabletop.