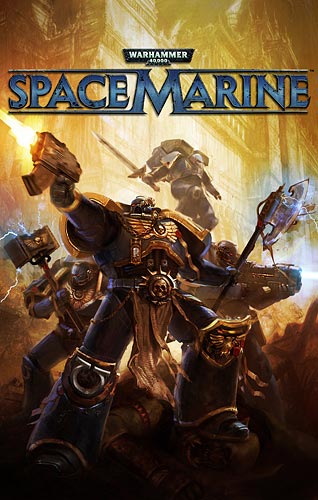 Hi guys. E3 has come and gone and we have gotten some more info on the new Space Marine game that THQ unveiled last week.
BoLS Reader Brad Wiggens reports:
"There was a private showing of Space Marine in THQ's section of E3, but it wasn't playable and we weren't allowed to take any videos. They warned ahead of time that it was very early still, but would try and answer some of our questions. The showing was a much longer video which contained all of the footage that appeared in the existing trailer but depicting a more cohesive chain of events. Towards the end of the video a drop pod strikes into a courtyard full of Orks and 4 space marines disembark and clear the enemies, planting a flag in the ground upon completion. They reiterated that it is an action RPG, and the video showed an equipment select screen including experience bars where the player equipped different weapons and gear on a marine such as a jump pack. Some of the most interesting new footage was of a massive battle in the distance where you can clearly make out the bodies of thousands of individual Orks, as well as an Imperial Titan fighting in the distance, and for some reason a Tyranid Carnifex in the corner of the screen (which I'm certain was a secret tease). Another interesting note is that the introduction the speaker gave ahead of time mentioned how humanity is beset from within by heretics, without by aliens, and from elsewhere by daemons. After seeing the Carnifex, I wonder if this implies we will see Chaos forces as well.
I asked if the 4 Marines signified any sort of multi-player…. They said that Relic had a history of exciting multi-player technology, but that they couldn't comment on multi-player in Space Marine. Another attendee asked if there would be any other races featured, but they were unable to comment. I immediately asked about the Tyrranid Carnifex I saw, and one of the developers grew a huge grin and said he wasn't able to comment on that."
~In related new, THQ is getting the game's website up and running. I would expect to see that open up in due time. What do you guys think so far?