I am not the biggest fan of Daemons currently. I feel they can just get too screwed by not rolling that 3+ when you need too. But they can be very fun to play and allow you to ignore certain aspects of the game that other armies have to live by. Since I am the local Nurgle player it was my duty to write up a daemon tactica for the gross ones. So without further ado, here we go into the puss pit and what I think works better in a daemon codex. I plan on going through each option and reasons why I would take it or not take it.

HQ:
First you have the choice of two special characters and two other HQ choices. Each have their own uses and own skills that can help your army out. Lets look at the special characters.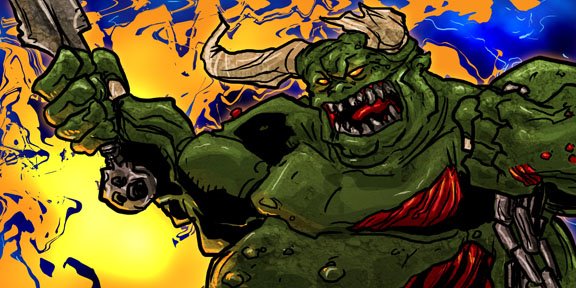 Ku'gath – Probably one of the more annoying of the Super Greater Daemons. He has 5 wounds, Feel No Pain, a way to create more units, as well as a shooting attack that can be annoying. Personally, I find him to be too expensive to be of use in a regular army. I usually take him when I just want to goof around with a guy, since he can't fly and has to move via difficult terrain when he is trying to get his fat butt anywhere. If you want to take him, drop him close and hope he survives all the plasma/melta that comes at him since everyone is scared of getting the super flu he emits.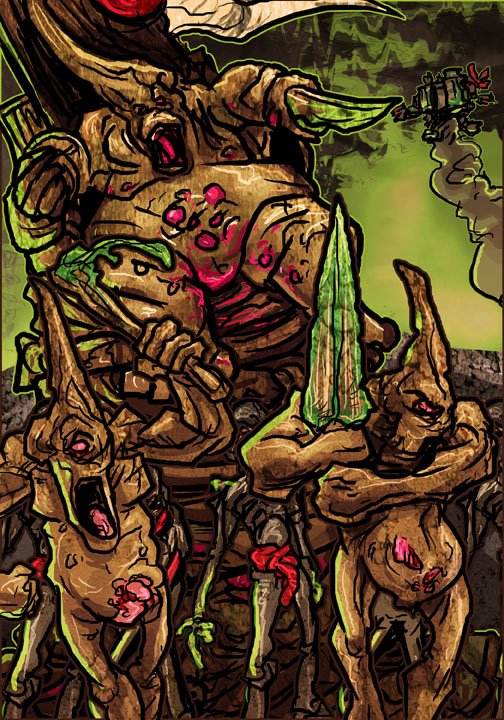 Epidemius – He is a rather interesting choice, as he is more an army enabler then something that is dangerous on its own. I will sometimes run him in a dedicated nurgle army, but I find him to be a waste of overall points. It takes a bit to get him started, and you really need to have your DP's go all the way to get him going. Plus you will have to deep strike very aggressively in order to recoup the cost of having the fat guy in a chair in your army.
Great Unclean One – The cheapest Greater Daemon and one of the better things from the codex. Drop him close, and watch as your opponent tries to kill him. I usually just give him Cloud of Flies and let two of them lead my army. If you have extra points, you can throw Unholy Might on him to help deal with vehicles. That is if he can catch them.
Herald of Nurgle – Um… no. I think that they are just not worth the points, and a GUO or two would always be a better choice to take. They just do not do enough to help out, no matter how many you take. Now if he could have a power weapon of some sort, he might be a better choice.
Elites:
Beasts of Nurgle – I do not run any personally, but they are for the most part, better then Plague bearers due to the extra attacks as well as having more wounds to try and ignore. I really hate the model and thus my desire to not own any. If you have extra points, try some out and use them as a tarpit unit to keep a shootie unit stuck for a bit. Don't expect them to win combat too much, most likely they will just tie a lot.
Troops:
Plaguebearers – The meat and pus of your army. This is one of the more annoying units in 40k. They just never go away and can keep things stuck for a while. The worst thing for you is to have a walker get into combat with them, but sometimes it is ok if you are both contesting the objective. Two units of these with icons is a great beginning to any Daemon army. I normally run 4 10 man squads when I decided to take them out. Deep strike very aggressively with 2 squads, to ensure your other two have time to sit and take a nap on an objective.
Nurglings – Not a terrible choice, but I feel they might be worth it due to some blast weapons running around (here is looking at you Obliterators/IG tanks). But since people feel they can be so weak they might be ignored and can get into some great situations where they can cause some issues. The lack of scoring ability makes them a weaker choice versus the better Plague bearers. But they are neat and can add a certain flair to your all Nurgle force.
Fast Attack:
Um… lets move on.
Heavy:
Daemon Prince – This is where you can start having some fun with Nurgle Daemon Princes. I normally run mine with flight, iron hide, cloud of flies, and unholy might. If I have extra points I will put a shooting attack on them, but find really just those 3 things to be fine. If they can survive the initial round of shooting on them, expect them to kill a lot of stuff as they run through armies. Remember, they are one of the only DP's that can effectively assault through cover and ensure they get to strike first.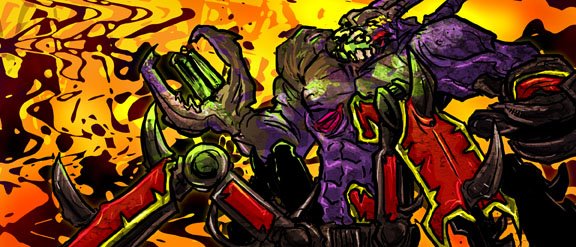 Soul Grinder – I am steering away from them, as I feel there is just too much melta around. Especially with the new IG set as well as any marine armored foe. They are a neat model and I miss having them come down and get stuck into combat with non powerfist enemies. I just feel they give up their points too easily with well prepared opponents, which if you are playing 5th edition you should have a lot of ways to deal with mech armies.
Army list – All Nurgle
HQ: GUO, Cloud of Flies, Unholy Might, Breath of Chaos – 210pts
HQ: Epidemius – 110pts
Troops: Plaguebearers (10), Icon 175 pts
Troops: Plaguebearers (10), Icon 175 pts
Troops: Plaguebearers (10), Icon 175 pts
Troops: Plaguebearers (10), Icon 175 pts
Troops: Plaguebearers (10) 150 pts
Troops: Plaguebearers (10) 150 pts
Heavy: DP, Flight, Iron Hide, MoN, Cloud of Flies, Unholy Might, Breath of Chaos – 225 pts
Heavy: DP, Flight, Iron Hide, MoN, Cloud of Flies, Unholy Might, Breath of Chaos – 225 pts
Heavy: DP, Flight, Iron Hide, MoN, Cloud of Flies, Unholy Might, Breath of Chaos – 225 pts
Total: 1995
First wave is Epidemius, 2 Troops, 1 GUO, 2 Daemon Princes. Try to drop on one side and overwhelm an opponent that way. If they are fast, drop right in their face and hope for the best with the scatter rolls. This army needs to get into assault asap and an all mech army is going to be hard for it to beat. But give it a shot and tell me what you think. Email me at mailto:[email protected]
And here is some new pieces I have been working on for a client. More arbites woot!