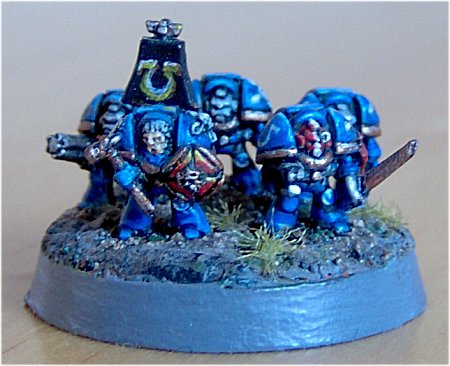 The marines of the Legiones Astartes are probably the most iconic army in the Warhammer 40,000 universe. Genetically-engineered supersoldiers who fight harder, better and longer than any foe. Yes, marines are totally badass. I'm pretty sure the Oxford dictionary has a picture of an Ultramarine instead of a definition of the word "badass"–that's how badass marines are.
The Warhammer 40,000 rules capture this badassness well–marines are usually outnumbered, but are good at pretty much everything (without being awesome at everything). They also have a decent Leadership value and the And They Shall Know No Fear special rule, which serve as abstractions of not only their general cool-headedness under fire, but also their superior strategising and tactics.
It is not until you see marines played well in Epic:Armageddon, however, with its greater provision for employing strategy and tactics, that you truly gain an appreciation for just how awesome marines really are. With the highest possible Strategy rating (5) and a standard Iniitiative value of 1+, marines can be trusted to perform the orders given to them and to get the job done (unlike the Guard who will fail to take your orders, on average, once in every six activations).
The Codex Marines army list provides a strategic and tactical flexibility that other armies can only dream about. Even so, a marine player will almost always be significantly outnumbered in your typical Epic:Armageddon game (just as they are in WH40K games, but that the effect is magnified in the 6mm scale). Particularly when playing against "horde" armies like Orks or Tyranids, the sheer number of units available to your opponent can be truly daunting.
Luckily, the marines make up for their limited numbers in both hiting power and, more importantly, projection of that power. Drop pods and air transports are the marines player's best friends. They can't do the job alone–you always need some armour on the ground–but the ability to drop a large chunk of your army anywhere you choose on the battlefield cannot be understated.
Here's the bottom line: If you try to play marines like they were the Imperial Guard, standing ground and shooting at your opponent, you will almost certainly be outmanoeuvred and lose. Similarly, if you drop your entire army, you will likely be outmanoeuvred and lose. Take a little from column A and a little from column B, though, and suddenly marines become a force to be reckoned with.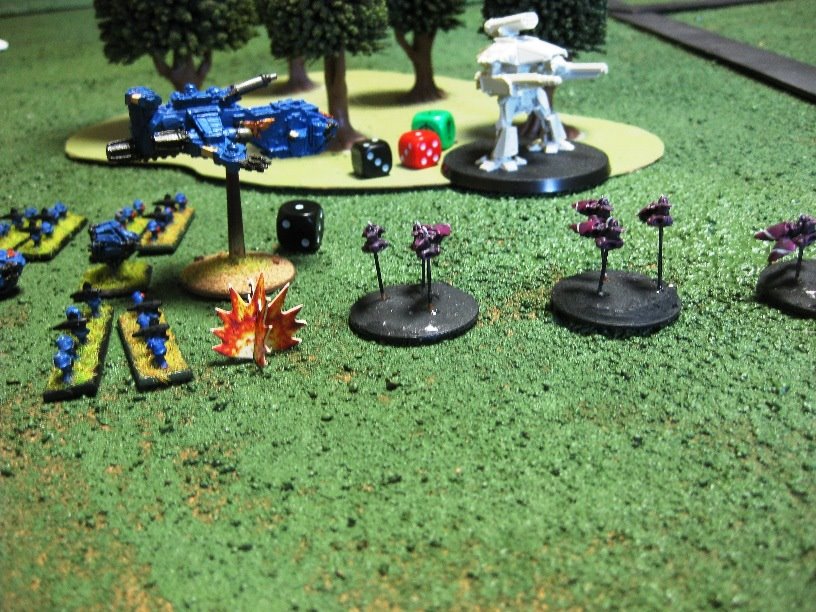 The canny marines player adopts a combined-arms approach that mixes "ground pounder" units (to take and hold ground) with airbourne units (to project power). Above all, though, a good marines player aims to play to their core strength: ASSAULTS.
Let's look at a typical marines force, and explore how you might play it.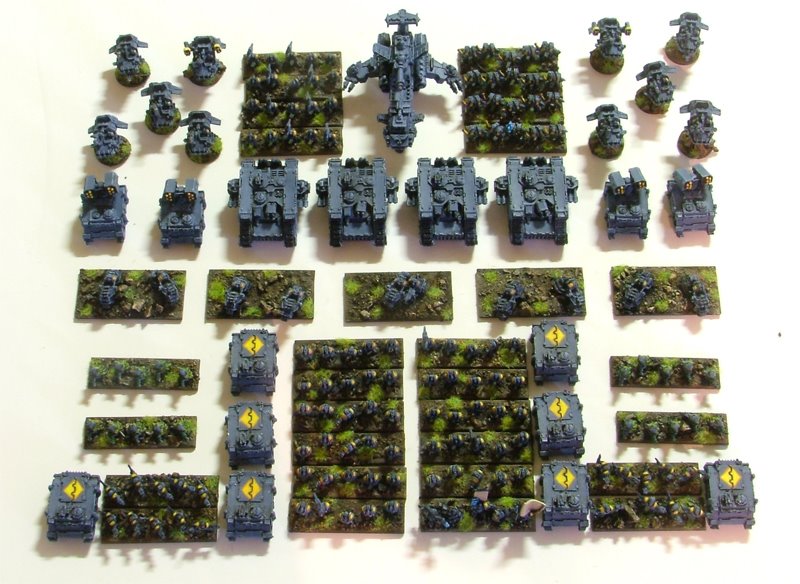 In the Space Wolves force above, you can see the player has elected to take a varied force of "pillar" units (such as the Tactical and Devastator, Land Raider and Whirlwind detachments), rapid-response units (the Land Speeder and Bike detachments), and air-assault formations (the Thunderhawk loaded with Devastator and Assault detachments). The player has also taken a Terminator detachment, which is a very expensive formation, but brings enormous tactical flexibility (not to mention raw hitting power in the right circumstances).
With a force like this one, you would focus on claiming and trying to hold ground using the Tactical detachments and Devastator detachment in Rhinos, supporting these formations with the Land Raiders and Whirlwinds.
Meanwhile, the Land Speeders would likely range up the flank looking for opportunities to Double and shoot up an enemy formation to prepare it for an assault. Likewise, the Bike detachment would make its way up the battlefield, ducking from cover to cover if possible, in an effort to assault the enemy formation "prepped" by the Land Speeders.
The Thunderhawk and Terminators should be kept in reserve awaiting the appropriate moment to launch and support (respectively) an air assault upon either the enemy's most expensive formation (your Break Their Spirit objective) or the forces defending the enemy blitz, both of which tend to have the effect of keeping your opponent on the back foot and off his game.
This was a quick look at how you might play a marines force in Epic:Armageddon. Marines are such a flexible force that there many, many different combinations of detachments you could exploit. But so long as you don't try to play marines as a stand-and-shoot army and instead focus on preparing formations for assault, assaulting, and then more assaulting again…you should do just fine.
-The floor is open for your questions, and in case your didn't notice, I'M A FLY LORD!