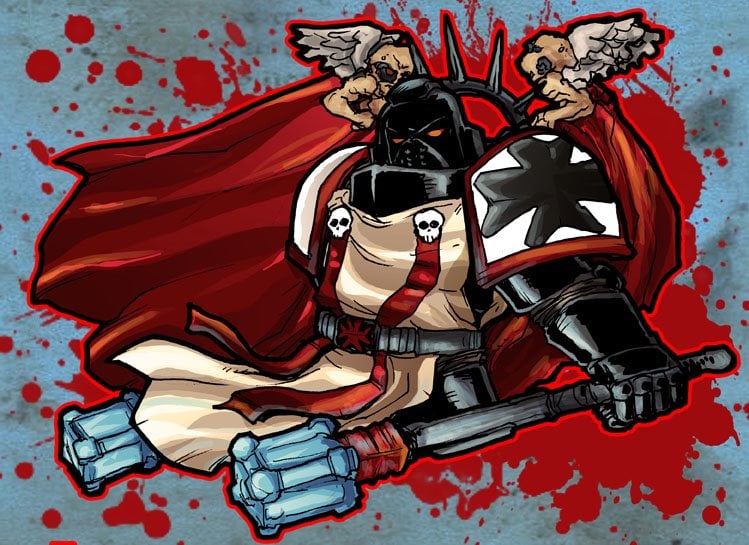 'Ard boyz is now upon us and we all have to think about ways to make our armies stronger to face the sheer amount of idiocy that 2500 points can bring to the table. Each codex has their own ways to get to 2500 points and what I want to discuss today is how to create these armies.
Lets start with some of the newer codexes. The new ones have an odd design sense to them, because they seem to be meant to be played at 1750-2000 points. You can see this in how they somehow can easily fit some nice basic troop selections plus some crazy pieces and still have room left for some random Fast Attack choices and other HQ choices. I know a few times that I have built a Marine army and somehow fit all the things I want in it, and still have points left to add powerfists or combi-meltas for the sergeants.
IG – The new dog on the block and one of the few armies that can easily fit in some extra bits from the Daemon/Witch hunter book to create a force that can just about give hell to any incoming army. I personally feel that this new design easily lets you build out to 2000 points, with tanks, guys, and more tanks. I would probably look at two basic troop choices with lascannons plus a few sprinklings of special characters and then look at filling up on some devastating tanks. From there, I would ally with some mystics and an inquistor to give you a cheap and effective hood. Psychic battle squad might be a nice addition to help deal with Emperor fearing armies and you got something that I would not want to see across the table from me.
Marines – Marines are an interesting build, as I really feel you can build out a strong army at 2000 points, and with the 500 extra points you can add in some crazy stuff to help out. I really like Lysander as the main HQ, and feel his stubborn ability, plus mixed in with his insane combat and vehicle hunting skills, makes him a natural choice to lead the army. The other thought would be to add in a chaplain to lead some TH/SS termies, or maybe a librarian to help gate them around. Mix this with 3+ tactical choices with razorbacks and you got a pretty nice looking army that should put the hurt on a lot of enemies. Make sure to take meltas everywhere, as usually point limits like this will cause the armor 14 Land Raiders to come out and play. Nothing takes the wind out of an opponent's sails like popping one a LR early and leaving the troops sitting not so pretty in the wind.
Daemons – The extra 500 points really allow you to fill out a lot of your army. Personally, if I were to play this I would take a Khorne/Nurgle build with Fateweaver leading the front. 1 large Bloodcrusher squad, plus 2 Fiend squads to help deal with walkers would be the main smash of the army. 2 Plaguebearer units, followed by some Bloodletters and a full suite of Daemon Princes would be the way to go for my build. The other HQ would be a Bloodthirster as its mech crushing skills will be very handy. Each Daemon Prince would be Mark of Nurgle with wings, flies, and some armor. I am not the biggest fan of the army, but I feel this build can give a lot of trouble to people, as well as be fun to play with and against.
Orks – Nob bikerz have been taken off their high seat with the incoming templates of the IG army. So how would I play them differently? I would probably go for a BW list with stormboyz and trukk boyz running around. Nob squad in a BW, Triple 20-man boyz, plus some lootas should help you take opponents down. Look for that second turn full assault and you will see lots of army men wilt to the incoming green tide. The big mek will be working double time as he tries to save as much as he can by his field. I still see a problem for the army with Land Raiders, but hopefully a strength 10 klaw can punch through its Emperor blessed armor. This codex is one of the few that I feel has a similar design aesthetic like IG, where there are multiple avenues to create strong and flavorful armies.
Chaos – I still think Chaos has a good chance to do well, due to the fact that they can take one of the best heavy support options in the game, as well as still be assaulty when needed due to the technology of having a superior basic equipment on the basic Chaos Marine. I would probably mix a Plaguemarine heavy list, followed by lesser daemons as an additional scoring unit. Mix that with 9 oblits and either Lash Princes or MoN assault princes to help out. Lash might not be the best option now due to the sheer amount of mech you are starting to see come out. I prefer the assault guarantee of the MoN prince, just due to the fact he won't be shot nearly as much as the Lash guy will. The extra points will allow you to field some of the crazier Chaos builds out there, as you have more room to wiggle in extra guys. Look for some 3+ Land Raider builds to come out, as they are one of the few armies that can fit a lot in.
Eldar – An older codex that needs a points update to help keep them in line with everyone else, is still something to fear when staring at them across the table. Bright lances can pop mech, as well as a seer council kitted up to take you out. They also have one of the best anti psychic options in the game, as well as having some of the better powers. Look for a seer council build, mixed with wave serpents and fire dragons to do well versus any heavy mech list. IG put a hurt on the army, but with some smart playing, they can try to limit the damage done to them and still score at the end. The extra points means they are more in line with some of the newer builds as they can spend the extra bits on the troop sections they need. It also means more flying transports waiting to give you a gift of pointy eared vengence.
Blood Angels/Black Templars/Space Wolves/Dark Angels – These older Space Marine chapter builds are all dangerous to play against. The extra 500 points allows them to play with some more toys that can still hurt you. Any one of these armies that get into assault, can beat whoever they are playing against. Not my favorite armies to play, as I find them somewhat limited in army builds. I would still not assume they are an easy win if you see them across the table.
Tryanids – One of the few codexes I feel that has a good chance versus guard. Large templates that cause pinning, mixed with high wound MC's makes IG very fearful. Mix that with weapons that cause your big tanks to not shoot and you got something that will keep you stuck as your assault units get into place to kill a bunch of weenie guard. Orks were keeping this army in check, and with the drop in ork armies as well as overall design builds, it means Nids might be a good dark horse to take. I would probably take two kitted out Fexes to help run into combat and bring the pain to the tin cans you might see running around. Implant attack does a number on Nob bikerz too. Play smart and look for the objectives too, as your MC's can last awhile and cause players to concentrate on them too much as you get stuff done mission-wise. The 500 points means you can really max out your 3 Heavy Fex choices, so be prepared for 5 wound, 2+ save abominations running towards you.
Tau – Flying fish can be good and the mantra I would say for any Tau player is, don't get out of the transports unless you have too. They still have one of the best basic guns in the game, plus mixed with a great long-range cannon of doom that can hurt anything it hits. Marker lights help get rid of all those pesky cover saves as well. I like the two commander list a local player is throwing around. Lots of fish mixed with the flying tank of doom. Move around the board and pull an opponent along and finish them off with your massed fire. 500 points for them mean more upgrades on vehicles, as they normally max out the troop choices. Look for more piranhas as the extra points help round out your anti tank options.
Dark Eldar – Is the dark horse that has gotten very strong with 5th edition. Buckets of dark lances can still be a pain for any mech army plus you have an extremely efficient assault unit to use to mop up afterwards. The biggest thing with this build is that it is boring to play, as you can usually zip around any opponent and put out fire that hurts anything in the game. I would watch out for these lists to do well as the extra 500 points means the maximum number of lances as well as two extremely hard hitting assault units to hit your face with on turn 2 anywhere on the table.
Necrons – The extra points means you won't get phased out as easily as before. You can also load up on those Monoliths that give many armies fits to try and deal with. Look for more warriors then you are normally used too, mixed with floating tanks of doom. Not the best choice personally, as losing to a crappy army restriction is not always fun, and a smart opponent will try and take advantage of that. Hopefully the new codex will drop the phase out rule.
Witch/Daemon Hunters – Looking for them to be hanging out with IG most of the time. Their older rules mixed with slightly unfair equipment options means they are a natural fit for the crazy tournament known as Ard Boyz. I would see the Inquistor psychic hood start to become a mandatory choice for many armies who can take them. It is just too cheap and useful versus some of the more powerful psychic options available.
So that is some of the thoughts for army builds in the upcoming Ard Boyz. What kind of army are you going to play? What kind of armies do you think you will see? What armies scare you the most?
As usual, shoot me an email at [email protected] if you have any questions. I wanted to throw a pic of a newly commissioned piece. I did not build this model, but I did paint it. It as an Arbite repression vehicle based off the Ork Battlewagon kit. For those wanting to know, this is the 3rd Battlewagon I have painted and look for at least 6 more (2 for a client and 4 for me). Fun times indeed.