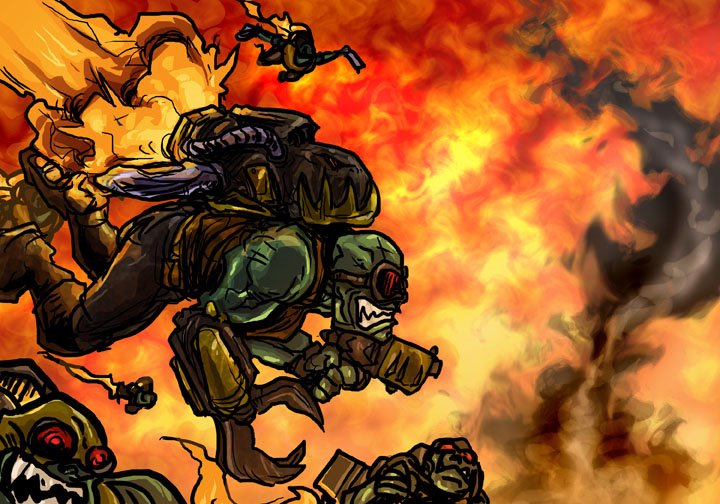 Every game has pieces that just aren't that good. Whether they are cards, minis, or just units in some kind of pixilated battlefield, each game has something that just seems to scream, "SUCK".
First of all, what makes a unit terrible? The way I define a "crap" unit is something that costs too much and doesn't do anything to improve your game in some way (beyond making your opponent giggle or feel superior). There are a lot of these units in the game and I what I want to talk about today is how to make them into more then just crap units.
So what are crap units good for? Lots of things as I have discovered in my own journey to create an effective yet fun army. Today I want to go into how I use them and what I expect out of each subpar 5th string JV unit I sometimes use.
Your army is built of threats. Your opponent has to decide what is an immediate threat and how to best nullify it as quickly as possible. Now how does a crap unit even register as a threat? Well most of the time they don't, which gives them an advantage when trying to get somewhere across the board. There are many times I have had my lesser daemons live a lot longer then they should have, because people don't respect their awesome crapitude. This lack of a threat makes these units a great option to get somewhere and become an annoyance. Nothing is better then watching your unit get a group of guys off an objective with a well time assault, or just get in the way when someone wants to get somewhere. This is where sub-par units can be great, since their lack of threat status to the opponent means they can be left alone to pick flowers or run around the field.
Another thing I find crap units good for is a bit of comedic relief in a game. Nothing is funnier then watching bad assault units win an assault. You could have a bunch of grots taking down a greater daemon. I know the chance for that to happen is slight, but it still can happen especially when rolling a ton of dice. These bad units excel in creating odd-ball situations that can create cool narratives that might not normally happen in a tough game. One of my recent games had a squad of lesser daemons take out a predator in 3 turns by immobilizing it, blowing up the heavy bolter in their face, and finally taking it out by blowing up all the weapons. It was like a big gremlin fight trying to get into the squishy center and made for a funny moment as these daemons tried to blow up this tank as slowly as possible. In the end, its the crazy moments that often leave the most lasting memories years from now.
I went into this a bit earlier but sub-par units are good for speed bumping guys. They might not win combat, but a lot of the times they can make sure that walker or big threat has to chew through some guys for awhile before they can go do something more threatening. That is the main use of my Lesser Daemons as well as the Possessed I take in my current Bile build. I don't expect them to do anything extremely awesome, but when they do it will be very cool. Nothing is more fun then watching these flying possessed have to sit outside of their rhino and then take out some hapless enemy command squad.
Now I am not saying you should always take crap units, I just want people to rethink some of their army builds and how they might be changed to just be a bit more fun to play against. I know we all like to win, but I always prefer a hard fought game, not a 3rd turn sucker punch to the jaw.
Goatboy's Weekly Army
Now Ard Boyz is coming up and I wanted to show what I decided to play this time around. I don't really feel like needing to win, so I decided to tweak out my Bile list and just mess around with a different build. It has a lot of movement for Chaos as well as a ton of scoring units. I know the Killpoint missions are going to hurt, but who really cares at this point. All I know is I get another 3 game day and I can hopefully have some cool games.
Father's (Fabius Bile) Super Awesome Ard Boyz of Doom – V1.1
HQ: The Father (Counts as Fabius Bile)
HQ: First Born (Counts as Kharn)
Elites: Possessed (6), MoT, Asp Champ, Rhino
Troops: CSM (9), Bile Upgrade, Meltagun (2), Asp Champ, Pwr Fist, MoK, Rhino
Troops: CSM (9), Bile Upgrade, Meltagun (2), Asp Champ, Pwr Fist, MoK, Rhino
Troops: Plague Marines (5), Plasma Gun (2), Asp champ, Pwr Fist, Plasma Pistol, Personal Icon, Rhino
Troops: Plague Marines (5), Plasma Gun (2), Asp champ, Pwr Fist, Plasma Pistol, Personal Icon, Rhino
Troops: Plague Marines (5), Meltagun(2), Asp champ, Pwr Fist, Combi-melta, Personal Icon, Rhino
Troops: Lesser Daemons (6)
Troops: Lesser Daemons (6)
Troops: Lesser Daemons (6)
Heavy: Obliterators (2)
Heavy: Obliterators (2)
~So lets hear about your adventures with "crap" units and some of your most memorable game moments with them. I know there are some awesome tall tales out there. Oh and check out 40k radio, as I was a special guest on Saturday night. And as usual, shoot me an email if you have any questions etc.