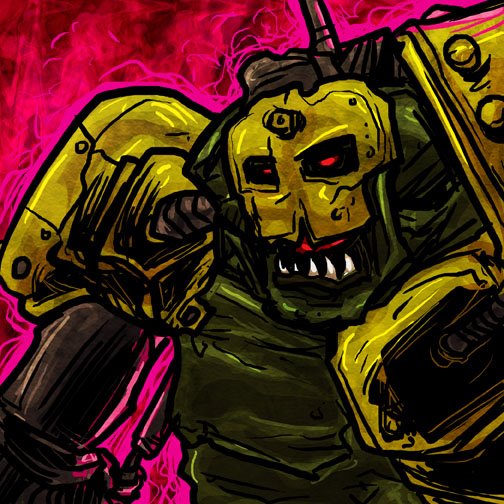 Every time a new codex comes out, we all fall into the "how can GW release such a broken thing into the game? " I know this since I fell into the trap too, especially when dealing with the new IG codex. Why am I talking about this today? Well I just wanted to say that I don't think the IG codex is the be-all-end-all of the game, nor do I think it is the best thing on the block. So yes, I am going to take back what I said earlier. I want to discuss how players seem to think that certain army advantages break the game.
I remember when the new chaos book was looming, and everyone and their mom were complaining on how broken lash was. Now I am not saying the power isn't good, because it obviously is, but I want to say that it is something you as a player can work around.
Which leads to my next point, every power or advantage has a work around. Whether it is staying in vehicles (lash), having more melta (mech), or just having more templates (horde), each advantage has a counter. It just takes some play testing to figure out the new tactics you need to use to deal with "the latest greatest thing" that you see on the battlefield. Trust me, everything can be dealt with, even the evil Nob Biker list that some people were touting as the best of the best (IG takes care of them).
Which comes back to my thought, no army is automatically the best. Yes the newer books are going to be at an advantage, as GW has changed their point cost system and all the new armies are reflecting this. So yes, some of the older books are going to be hurt, because they cost too much. Even with that, many of the older armies can still hold their own versus the newer stuff if you build nice tight lists, and don't cheese out on the superfluous wargear. The key is to not give up. Just keep playing and testing out things till you find something that sticks and gives you a better chance then using a whiffle ball bat in a gun fight. What is important in these setting is to throw out preconceived notions of the rules and units. Try crazy things, experiment, and go with what works on the tabletop and feels fun.
I just wanted to go over this thought, as locally we all have had a bit of a fit when trying to talk about what is good and not good etc. The biggest thing I am finding is, that no matter what, the game isn't just about the math on the table. Different players have different strengths and the human factor is not to be underestimated. I have seen players who just can't get the hang of some of the game's "super units" while others can instinctively master units that others malign as useless and push on to victory.
In the end, play the army you like to play, they are your toy soldiers after all. The advantage given to you, in moving around models you think are neat and are personally invested in, is greater then any advantage the rules can give you.
Enough of that bit of banter, let me show you the new "hobby" list I want to play in any upcoming games. I have been tweaking this Fabius Bile list for awhile, and think I now have a set up that should be more fun to play against, as well as give me lots of opportunities for goofy fun.
Fabius Bile V3.1
HQ: Fabius Bile – 160pts
Elites: Possessed (9), Asp Champ, MoT, Rhino – 319pts
Troops: Plague Marines (7), Melta*2, Asp Champ, Combi-melta, Powerfist, Personal Icon, Rhino – 271pts
Troops: CSM (10), Bile Up, Melta*2, MoK, Asp Champ, Powerfist, Combi-Melta, Rhino – 315pts
Troops: CSM (10), Bile Up, Melta*2, MoK, Asp Champ, Powerfist, Combi-Melta, Rhino – 315pts
Daemons: Lesser (10) – 130pts
Daemons: Lesser (10) – 130pts
Daemons: Lesser (10) – 130pts
Heavy: Oblits (3) – 225pts
Pts: 1995 Scoring: 6 KP: 13
The thought is the two Bile squads shoot forward with the possessed. The plague marine squad houses Bile and they sit around the back, to deal with anything as well as keep an objective or two. The lesser daemons are there as a flesh screen as well as a way to get an objective real quick. I might drop the MoT on the possessed as it can really make them tough, but the unit's randomness makes up for it. Either way I think this would be a pretty fun and goofy list to run around on the tables and give an alright game as well as still allow me to play a bit even against superior armies.
So what are your thoughts on the current strengths of the current 40k universe, and more importantly, what is the overall value you show to the player compared to the various codex rules? Can a strong player with a weaker codex overcome a weaker player with a stronger ruleset? Also, if you have any questions, want to me to review a list, or just go over some painting thoughts shoot me an email at [email protected].