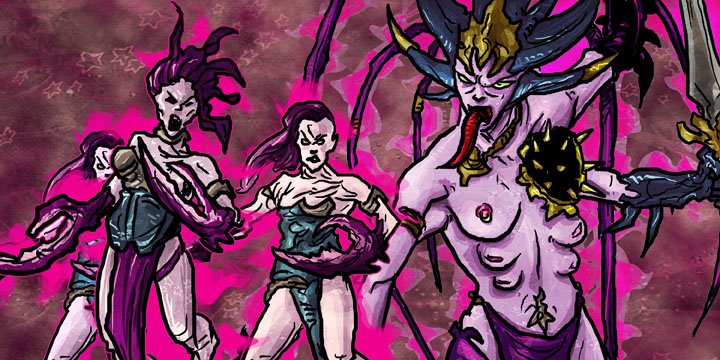 Here is the final part of the Daemon Tactica that was requested that focuses on the Dark Prince and Lord of Pleasure. I took a different route than everyone else picking Slaanesh because in my mind, it focus on speed and efficiency to win games.
Let's break the units down.
HQ:
Keeper of Secrets:
At first he/she/it is STR 6 which is nice for a generic greater daemon but don't go hunting characters with it because you can't instant-kill them. One of the big things I would buy is soporific musk which allows you to hit the lines hard, stay there for your opponents phase and then hit something else again when your turn comes around. Unlike Khorne the bloodlust means you can go hunting for infantry in terrain because you have offensive and defensive grenades. You also have Initiative: 10 which means no enemy is going to be going first in combat.
When I play with my keeper of secrets I either make him support Daemonettes or go hunting for vehicles. Things can't get away from him with fleet and he can take care of himself pretty well.
Heralds:
I think the Masque is a cool model and great for a hobby list but still very hard to play with. You can do three pavanes but he can never join a squad which kind of sucks. The Masque is an easy kill point and a very fragile unit that people can take down.
The normal heralds are great to run in either Calvary units or regular Daemonettes just because you can add more attacks and put another icon into those units. Unlike other races I wouldn't put them on Chariots just because they will die from small arms fire.
Elites:
Fiends of Slaanesh
These units rock and personally I think they are better than the Bloodcrushers. They have 6 attacks on the charge, rending, can hit and run, and move as beasts! They are toughness 4 but with two wounds so they can hold up pretty decent unlike what most people think. I deep strike these a little farther away on a flank. People will usually misjudge the charging range and movement because the way the unit moves. With 6 inch move and fleet plus 12inch charge they are great. These guys can hunt for anything in the enemies' army. Hit the lines and just start running amuck with hit and run. I usually run 18 in my list and people just cringe when underestimate these units.
Troops
Daemonettes of Slaanesh
They are the cheapest troop choices and they are pretty decent. They have defensive and offensive grenades. They are fast units and with rending. I usually like to run anywhere from 40-60 Daemonettes if I can. The big thing with these though is to go hunting after monstrous creatures. They will be able to rend most monstrous creatures and destroy them. The only issue with them is you have to rely on rends because otherwise they won't kill elite or multi wound models very well. Keep them cheap with no upgrades because everything else is pretty useless for them. Save the upgrades for the Heralds if you put them in these units.
Fast Attack:
Seekers of Slaanesh
I think these units are another bread and butter unit along with fiends. They are 17 points apiece, move like cavalry and have 5 attacks on a charge with rending. I usually like to run 10 of these so I have 50 attacks on the charge which will hit with 25 of them and probably rend 4-8 times depending on luck of the dice rolls. Plus these units are fast enough that your opponent can't run away or kite your guys.
Heavy Support:
I am not going to go so much into these since my other follow fly lords already have. You need to take Soul Grinders to deal with anti tank fire and Daemon princes serve as a general purpose "Keeper of Secrets-lite" that can clog up holes in your lines if need be.
Here is an Army list that I have liked and works great for most things.
2000 Pts – Chaos Daemons Roster – Unnamed
HQ: Keeper of Secrets
HQ: Keeper of Secrets
Elite: 6 Fiends of Slaanesh
Elite: 6 Fiends of Slaanesh
Elite: 6 Fiends of Slaanesh
Troops: 10 Daemonettes of Slaanesh
Troops: 10 Daemonettes of Slaanesh
Troops: 10 Daemonettes of Slaanesh
Troops: 10 Daemonettes of Slaanesh
Heavy Support: Soul Grinder of Chaos – Tongue
Heavy Support: Soul Grinder of Chaos – Tongue
Fast Attack: 8 Seekers of Slaanesh
Total Roster Cost: 1996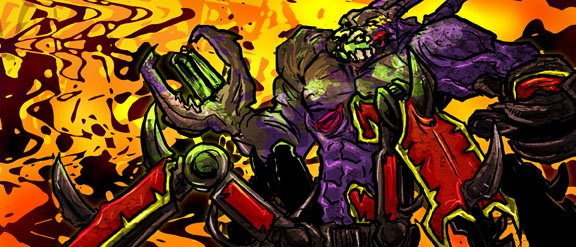 I drop the two Keeper of Secrets, two Soul Grinders, and two Fiend units down first and over load a flank. I use Soul Grinders as cover for the guys behind it and once they are on the ground hit the side units and let the Daemonettes finish whatever is left after the fiends and Keeper of Secrets start killing things. The army is pretty straight forward and goes for the throat as fast as you can and as quick as you can.
~What are you thoughts and experiences with the forces of the Dark Prince?