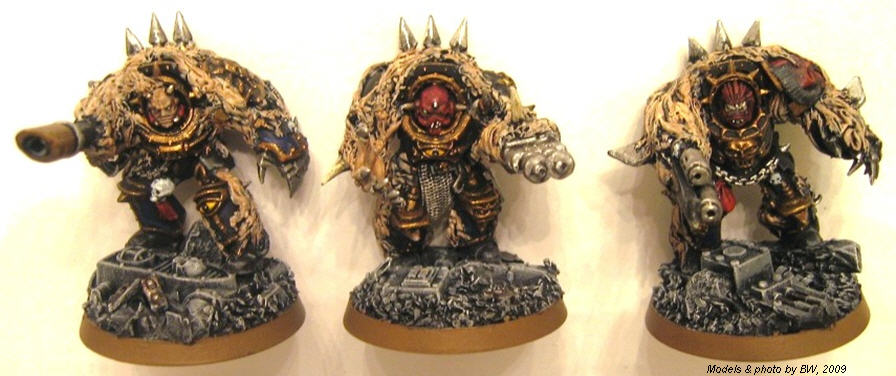 Custom converted Obliterators based on plastic Chaos Marine Terminators is something I've been considering since the release of Apocalypse Reload last summer thanks to the Obliterator formation datasheet in that book. The only thing holding me back was wanting to see roughly how that would look by checking out the conversions of others first. After seeing an article on this topic here on BoLS recently, I was fairly certain that convincing Obliterators could be made using plastic Chaos Terminators, so I immediately set about building some of my own.
The first consideration in undertaking this project was that the end product be bulky enough to be convincing. While no conversion will please everyone who sees it and you ultimately only have to please yourself, I wanted the size of the finished product to appear to convincingly represent Obliterators to most onlookers. I didn't want them to just look like Terminators with different weapons. There were other considerations too. In the end, my conversions were completed with the following in mind:
1) Putty: Kneadatite ("green stuff") would be sculpted on them to not only represent the fact that Obliterators are daemonic creatures whose flesh is often in flux as they morph from one shape and set of weapons to another, but to also increase the bulk and width. This I hoped would give my conversions a visual connection to the GW production models both in size and style. When adding putty to these models I carefully balanced the need for morphing flesh and bulk with the desire to keep the great detail already on the armor of these models. I didn't want to lose all that so I judiciously sculpted around it in places. I also used the putty to cover the joins between the many different parts used on these conversions and to provide the look of weapons growing right out of flesh.
2) Ranged Weapons: Instead of a random mass of odds and sods weaponry protruding from my Obliterators, I decided to have some fun with giving each one a primary weapon from the list of those currently available to Obliterators under the current Chaos Marine Codex. Each model would have a different weapon to increase the variety and fun of the project, and these weapons would appear to morph directly from an arm of the models. Making them a bit oversized would be desirable in this case as that would enhance the size and magical nature of each model's final appearance.
3) Blades, Spikes: Modeling combat blades and wicked spikes on the models would give them another visual connection to the GW production models as well as making them appear bulkier and add to the sense of their daemonic ability to create weapons out of their flesh as desired. Some of these spikes originate from the Chaos Spawn and Chaos Possessed sprues while others were modeled from commercially available plastic strips (e.g., manufactured by Evergreen or Plastruct). Especially because I had modeled only one gun on each Obliterator, I wanted to use the spikes sprouting from the flesh of the models to convey their capricious and sinister magical nature. To that end I modeled both organic and inorganic looking spikes and blades. This would be a visual reminder that Obliterators can change their weaponry at will and that these creatures are in a constant state of change.
4) Kit-bashing: Parts of the conversions would come from kits other than the Chaos Terminators. This would be done to enhance the variety and final appearance of the models as well as to further dissociate their appearance from that of Chaos Terminators. Sources included Chaos Spawn, Chaos Possessed, Chaos Terminator Lord, and the Chaos Mutation sprue.
5) Scenic Basing: Each model would have a bit of scenery to stand upon on their 40mm base. This would enhance the final appearance and increase the visual height of the models. Adding a bit of height would hopefully further contribute to making the final product appear convincingly Obliterator sized. Most of the scenic bits for this final touch came from a single Imperial City tile. Carefully removing details from both sides of the tile provided more than ample parts for the six models I was planning for a start. By using polystyrene parts for my scenic bits, I was able to glue the Obliterators directly on top of the scenery with plastic glue, no pins or super glue required. The rubble around the scenic bits was added using slate from the GW basing kit. I wanted an "urban wasteland" look for these squads.
The three painted models shown above are the results of my first conversion attempt. The results seemed good enough based on feedback I received from my local hobby community that I was emboldened to create a second squad of three, pictured below in their finished but unpainted state. Though these conversions are not for everyone I'm sure, I received enough unsolicited "cool Obliterators!" comments from passersby to be satisfied with the results both for myself as a hobby project and for unmistakable presentation as Obliterators in games.



That Obliterator formation in Apocalypse Reload packs a colorful and mighty punch in games. I'm looking forward to giving it a try as soon as my second squad of conversions is painted. Combined with my one squad of production Obliterator models, I have the mandatory three squads for the formation. As much fun as it was building these conversions, I may even convert one more squad.
Finally, a friend of mine has suggested that I paint the large eye on the single-eye-in-place-of-a-head Obliterator the same way he painted the large eye-head on one of his models as a sort of fun "big brother, little brother" tie-in between his Blood Pact Chaos Cultists and my Renegade Chaos Marine Legion. I think it's a splendid idea. What do you think out there?
As usual, feel free to leave your hobby comments and questions below. I'll do my best to answer any direct hobby questions I spot in the bunch.