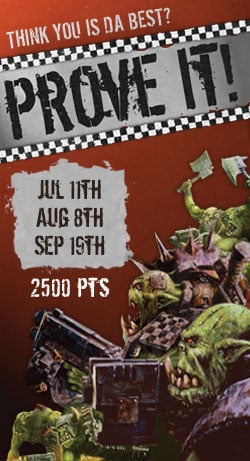 As you read this, the first round of the 'Ardboys national competition is underway across America.
Countless 40k contestants are throwing down to try to be the best player in the 2500pt no-holds-barred world of competitive play.
Yours truly is actually running one of the local tournaments here in Austin, and I will be putting up pictures and short summaries as I liveblog during the day to give you some glimpses of a tiny little slice of the national scene.
To every player out there: good luck gentlemen (and ladies).
~It will be very interesting to see what the meta-game has evolved into a month after Imperialguard has landed on our shelves. More soon.
UPDATE: Meta wise, we are seeing a tie for most common armies of IG, CSM, MEQ, with a smattering of others. Here are some shots of the battles so far. The current leaders are the Kabalite Eldar!
UPDATE #2: Quite a great tournament here in Austin with many dramatic ups and downs in the round-to round standings. Final Army winners were 1st: IG, 2nd: IG, 3rd: SM, with more IG just outside of the winners brackets, and tanks aplenty in most of those lists.