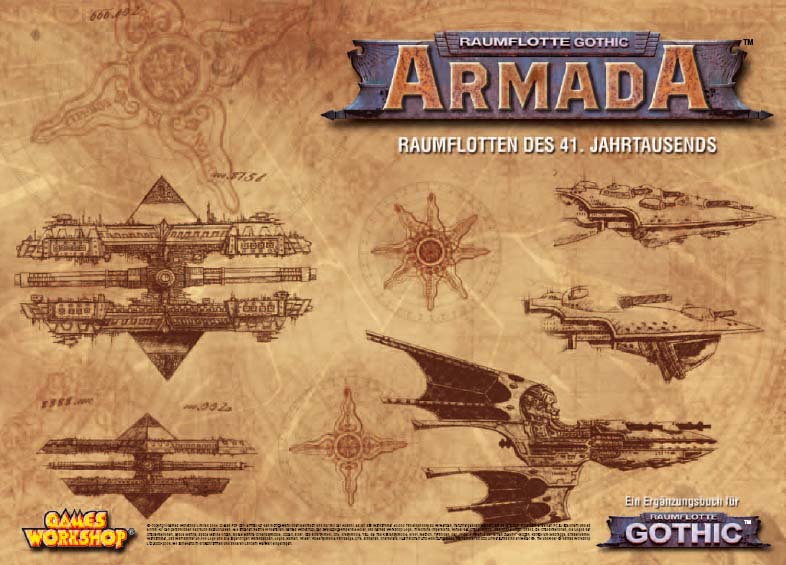 A guest article by: fracas
Previously Admiral Halsey introduced you to Battlefleet Gothic. I want to follow up on that post with some thoughts of my own.
Whenever I am looking at a "new" game, or one that I am not currently playing, whether it makes a connection with me starts with whether the genre interests me or not. BFG initially appears to be a spaceship battle game, but since it involves models playing on a flat surface, BFG sometimes feel more like surface navy battles from WW2. There are carriers, battleships, battlecruisers, cruisers, and light cruisers, and a variety of escorts. The only class of ship missing from the game is submarines. But there is enough difference in the game mechanics to make it different from surface naval battles. This model on tabletop reality of game mechanic still makes BFG appealing to me.
Next thing I look at is whether there is a faction that would appeal to me. If there is a faction you like in 40k, it is in BFG. In fact, BFG has factions to play not available in 40k. I'll list them for you.
Imperial factions:
Imperial Navy (Gothic list, Armageddon list, Bastion list)
Space Marines
Adeptus Mechanicus
Chaos factions:
Chaos Navy
Chaos Marines (including demon ships)
Alien Factions:
Eldars (Corsairs and Craftworld)
Dark Eldars
Orks (Pirates and Waaagh)
Necrons
Tau (Including Kroots, Nicassar, and Demiurge ships)
Tyranids
All factions have different ships and play differently. I am pretty certain there will be a faction that will appeal to you to play. I hope to give you a better sense of each factions in future posts.
Since this is a GW game, one other question I need to address is how much support the game gets from GW. It is a specialist range game and not one of the core game so no, it does not get much support. Having said that, I think it gets more than any of the other specialist range games. At Games Day Baltimore in 2009, BFG was the only Specialist game featured as far as I can tell. In terms of products, in addition to the primary rulebook, typically referred to as the Big Blue Book, there is Armada, which added 9 fleet lists to the original four. Since then, two additional fleets and models have been released since Armada (Craftworld and AdMech). The rules have been cleaned up in a FAQ and though not perfect, certainly pretty damn good. Best of all, all rules and fleet lists are available for free as downloads on the GW BFG Resources page. There is also a very healthy online community for BFG as exemplified by Warp Rift webzine and their annual model contest GothiComp.
While the rules are free, the models are obviously not. Next then is the question of whether it will cost oodles of dineros to get into the game. The only fleets with plastic models are Imperial Navy and Chaos Navy. My all plastic cruiser 1.5k Chaos fleet costs about 90 US$! My all metal Tau fleet costs about $200 for 2000 points. This is definitely cheaper than 40k. It is not only cheap enough for anyone to get into the game, I think it is cheap enough for you to get a second fleet to entice others to get into the game with you (especially if your second "try it out you 'll like BFG" fleet is Imperial or Chaos.)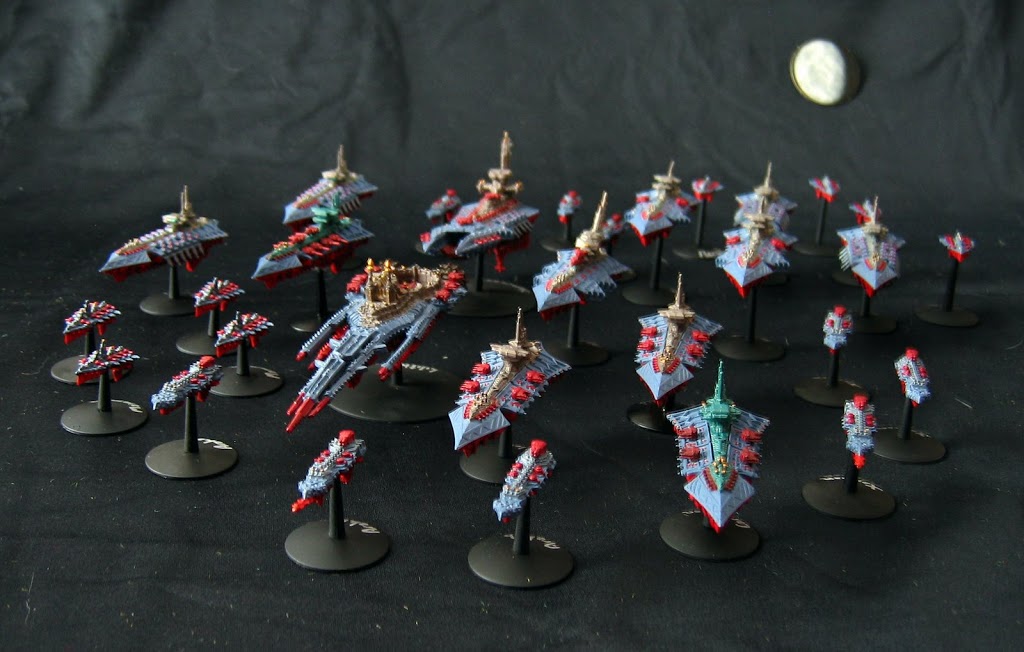 ~Bigred here. Fracas will be back from time to time to take us through the paces of BFG and the strengths and weaknesses of the different fleets. He also runs Warmancer, one of the best BFG blogs out there, so by all means you interested Naval Cadets should check it out.