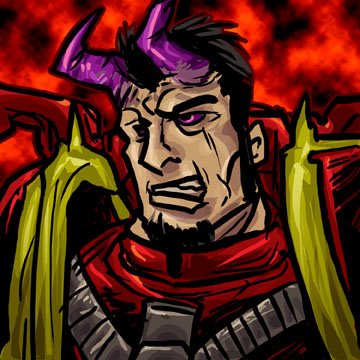 By now we all should know a hammer unit. Usually this is some kind of massively damaging or extremely annoying unit to deal with. Either they have a ton of saves, high armor value, or some other way to cause your game to be spent rolling lots of dice and watching the majority of them being ignored. This sort of unit is normally designed to take on your entire army for a few turns. What I want to talk about today is how to use those units, as well as ways to limit their own use against your own army.
First of all lets look at some of the latest hammer units. The old standby, nob bikerz is a good example of a hammer unit. You have lots of wounds mixed with usually 2 saves, makes this a pretty hard-core hammer unit. Another example is TH/SS terminators usually mixed with some kind movement ability or some way to ignore leadership checks. There are others (medic enhanced, priest laden IG jerks, seer council, death company, etc) but these two show a good example of what is a hammer unit. This is a unit, designed to shove a brick in your face and stomp on your flowers and kittens. A lot of the time, these units are made to try and win you the game by creating the perfect storm of rerollable saves, high damage output, and overall opponent annoyance.
WIELDING THE HAMMER
Now how do we use these units to the fullest? Well there are some different thoughts on the matter and the range from pure pain to a creation of opponent dominance. I know we all know about the pain part. I am sure we have all been on the business end of some massive power klaws, lightning hammers, and pain in the butt blades and know how that type of play style works. Instead I want to go into how you can create a unit that makes the opponent focus too much on them.
These hammer units make your opponent have to think about how to deal with them. Whether it is trying to break the math hammer with numbers, or focusing all your high end damage output to somehow create instant kills, these things all help create what I like to call perfect turn situations. We all know that armies are not just made up of hammer units. They have different bits and pieces that make up their offensive potential, from the lowly troops to the high-end mechanical monsters, all these pieces need each other to work. So what do these hammer units do for this style of army? They let your other pieces do their job without having to worry about your opponent.
If I am playing orks with some nob bikerz in the army, I usually use the nob bikerz as the rush at the opponent and scare the crap out of them. I know my green monsters are probably going to die, but if they can let my battle wagons and other orky bits get into a better position, then they have done their job for me. Nothing is better then teleporting your TH/SS termies with a librarian into the front of an army. Trust me, everything is going to shoot at them as all your other pieces get into position to rapid fire things to death. The unit's ability to make the opponent focus on them is one of their greatest strengths and something any player needs to think about when building an army.
BREAKING THE HAMMER
But of course, how do other players without access to these hammer style units deal with these threats? Well you ignore them. I know some of these threats can move fast and get into positions, but most of the time they won't be able to win the game. You could throw a worthless unit in front of them, create some kind of wall with vehicles, or just stay in your vehicle and move away. A lot of the time these units can only take out one thing at a time, and if you play right, these pieces they kill are not pieces that are worth that much to the overall game. There have been many times where I have only had a few units left on the table and won because I paid attention to the scoring units and left these hammer units alone to run around and look cool.
This all coincides with how I think all bits of your army should work together as a whole. Hammer units, bait units, and foundation units should all be equal parts in your army. I know some of my lists can be redundant, but each part is designed to give the army something needed. Of course some pieces can be all unit types, but each army needs these pieces to win consistently and bring a game to any opponent they are facing.
The Warboss is riding a modified Deff Kopta that floats a bit above the ground. Normal Ork Warboss load out as usual. This is for the ork commission I am currently working on. IG stuff is coming soon.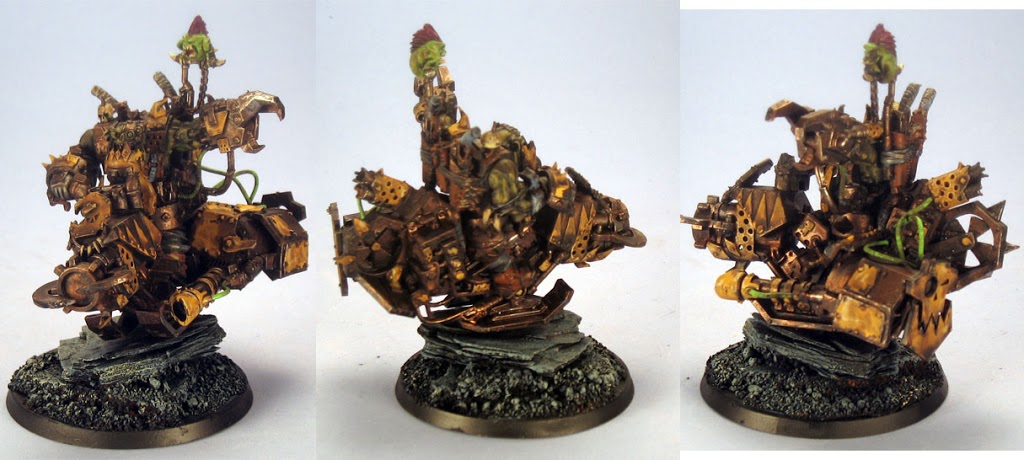 ~As usual if you have any questions please feel free to email me at [email protected]. I'd love to hear how you mentally deal with hammer units on the table, both using and fighting agasint them.