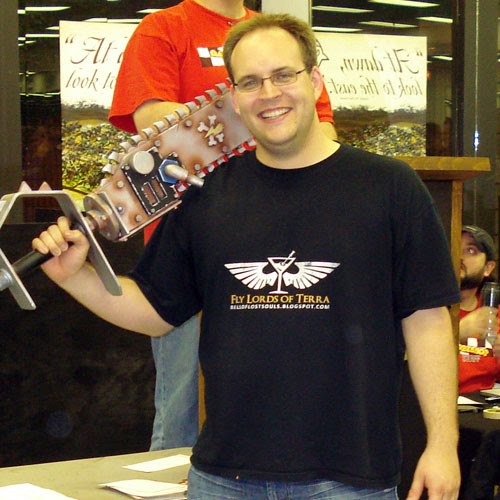 Ard Boys Battle Report Game 1
Donnie Rose and 180 Orks! vs "The Leafblower"
When I first got to the battle bunker bright and early at 9am I was so anxious to just start the games and get playing. There were a good amount of people there (over 60). I saw a lot of old faces that I knew such as Bill Kim, John Blake, Steve Turner, and many others.
The pairings go up and I look at who I am supposed to be playing and I see the name Donnie Rose! Wow someone with the same last name as me at Ard Boyz? Must be part of a great family lineage from long ago!
Scenario 1: CRUSH EM!
Mission: Annihilation, Modified Kill Points
-Troops= 1 point
-Fast attack/elite/Heavy = 2 points
-HQ = 3 points
-Transports = points for the slot they are filled with (for example Elite transports are worth 2 kill points and troops transports are worth 1)
So, I say Hi to Donnie tell him he has a great last name and let's rock. We exchange list and all of a sudden I slump! I see 180 orks and I think to myself, "Aww crap! Am I going to be able to finish our game?" On top of the deployment is Dawn of War. I am not going to see him to shoot, and he'll get that much closer.
My Turn 1: I win the roll and deploy first. I deploy two empty Chimeras in the middle of the board which forces him to deploy on the line and I have searchlights close enough to spot anything that I might need. Donnie deploys his battle wagon with Ghaz and Meganobz behind a ruin which blocked almost the whole thing. I go first and move everything on and move flamers and units to support the two chimeras out front. I set bait up with one Chimera to try and lure some Meganobz out next turn and see if he takes the bait for the extra movement to get closer. My Hydras roll on the back in the corner and turn to get shots on the Battlewagon with side shots. I roll he fails his cover saves and it goes Krump! Meganobz get out and hide in the ruins and that ends the phase. Who would have thought Ghaz with Nobz would hide in the ruins and be scared of tanks!
Donnie's Turn 1: Donnie goes and starts moving all of his models on the board and gets crappy rolls on his run moves and only moves a whole 8 inches on the board with most of his mobs. The big thing is he moves his battle wagons on the board full 12 inches and has one empty one that he might be setting up to pick up Meganobz on the next turn. He moves his Meganobz out to assault my poor helpless Chimera that moved 12 inches standing out there all alone. Ghaz assaults and blows up my Chimera with his Meganobz. He also gets his Stormboyz on to assault my Valkyrie that moved 24 inches on the board to try and destroy it.
My Turn 2: I move my command squads about 10 inches away from Ghaz and his Meganobz ready to setup and pour plasma into Ghaz. I also move out my Chimera with a heavy flamer side ways to light up a squad of Stormboys that just tried to assault my precious Valkyrie. I had a Chimera with an infantry Command Squad with 4 flamers out to stack as many templates as I can on the Stormboyz squad that were waiting for a counter move. I move the Valkyrie that the Stormboys assaulted to kill some Lootas. So time to unleash the ploy and force him to pop the Waaaggggh. My command squad with 4 flamers does 44 hits on the Stormboyz squad and kills all but the Nob which gets shot by the chimera with the multi laser that had the heavy flamer waiting for the Ork Boyz squad. Medusa hits on Ghaz' squad kills all but two and the Psyker Battle Squad targets them to break their leadership. Donnie pops the Waaagh (to make Ghaz Fearless) and the Command Squad plasmas kill all of Ghaz' Meganobz. Ghaz is now all alone in the middle of the board. The Manticore immobilizes TWO battlewagons and stalls them on the back line. The Valkyrie kills half his Lootas with its rocket pods and multilaser.
His Turn 2: Donnie moves Ghaz to assault my Medusas; killing only one. He kills a Valkyrie on the right side, and my troops safely disembark and prepare to return fire.
My Turn 3: I move my Special Weapons Squad with two flamers and demo charge in position to hit the Boyz Mob, along with my Veterans without demo charges. I drop the flamers and do another 28 hits to the boys and do 14 hits with a demo charge from Special Weapon Squad. The Mob dies to the combined fire of the SWS, Vets, and Chimera. I try to kill Ghaz and Donnie makes over 16 4+ saves! My Inquisitor goes in to fight Ghaz to stall him. FOR THE EMPEROR! Ghaz slaughters everyone but the Inquisitor who stays fighting Ghaz to the death.
His Turn 3: Donnie counters and slaughters the Special Weapons Squad and the Veterans. He moves his last Boyz Mob on the table on the right side to assault another Chimera.
My Turn 4: Manticore fires at one of the Boyz Mobs that killed my squads and does 45 hits to the Boyz, killing them all with one Missile. Ghaz finally dies to plasma fire from two Command Squads. I do another 40+ hits on to the other Boyz Mobs with the flamer Command Squad.
His Turn 4: He only had two Battlewagons left.I still think Donnie was in shock of how nasty flamers are now in 5th edition.
My Turn 5: I take the next turn just to wrap up and destroy the Battlewagons and Donnie calls the game. I look down and we finish in an hour flat. Donnie moved his Orks super fast and was a great player to boot. The big thing that won this game for me was moving tanks close enough for him to bunch up then capitalizing on using template weapons to take advantage of the low saves that he had.
~Round 2 Battle Report coming soon. The floor is yours generals.