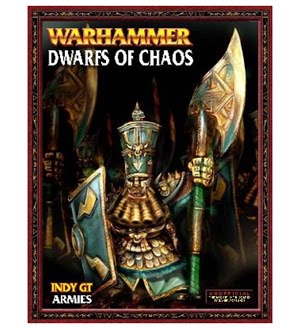 It looks like other groups of fans are busy burning the midnight oil trying to expand the army book offerings for their favorite ancient armies. Lots of these things cross our inbox, but this one's production values sent it right to the top of the list. Check out the Indy GT Dwarfs of Chaos Army Book.
"Below you will find the link to the new Indy GT Dwarfs of Chaos Army Book, a complete, 92-page Army Book in the Games Workshop tradition. The book—professionally written, designed, illustrated, and thoroughly play tested—will be legal for use in participating Independent Grand Tournaments. As of this writing, the Crossroads, Conflict, Colonial, Destruction Derby, NEWCC, and War Camp GTs will allow the book as legal, and we expect the number to grow with the publication of the book.

About the authors
Written by Kevin Coleman. Kevin has been writing background and rules for Warhammer for well over a decade with his work appearing in White Dwarf Magazine, the Games Workshop Website and the Citadel Journal including such articles as Gnoblars Hordes, the Dark Elf City Garrison army list, Goblin Ecology, Mighty Champions and more. Kevin has also worked as a games designer and writer for other games and magazines
including Fleer, Inc.'s customizable card game, Ophidian 2350.

Book design by award-winning graphic artist Matt Birdoff. Matt has been a professional designer working in the entertainment industry for over 15 years. His recent works include logos for DC Comics, sports card designs for Topps, Inc., style guide design for Ringling Bros. & Barnum and Bailey, The 39 Clues book and card series from Scholastic, among others.

Additional background material and fiction by Justin Hill and Jarrett Messing. Justin is the author of the Black Library novel Forged in Battle (as Justin Hunter). His internationally acclaimed first novel, The Drink and Dream Teahouse, won the 2003 Geoffrey Faber Memorial Prize and a 2002 Betty Trask Award, and was banned by the government in China. It was picked by the Washington Post as one of the Top
Novels of 2001. His second novel, Passing Under Heaven, won the 2005 Somerset Maugham Award and was shortlisted for the Encore Award."

Note that this book is not endorsed in any way by Games Workshop.
Download it HERE!

~I always like to see what other fans can crank out to add more fun and variety to the hobby. This one looks like a class act all the way. I'm sure you Fantasy guys (thats 50% of you) can weigh in with your opinion of this labor of love.