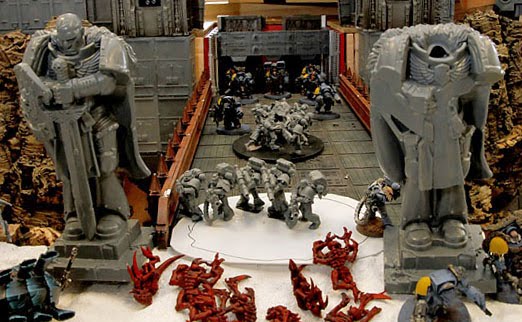 So for a long time now (as far back as Apocalypse), we've seen these crazy display tables that GW keeps putting together.
We didn't know it at the time, but almost every urban plastic component we see in the Apocalypse books, down through Planetstrike is now available. From the Cities of Death kits, to the bastions, to the defense lines, to the recent Shrine of the Aquila and the mighty Fortress of Retribution. All except one… Those pesky giant Marine statues that keep popping up all over the place.
Recently Games Workshop put up a big article on how they created one of these stunning display tables (this one has Space Wolves vs. Tyranids). And low and behold, look at that top detail of one of the in production shots.
Now the article says this is just a special one time 3-up of a Space Wolf mini, but I don't know if I can buy it. It sure doesn't look like a 3-up of anything we've ever seen before, and I sure think I can see snip marks at certain locations from where sprue was trimmed off. Hmmmm…
~What's your take?