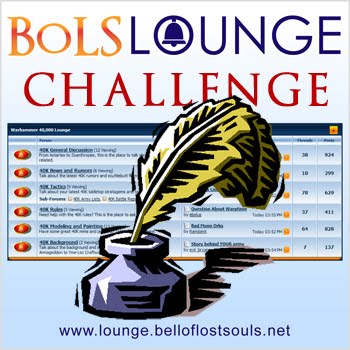 Hi guys,
Its time for another BoLS Lounge Challenge!
Just under 3 months ago, we opened the BoLS Lounge , and it is growing strong! With thousands of users, millions of pageviews, and all the freshest news, rumors, and conversations, the Lounge has something for everybody. We have been adding Lounge improvements from user blogs, to the largest attachment limits around (for you hobbyists out there), and even more cool stuff is in the works. Remember you can always keep an eye on the latest Lounge topics via the widget on the right hand column.

We would like to say THANK YOU to our loyal readers and posters, as well as any of you other folks who haven't joined quite yet, but want a shot at the following loot:
-A brand new Imperial Guard Cadian Shock Troops Box
-A copy of Dan Abnett's: Brothers of the Snake
-A copy of David Ferring's: The Konrad Saga

This week the challenge is fiendishly simple. Two weeks from today, I will draw the single registered BoLS Lounge poster who has achieved the rank of Scout or higher (thats 5 whole posts) who started the most popular new thread (by number of comments) on the forum. They win the 3 prizes. So if you think you have a great topic the community can't live without, a delicious news morsel, tactica, or a treatise to dazzle the masses, lets see your best stuff. Pencils out… no trolling!
~The clock is ticking, and some lucky person is winning the loot. Take a look around the Lounge, meet some new friends, drop into our threads, and make some of your own. As one of our previous happy Challenge winners (seen below) would say, "what have you got to lose?"