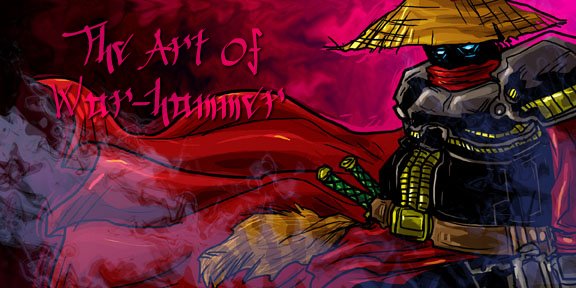 "A skilled commander seeks victory from the situation and does not demand it of his subordinates."
The third installment of the Art of War-hammer series. This week I am featuring my Red Scorpions 'Chief Librarian Grrael', a converted terminator librarian. I decided pretty early in the process to add a terminator librarian to my Badab army. I think they are a fairly potent HQ choice for space marines.
The process I found to achieve the charcoal gray base color of the scorpions was to find a gray that was lighter and wash the entire model with Badab Black. The effect was nearly a perfect match. The only problem I found was it made it nearly impossible to do touch ups or correct any mistakes as the color was not easly reproduced over a very small area. For the librarian, I wanted to combine this technique with creating the standard blue armor for librarians. I didn't just want to paint his armor blue as I thought it would clash with the rest of the army.
I decided to start with the basic Red Scorpions gray I had found and to then to some simple blending with blue tints. I was happy with the effect. I decided to use some of the Iyanden Darksun I had used for the yellow parts of the rest of the army on each of the skulls, his right shoulder pad, and his knee pad. I also used it on the aquila on his back. I used blended grays to white for his cloth.
I had the blade of his force weapon in my bits collection for quite some time. It is a weapon from a Warmachine war jack I had gotten when the game was first released. I've been trying to find a good place to use it and it seemed like it would be a nice fit here. I filed off the symbols before attaching it to his staff. I used brown tones, beige, and Devlin Mud wash for his face.
His base is made from a broken off slab of cork board which I dry brushed with gray tones. I used GF9 brown static grass to finish it off.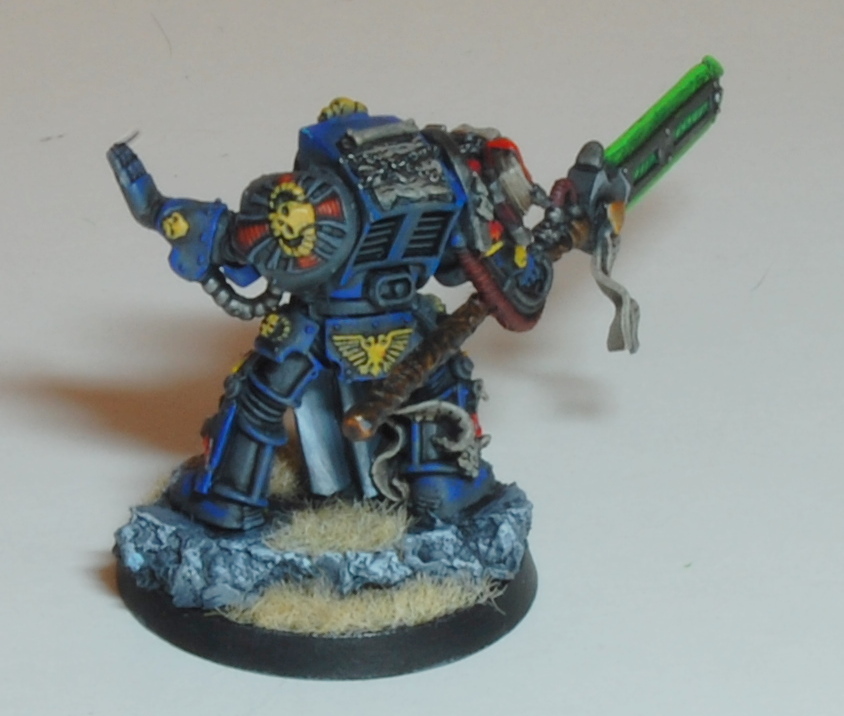 ~As always, comments are welcome!