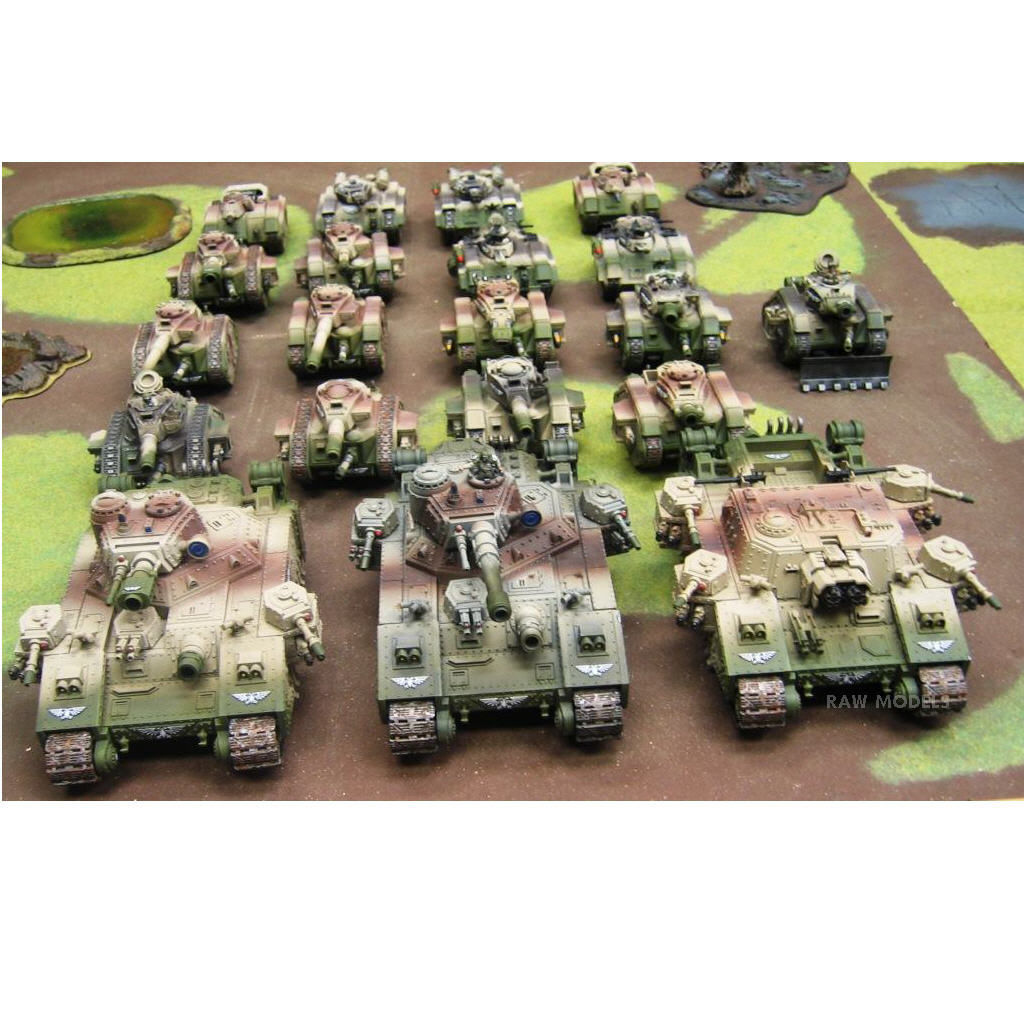 Games Workshop's November calendar has a pretty extensive list of fun events for Warhammer and Warhammer 40,000 in game stores around the globe. One that has become an annual tradition in the US is Tanksgiving. Tanksgiving is a massive tank battle that gives hobbyists a chance to show off their budding or enormous collections of 40K tanks. Each store handles it a little bit differently given their own creative ideas and space limitations.
For example, the Baltimore Battle Bunker in Maryland is running the event on Friday, Saturday and Sunday the weekend of November 28. Not only that, the Baltimore Battle Bunker is trying to assemble 5,000 or more tanks this year for the main event on the 28th! That's 5,000 tanks, not points, TANKS. It is hoped that treadheads from all over the Mid-Atlantic region will assemble for this event. If you want to help set the record for most tanks in a GW store game ever, please turn up by noon on Saturday and bring every tank you own and can carry. The Friday and Sunday Tanksgiving events are provided mostly for those who cannot make it on Saturday, but feel free to show up for more than one if you can make it.
Details are subject to change and vary from store to store, so please call your local game store for full details of their Tanksgiving event if you need more information before showing up. Tanksgiving is on November 28 all across the US.
If you're in the Mid-Atlantic area there's also a Total Chaos event at the Annapolis GW store on November 14. Every horizontal surface in the store will be used for this event. Here are details provided by the store:
Total Chaos
The Forces of Chaos have united for the first time to take matters into their own hands and bring the mortal realms under their control. Ravaged by the lash of Chaos, the peoples of both the world of Warhammer and the Universe of Warhammer 40,000 must unite to defend their homes, their lives, and even their souls. Will the ordered worlds descend into madness? You can shape the story, You can save the multiverse, or You can help send it into Total Chaos!
• Join in this one day, 3 round story driven campaign
• Players bring 500pts of Warhammer Fantasy or Warhammer 40,000.
• No force organization or army requirements!
THE MOST CHAOTIC EVENT IN GAMES WORKSHOP HISTORY!!!
• Three Round Story Campaign
• THE WHEEL OF CHAOS
• Chaotic Raffles with Crazy Prizes Including a Painted Army and a Boxed Army!!!
• Chaos Cookies!!!
• Chaos Mini-Games for Rare Prizes
• Free Chaos Tattoos
I'm looking forward to both of these events. I can't wait to field all the tanks I can carry to the store just to see them all on the table at once arrayed alongside and across from hundreds of other vehicles. Hopefully, there will be some fun paint jobs and conversions to see on tables all over the store. I'm planning to bring the following if I can get it all in the car and to the store: Shadowsword and Stormblade (these two Mechanicus themed models are on display at the store for the moment, conveniently saving me having to carry them there), Devil Dog, Leman Russ Vanquisher (2), Vindicators (6), Leman Russ (3), Demolisher (3), Hellhammer, Baneblade. I have some other tanks that are less effective against heavy armor (e.g., Leman Russ Eradicator), but I may bring them anyway if there's room for them in my mid-size car.
I'm a bit unsure as to what I should bring to Total Chaos. I have a wide variety of Chaos Marine items from which to choose and with only 500 points, but with no Force Organization restrictions it's almost too much from which to choose. This game will have a lot of random, uncontrollable elements in it and will be very story driven, so it's more about bringing what would be fun to see on the table than bringing what is most competitive. Should I take Plague Marines for their durability or Thousand Sons for their wicked AP3 bolters? Should I go crazy and take a unit of all Chaos Terminator Champions? A four-armed Defiler or close combat style Dreadnought? What do you think?