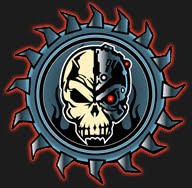 A few little items today in no particular order:
Skaven Hints?
From the mouth of Andy Hall in the upcoming White Dwarf. "There are new options to try out as well such as the Plagueclaw Catapult, and I can't wait to eventually get my hands on the Hellpit Abomination"
*THE* Hellpit Abomination? Hmmm…
The Golden Bolter
Our good friends over at Bolter and Chainsword wanted everyone to know they are holding a pretty fancy Powered Armor painting contest: "The Golden Bolter" with lavish prize support, top-shelf judges, and many categories to choose from. Go check out all the details here.
Adepticon 2010 News
Adepticon Registration is open. Also up are the rules downloads for all the events, and boy are there a lot os subtle changes from last year. Get on over there and check out the biggest wargaming tournament of the year.
Social Media Sharing
BoLS has just updated our template with a strip of social media icons directly below each post. If you read anything you really like, feel free to share it on your favorite networks.
~Have at it guys