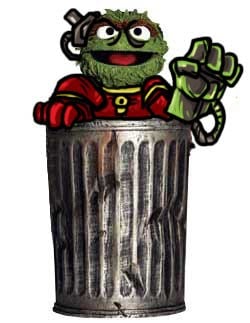 Goatboy here again. I had a frustrating weekend. Beyond any of the normal weekend stuff, I lost my cool during a tournament game. It was on the last table, final round and I just lost my cool with a player that is one of the few people I like to play. He brings an A game, knows his stuff, and is always enjoyable to play. It came down to a rules issue and a frustrating lack of vehicle damage rolls with Meltaguns. The rules issue was my own frustration at the game and I always like to play the player at any time. In fact, I wish he would come back to Austin and play more games as he is a great help in getting your skill level up when throwing down on the Thursday night tables.
So today I want to talk about how to just keep yourself in check. We all know we can get frustrated in a game like environment so the question today is: How can we stop it before we make a fool out of ourselves by getting mad at dice and plastic guys.
Leave the Table for a bit
I know I should have just walked away for the table for a bit. It was getting hot in the game store and it was affecting my judgment as well as overall attitude. I think just going to the bathroom, getting a drink, or just walking around for a bit will do wonders. Walking away will also let you come back a bit fresher and hopefully give you a chance to see the holes you left in your strategy and maybe give you a chance to pull the game out of the craper.
Make a joke out of it
Nothing is better then alleviating frustration by trying to make a joke out of it. A local guy is known for some terrible rolling and I like to tell him every time he rolls 8 ones in a row, somewhere in the world a kid was somehow saved from an awful fate. He laughs a bit and the game moves on and we joke around. The first one to save the most kids win! Sometimes the great dice gods Invuln Savicus and Rendiol Woundicus are just not paying attention to your game.
If things are bad, lets make it as bad as they can be so we can make a story out of it
You've all heard of those games where the lowly Grots somehow took out 4 TH/SS Termies, then broke the survivor, who they caught and killed with No Retreat! wounds. It happens from time to time and those types of stories are always just as much fun as the ones where your super HQ unit took on the entire might of an army, shrugged it off and took out every single model they touched. It is these little things that can make a game memorable and fun, no matter how much your dice just sucked that day. I don't know about you, but goblins killing and chasing down a dragon is pretty dang funny.
~So what other things do you guys use to help well, keep the game fun when things are going bad? I know that starting attitudes help out the most. Like a lot of people, Holidays make me cranky, so I have to work harder this time of year to keep my cool – I'm going to try some weird armies and builds, as well as some of my old favorite armies to help me get over my grouching at the tables. What does everyone else use to help cope with the rumblings of a poor attitude?

As usual, shoot me an email if you have a questions at [email protected]. Look for some Space Wolf thoughts on my personal blog as I talk about some of the things I learned in their first outing this weekend.
Some models I painted up last week. It was a slow week, as I finished up some projects as I wait on some model building to be finished up.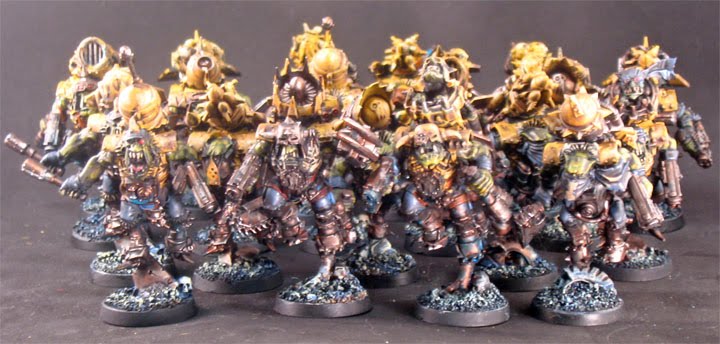 Final batch of Storm boyz for a client. This finishes off his Ork Boyz and gets the yellow bastards out of my house haha. Took a bit as I waited on getting more models for the army. This was a large one and had 5 BW, lots of boyz, Kans, and other fun things. The only thing I didn't paint was Nob Bikerz. I did do a crazy Warboss conversion.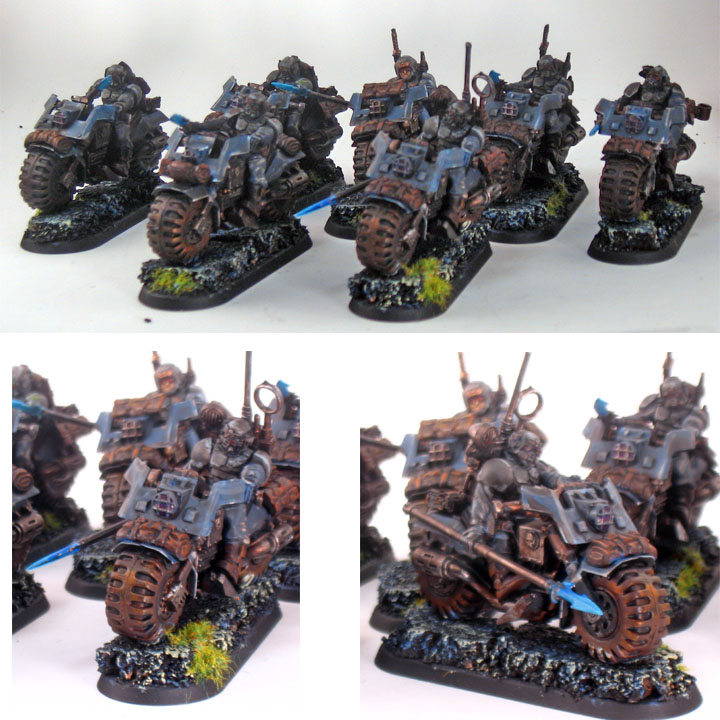 Here are some rough riders I did for the IG client. He saw some scout bikes someone converted up and so I had the chance to do these guys. The spears are from the Dark Elves kit with lots of pouches and other bits thrown in from FW. This was a neat group of guys to do and really gives you the idea of the scout bikes riding around in front of the enemy. I think in WW2 they had scout bikers they used to drive around and scout out enemy lines and these guys fit in nicely.