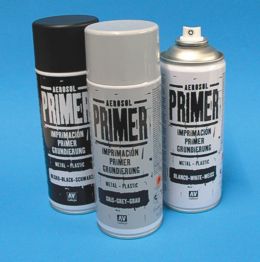 A guest article by RedScorpionsGirl
Have you ever sat down and thought about priming? What color to start with, how well it will work, and what you can do with it? There are lots of choices now, simply going to Wal-Mart and getting the .97/can spray, P3 Primer, Games Workshop Primer, Army Painter, and more.
White
Tamyia white primer is superfine, and works better than any white primer I have ever used. You can't wash or ink directly over it, so a thinned down coat of white over it will allow you to wash and ink freely (80% water/20% paint). Models with a lot of detail don't have it obscured by this primer, it actually seems to highlight fine details to a degree. P3 is also said to be a good white primer, (can't comment yes or no on it, haven't tried it) GW white primer leaves something to be desired… Thin, multiple coats needed, and tends to obscure a lot of detail..
Black
Great all around primer, the Krylon is so-so, but if you use anything that is flat black spray (ie. Wal-Mart's .99 cans) they work almost as well as the GW primer, or the P3. I have heard good things about the P3 primers overall, but have not tried it as of yet. Also make sure that you use flat or ultra flat black, not satin or gloss, as the paint doesn't adhere nearly as well to those..
Grey
This is an awesome color to work with. Cool and neutral, I found that grey primer (making sure you don't miss any areas….) with wash will produce amazing space wolves. In my opinion the perfect blue grey without the hassle of using space wolf grey since it doesn't come in spray currently…(hoping for a re-release but not expecting it)
The Army Painter
This primer is amazing. It comes in several different color, yes, I said COLORS! They have pretty much all the common colors, including red (Khorne), blue (ultramarine), yellow (Imperial Fists) , green (Ork), green (Imperial Guard), undead colors of rotting flesh and such, an ideal bone color, and more. They also have a large selection of dips (ends up shading similarly to wash, but not exactly the same result. It's best to check out their articles on the site for a how to, and some examples) and more. This is a great way to speed paint an army, because as long as you are good with a spray can, it facilitates your painting. They also have metal colors, and are intending on getting more in the future. These are wonderful primers, as you can wash directly over them, without an issue. It isn't too hard to find a way to touch up if need be also, as the colors they chose are easy to in bottles. These don't tend to obscure the details at all, and with a simple wash of Badab Black, it brings it to life. Just think about it, a simple coat of primer, wash, and detail the model to your liking. That's it! While they are about the same cost as the Games Workshop Primer, the colors available make it worth the cost in my opinion.
The Army Painter Colors I have Tried Out:
Bone: works great for skeletons of any type. Also gives a great color when paired with almost any of the washes (suggest trial on a small piece of spare plastic to check the effect). Coats great!
Red: it looks cool! Makes a great Khorne color. It is a slap you in the face bright red.. Coats great! Tone it down with a wash, or leave it bright!
Army Green: Looks good! Covers just as well as the other colors I have tried and I like just how flat it truly is. I think it would be a good guard color.
Also, I have tried the Matte Varnish. Unlike GW's varnish which has a high tendency to fog, theirs has yet to. I have gone out of my way to try it in some of the most unusual situations, and am truly impressed with it. A good investment to protect a good paint job!
GW Primers
These work fine. They have their days, just like any other company does. The fact that they went from 8.00 to 16.00 per can is causing a lot of people to look elsewhere to good primer, as they see that as too much to pay. They have reformulated it several times also, but the price for just black or white primer is a bit much.
Board To Pieces
These work fine as well. I have used black, white, and grey. While they have their days, I am truly not too impressed with the white. The black works well, but the white leaves something to be desired. It seems to be very finicky, and more often than not when I would prime with it, I would see awful fuzzing and thickness. The grey is all right, less finicky than the white, but not quite as clean as the black. Reasonable prices though.
There are a myriad of other options as well, so by all means, don't limit yourself to simply black, grey, or white! Also, think outside the box, mixing primers with washes, to make a simple army combination, or even combining various color washes to get what you want.
For Example:
-Grey Primer + Asurmen Blue Wash= Space Wolf Blue/Grey color
-Grey Primer + Baal Red Wash= a gritty Khorne color
-White Primer + Asurmen Blue Wash(x2 coats)= Great Ultramarine Color
-White Primer + Badab Black + Asurmen Blue wash (x)= Gritty Crimson Fists Color
-Bone Army Painter + Badab Black= Great Desert Scheme
and the list goes on…
Any particular ones you have found that work well?
Not Recommended!
– At all costs, stay as far away from Armoury primer as you can. While this used to be an inexpensive, good alternative to GW, their product has changed, and now, you stand a huge chance of having the primer fuzz up on your models, no matter what conditions you attempt to prime in, and ruin your models. A lot of us have experienced this, and will recommend against it. It takes a lot of time to strip the primer off when it has fuzzed as well, even using aircraft stripper on metal models. Rather disappointing honestly… I know others have had great luck with it, but other than the one stray can of good grey armoury primer, I have asked over 20+ people who have tried it, and they did not have good reviews. I have also talked to several games stores that will not carry it anymore, preferring to carry Army Painter, Games Workshop, or Board to Pieces.
– Gloss Enamel Spray. Enough said in the enamel part. This tends to be shiny, unmanageable, and horribly thick. It shouldn't ever be used on models. If you use this for a primer, there is a good chance that the model may not take acrylic paint over it, or it may shell and crack, or worse. I highly suggest staying away from spray cans of enamel paint (again, this is discounting mixing enamel paint to use in an airbrush. I haven't used my airbrush yet, but am looking forward to it)
– Enamel. In any shape or form, this is a bad idea. It will eventually strip off metal, but with a lot of problems, in most cases, it won't strip off plastic easily, and the consistency of it makes the models look horrid. Testors paint works just fine on the planes and such,, but they tend to obscure a lot of detail, as well as taking a long time to dry (I am speaking of brushing on enamel, not airbrushing, as that seems to have a huge difference when you take the time to do so) among other problems. You can fix a mistake from acrylic with wet brush, but when you try to fix a mistake with enamels it isn't pretty. Also makes the brush taste horrible (come on we all put brushes in our mouth without even realizing it, if you've been painting a long time)
– Gesso. Just don't use this for priming..Period. I can't stress this enough, this is for painting on canvas, not fine models we work with, and especially not anything produced by Forge World. I know there a few people in favor of it (personally, the excuses are great, I can't spray, I don't want to go outside to have to prime, It stinks, I live xxx or yyy and can't, this is better…etc. I've heard them all with the top one being the individual is just too lazy to go outside to spray), but once you start working on forgeworld models which have an extensive amount of detailing that can easily be covered up with this thick paint, it will ruin a good model. Take your time and spray prime, for optimal results. This prevents puddles, thick spots, and more.
– Poster Paints. This shouldn't need to be here…but……. These are designed for just that, posters and such. These tend to have poor consistency and coloration on models. Will fade fast, and yellow with any degree of sunlight/handling etc. Honestly, it is just best to get regular old acrylic paint. If you can't find a certain color that they make in a poster paint color, look about. There are hundreds of different colors available from several dozen companies, including Vallejo, Reaper, Rackham, P3, Games Workshop, and more.