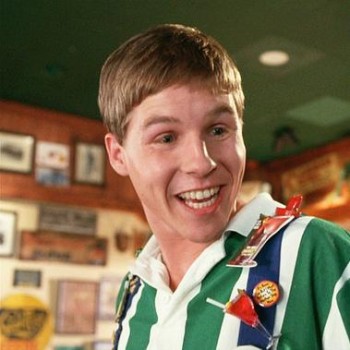 With an almost Borg like one mindedness, the Games Workshop red shirt is sent into the world programmed with one goal and one goal only, to make you never purchase a GW product again. I understand many of us do not have a choice, but when they see fresh meat, these automatons attack, else they be deactivated and left to freeze in the cold.
Whenever I enter a GW store I keep my head low in a futile attempt to hide from the rabid red shirt as he prepares to unleash his talking points. At most chain stores corporate up-selling is left to the last-minute when you are being rung up, but not at the GW store. It is full court press that has me cowering for the exits. It often starts very innocuously, a simple how are you doing and welcome. Then they ask the fateful question, "Do you play?" Now two choices lie before you. If you say yes, then a series of questions in no particular order will result.
What armies do you play?
Have you seen the latest white dwarf?
How long have you been playing?
You know we have game nights?
Do you know about our latest releases?
Do you know we have a mailing list?
Are you an autumn or winter?
Can I interest you in blah,blah,blah.
Your mind might start screaming "run, run, run, redrum, run, run". Instead, you end up nodding and smiling then walk away. Yet on they come, often like a lamprey sucking at your very will to live. There can be no escape. At some point you come realize that good intentions are always paved with being sucked into strange 4×4 table cult. This is not to say these folks are not real people, they are. You can see it in the way they treat their regulars patrons, just like most game stores… a daycare center. In fact, when you ask questions they are always prompt to answer and generally do not speak in tongues. It is just you have to get through all the Games Workshop group-think stuck in their heads.
Over the years I have learned a few ways to get some peace while you walk through the store because saying "Just Looking" will not cut it.
Give them errands to run, like ask them to get you the GW catalog or if you are at Battle Bunker have them go hunt for Forgeworld stuff.
Ask them the same questions they are asking you. This way you can zone out and look at the things you want to look at.
If all else fails ask them if they know about God's good news and the Church of Latter Day Saints.
Whatever you do, DO NOT tell them you do not play. I made the mistake once and within 5 minutes I was sitting at the demo table rolling dice pretending I did not know the difference between a BS and WS.
Luckily for most of us we have local shops that offer the ability to play wargames in a non corporate environment and without the 12 and under crowd. Not to mention we can play more than one game system. You might have graduated to adult gaming, but your journey can still be fraught with danger when confronted by the equivalent of the comic book guy from the Simpsons as a shop owner. Often game store owners are kings of their own castles having thrown off the chains of their corporate masters to blaze a trail of self-employment. Sometimes they might not have the customer service training required for such a leap. Luckily they are geeks and we all cut them some slack, besides wouldn't you rather give your money to a brick and mortar store then some corporate entity?
Just remember you play an important part in this whole dynamic. Do not go off the deep end and grab at the bubbling sense of entitlement. These feelings betray the simple fact that the game store owner is trying just to stay alive so don't take advantage of him. You forget that there is a person providing a service, a service at a lower pay grade than they probably had before. Also, try not being that guy, the one that cannot stop talking to the shop owner or his employees about every little detail of your gaming life.
With whichever environment you have chosen to play in, either one is better than having to play in a basement or living room, that is if you do not mind leaving behind the ability to make a roast beef sandwich between turns. Such is the life of a wargamer, nothing ever comes easy.
Where do you play your games? Are you attach to one store over another and what things make for best type of wargaming environment? What are the best and worst experiences you have had at your local store?
Take a look at my best of 2009 at http://www.bloodofkittens.com/
Editor's note: This is all tongue-in cheek humor guys. We love Games Workshop, always have, and always will! Play Nice, and as always – NO CHAIRS!