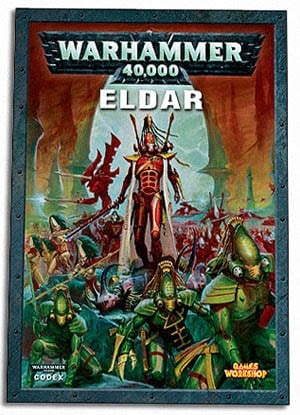 Bigred here. Continuing my Eldar thoughts from several days ago, I wanted to throw out a few ideas and see what the community thinks.
I've been a believer in the Eldar for a long time, and it has been hard to watch them slowly slip down the power tree in 5th edition. Yes they are still up there, and can pull off wins, what has been really bugging me is the army's overall "place" in the game.
Once upon the time, the Eldar were the undisputed masters of maneuver and firepower. The Marines have always been about well-rounded elite infantry, the Guard throw out the brute firepower, and the Orks come at you in crazy numbers, but the Eldar were the real dancers of the game. They would duck and weave like no others, laying waste to key units with their feared weapons, and in the hands of an experienced general (no Autarchs back then) could slowly dismember an enemy force before moving in for the kill.
Then the Tau came along, and the kings of high powered weaponry moved to another army. 5th edition came along, and the ducking and weaving became more of a shell game of hiding behind large terrain, then hopping out, and laying into targets with as much BS:3/4 firepower as you had and hoping for the best. Most recently, the IG took the mobility ball for themselves, with great options such as ubiquitous outflankers, Marbo, and the Valkyrie; perhaps the best fast skimmer in the game at this time.
As I said, it's not out for the Craftworlders, but certainly down. But, what has been bouncing around my head in these last few weeks is an idea taken from Fantasy. What if the place of the Eldar (Craftworlder and Dark alike) is the skill army? Emphasize the superior reflexes and centuries of honed martial skills a long lifespan can provide with superior training stats.
Imagine upping the BS/WS of the entire codex by 1, and suddenly you have a unique race within the entire game. Pricy, fragile, but at last hard hitting. A race that you must try to keep your guard up against, lest you expose a critical portion of your army to their frightful skill at arms in either shooting or assault.
~Of course, this is no simple fix, and there are a thousand other tweaks from shuriken catapult stats, to more vehicle variants, and enhanced mobility options that could inject a lot of new life into the range. But I wanted to hear your thoughts on the overall concept of a skill race in the game. Its certainly a niche just waiting to be filled by someone, and I can't think of a more perfect fit than the Eldar.