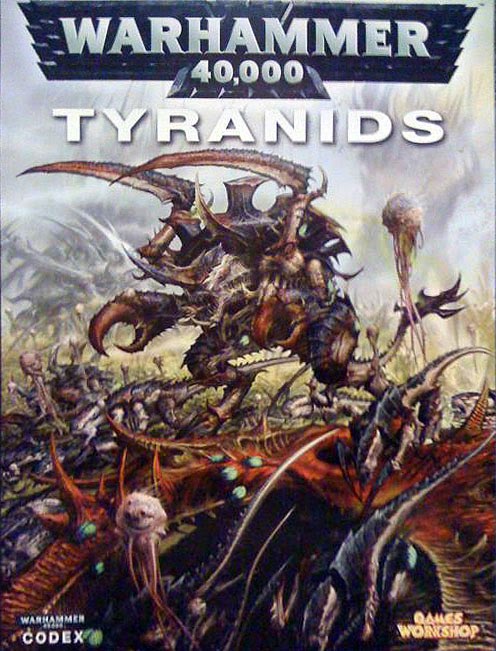 Multiple sources are now reporting that the new Tyranid codex ran afoul of some manner of printing error which will push the release date back about a week to mid January.
Broodlords are said to be a squad upgrade for Genestealers to allow the unit to count as troops, rather than the expected HQ selection.
The Trygon is said to be $49.50 USD and will allow construction of 2 (some say 3) different models (the Trygon and Mawloc)
The new Tyranid Battleforce is said to contains no new models, with the Carnifex being swapped for warriors and rippers.
Gaunts are reported as being split up into seperate boxes of Termagaunts and Hormagants (a dozen for @$24 USD), so if anyone wants to buy the current mixed box of gaunts, grab em while you can.
UPDATE: from Sildani in the Comments (THANKS!)
January Releases for Independent retailers today:
99120106017 Tyranid Battleforce 46 Fig Box 5-Dec-09 $105.00
99060106064 Tyranid Spore Mines 9 Fig Blister 16 Jan-10 $16.50
60030106003 Codex: Tyranids (English)96pp 16-Jan-10 $25.00
99120106016 Tyranid Ravener Brood 3 Fig Box 16-Jan-10 $44.50
99120106018 Tyranid Gargoyle Brood 10 Fig Box 16-Jan-10 $29.00
99120106019 Tyranid Trygon / Mawloc 1 Fig Box 16-Jan-10 $49.50
99110106063 Tyranid Pyrovore 1 Fig Box 16-Jan-10 $33.00
99120106021 Tyranid Termagant Brood 12 Fig Box 12-Dec-09 $24.75
99120106020 Tyranid Hormagaunt Brood 12 Fig Box 12-Dec-09 $24.75
9906010606201 Tyranid Venomthrope 1 Fig Blister 16-Jan-10 $20.00
9906010606101 Tyranid Hive Guard 1 Fig Blister 16-Jan-10 $20.00
~Standard caveats apply, to all this stuff. We are now less than 2 months out. Look for all of this stuff mid January . You can follow this topic in the Lounge here.