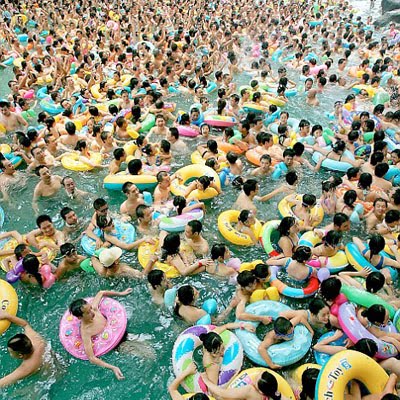 Hi gang,
Today I want to talk a little about the glacial collision that is headed our way. Whatever game system you play, have you all felt a little *cramped* these days? If you have that little alarm bell of tabletop claustrophobia ringing at the back of your mind it is by design.
Lets see how we got here. In the beginning (over 20 years ago for 40k and Fantasy) our hobby was played with practically skirmish forces. It was not uncommon to just throw together a dozen of your favorite figures, grab your buddy and a gamemaster (yes 40k had a gamemaster back then) and start rolling some bones.
That however just wouldn't do. Before long, the first army lists were crafted and the slow points erosion that we see today in every codex, army & campaign book had begun. It's pretty plain to see mathematically that more models means more sales, and that what we have recieved. Book by book, time after time, revisions see the points costs of units slowly sanded lower and lower. Its a slow process by its very nature as you can't drastically unbalance any game system to dramatically at once (outside of big high-risk systemwide reboots).
What this has lead to on the player side of things is a lot less elbow room. Years back, you would see armies jockeying for position, maneuvering a bit more fancifully, and using long range weapons at their designer's suggested range.
Today all to often we have something more akin to Football (American), with both armies set up in nice lines mere inches apart, waiting to get to grips with each other in a furious tussle. With all the dirt cheap models armies can throw around these days, its a good thing 40k allows unrestricted reserves, as many list buildouts barely fit in their deployment zone. Even with game-mechanics such as outflanking and reserves you routinely see units arrive right smack on top of thier surprised prey.
Games Workshop by no means has a monopoly on this theory and those canny folks over at Privateer, Battlefront and others are doing the same.
~Today's poll (vote below) is do you think your gamesystem is too cramped in standard play levels, to sparse or just right? How have you dealt with the trend over time? Enlarging your miniatures collections, or playing at smaller point levels? Finally, do you LIKE denser tables, with their quick action, or the more sparse yet suspenseful early game with more give and take before your armies clash? The floor is yours Generals.