Hi guys GR00V3R here,
So it feels like 10 Millennia since I last posted. Sorry, Epic fans, but I have been utterly consumed with production of my very first iphone game, which has stolen almost all my free time for the past few months. I have been able to get a quick game of Epic in here or there, though, and of course kept an eye on the various shenanigans of the Epic-playing community.
A few things have been happening in Epic Land over the past few months, but the event I am most excited about is actually a troop addition for another 6mm system called Exodus Wars: the Edenites.
Edenites are zombies, and Exodus Wars has offered an excellent set of 6mm Zombies Horde for some time. Recently, however, Steel Crown Productions, the manufacturer of the Exodus Wars miniatures, has started expanding the range of Edenite models with Edenite Infantry and Heavy Support units, which are Legionnaire exosuits that contain the brain of a wounded Legionnaire.
These Legionnaire exosuits happen to look like skeletons with guns…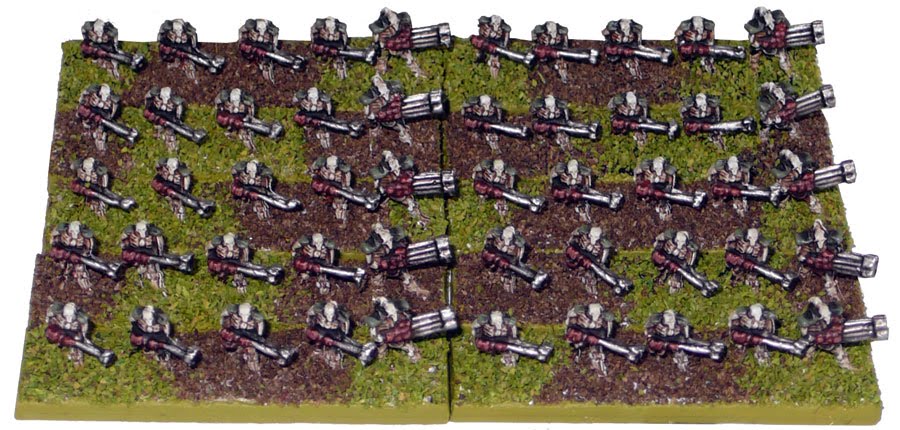 You can see where this is going. That's right: destination Necron Awesome!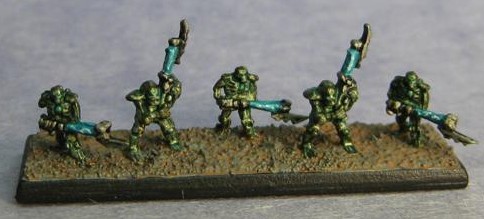 As you can see in the figure above, in the absense of official GW 6mm Necron miniatures, the Epic community has started to embrace the Edenites as very suitable proxy models. The example above has mixed GW Chaos Androids from the old Epic collection, and added the classic Necron scythe to complete the image to great effect.
At present, there are just two model types: Infantry, which make for a good Necron Warrior proxy, and Heavy Support, a good Immortal. If you're wondering what further additions might be on the way, though, I have this teaser for you:


You should hear the would-be Epic Necron players of the world rejoicing right about…now!
~In my next post, I will introduce you to more Epic community awesomeness in the form of the Epic Raiders supplement, which includes the community-accepted (and often tournament-accepted) rules for Necrons, as well as Dark Eldar. For now, though, what do you think of my Edenites as Necrons thesis?