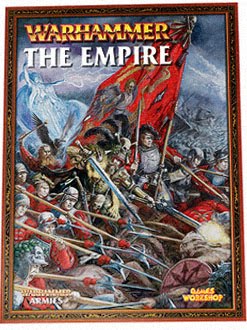 By iamaddj

Earlier this summer GW released a new book, Uniforms & Heraldry of The Empire, this book describes in detail the (as advertised!) uniforms and various heraldry of the provinces and famous units of the Empire. This book is full color and I highly recommend it to any fantasy players out there. Now I have been playing Empire for about 10 or so years, and consider myself a fairly good Empire player. My army on the other hand is also about 10 years old, built from a hodgepodge of different old models and built and painted by a 13 year old. Over the years it has only deteriorated from that "high" point. On a recent inspection of the troops I found that at least one unit of spearmen where now armed with short sticks (cudgel-men anyone?) and that my knights had transformed themselves into a unit of headless horsemen, apparently in some misguided attempt to strike fear into the hearts of the army of Ichabod Crane. So with the need to rebuild my Empire army, and inspired by Uniforms & Heraldry of The Empire, I have set out to once again marshal the forces of the Empire and lead them to war. In this first installment I will discuss my army list and its creation.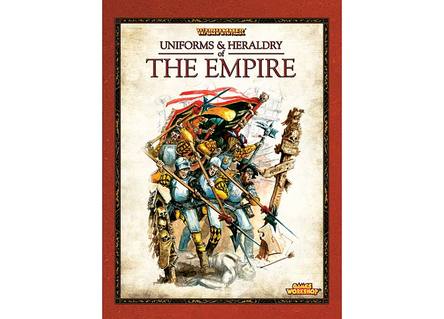 The Macedonian army of Alexander the great operated on a very simple principle, it was comprised of three parts, a heavy cavalry striking arm, a solid infantry line and light/ranged troops. The cavalry worked as the offensive arm, breaking the enemy line and crushing them against the infantry, simple hammer and anvil tactics. The light and ranged troops acted to disrupt the enemy formations and cut them up from range. It is this simple principle that I seek to emulate with my Empire army.
Part 1, The Cavalry
The main offensive arm of my army is made up of a unit of 11 Inner Circle Knights, they have command and carry the Arcane Warding to give them some MR. I find this unit to be hard hitting and mobile, their 1+ amour save means they can survive prolonged combat. The unit is includes my general, a Templar Grand Master equipped with the Sword of Power, Enchanted Shield and Holy Relic, giving him a 0+ armor, 4+ ward and 4 S6 attacks, a quite capable combat leader, he is accompanied by a captain BSB carrying the Banner of Sigismund, combined with the TGM this makes the knight unit both immune to physiology and stubborn, so they can stick around for the long haul. In the past I have given the unit the banner of the daemon slayer giving them fear on the charge, but since so many units now are immune to fear and since magic has gotten more powerful, I have decided to go with the MR:2. We shall see how it works out. To screen and support the heavy cavalry I have taken a unit of 9 Pistoliers (an odd number I know but its what I had points for), I am not sold on the effectiveness of these guys, but I love the idea and look of them.
Part 2, The Infantry
To complement the cavalry force I have settled on a solid infantry line to act as an anvil. Normally I stick with spearmen, I like the extra attacks and find them to be the best but for this once I have decided to go with a mix of troops. I have taken one 25 man unit of spearmen, with full command, supported by a ten man detachment of free company (again I prefer the cheapness and extra attacks) and a ten man detachment of crossbowmen, I like the extended range. In addition I have taken a 25 man unit of Swordsmen, full command again, likewise they are supported by a ten man detachment of free company and a ten man detachment of handgunners. Each of these two blocks will contain a level two battle wizard, one equipped with two dispel scrolls, for anti-magic, the other with Van Horstmans Speculum and the Sword of Battle, to hopefully help deal with some enemy heroes. I feel that this arrangements gives me a pretty solid infantry anvil (about as good as Empire will really get) with some magical support.
Part 3, The Light and Ranged Troops
I have already mentioned some of my light troops, pistoliers, handgunners, crossbowmen, in addition to these troops I have taken some other support troops. I have taken a unit of 12 huntsmen, at act as advance scouts and to disrupt the enemy movements. As artillery is a strong part of the Empire army I opted for a wide assortment, 1 cannon, 1 mortar and 1 hellbalster. I feel this gives me enough firepower, 3 war machines and 30 ranged troops, to soften up and annoy the enemy with out being over the top or turning the army into a true gunline.
Final Army List:

Templar Grand Master
General; Lance; Full Plate Armor; Immune to Psychology
Warhorse, Sword of Power, Enchanted Shield, Holy Relic.
Captain of the Empire
Barding; Hand Weapon; Full Plate Armor; Battle Standard Bearer, Warhorse, Banner of Sigismund.
Battle Wizard
Level 2 Upgrade; Hand Weapon 2x Dispel Scroll
Battle Wizard
Level 2 Upgrade; Hand Weapon, Warhorse, Sword of Battle, Van Horstman's Speculum
25 Spearmen
Musician Mus; Standard Bearer Std; Hand Weapon; Spear; Light Armour; Shield, Sergeant
10 [Det] Free Company
Hand Weapon; Extra Hand Weapon
10 [Det] Crossbowmen
Hand Weapon; Crossbow
25 Swordsmen
Musician Mus; Standard Bearer Std; Hand Weapon; Light Armour; Shield, Duellist
10 [Det] Free Company
Hand Weapon; Extra Hand Weapon
10 [Det] Handgunners
Hand Weapon; Handgun
12 Archers
Huntsmen; Hand Weapon; Bow; Scouts; Skirmishers
Helblaster Volley Gun
Great Cannon
Mortar
11 Knightly Orders
Musician Mus; Standard Bearer Std; Knights of the Inner Circle; Barding; Hand Weapon; Lance & Shield (x10); Full Plate Armor Preceptor
1 Standard of Arcane Warding
9 Pistoliers
Musician Mus; Hand Weapon; Brace of Pistols; Light Armour; Fast Cavalry, Outrider.
Total Roster Cost: 2249

Part 4, Conclusion
Again the basic plan is to use the light troops and ranged troops to disrupt and weaken the enemy, the infantry work as a solid anvil and the knights form my offensive arm and hammer. I think this army gives me a good mix of the various troops available to the Empire, infantry cavalry and ranged, while remaining a fairly "nice" army to play. As far as theme goes I plan on painting the army in various colors, representing a true "Imperial" forces, with units for several different provinces, my spearmen for instance will come from the Altdorf Company of Honor. I also plan to heavily convert the army, I want to give it a heavily armored feel, reminiscent of late medieval armies, knights in Gothic Plate, dismounted knights fighting on foot, things like that.
Well that's my story so far I hope you stay tuned for later installments, if you have any ideas, questions or advice I welcome it all.